Global Top10 Best Performing Android Phones, May 2023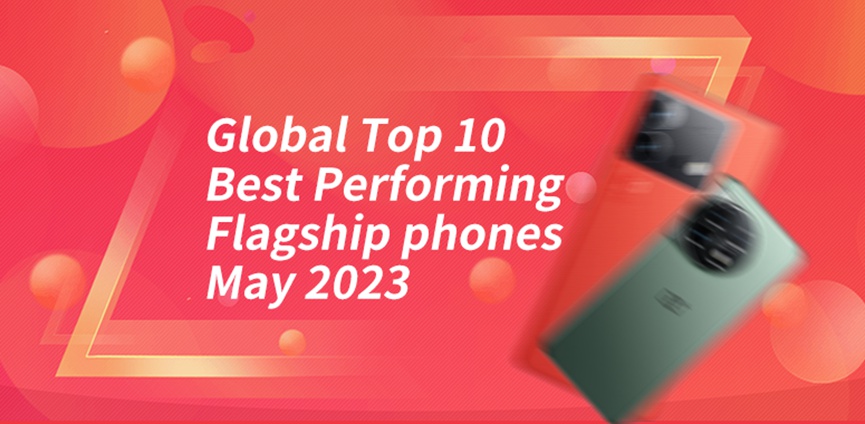 In order to ensure the reasonableness and fairness of the ranking list, please note:
* 1 AnTuTu was developed based on the unique technologies of different platforms, such like Vulkan(Android) and Metal(iOS). cross-platform products may not be directly comparable.
* 2 The above list, only the popular models will be displayed, monthly update.
* 3 The score displayed is the average of all data for that device, not the highest score for that device.
* 4 The list is global data but does not include the Chinese market, for more information about Chinese market, please visit our Chinese website.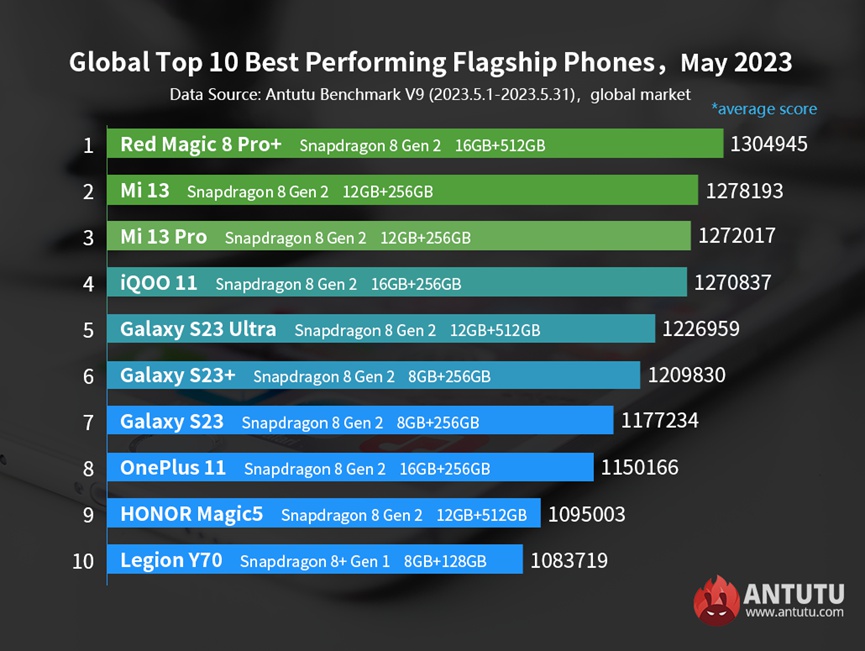 No.1: Red Magic 8 Pro+
Average score: 1,304,945
The Red Magic 8Pro+ is one of the most impressive Android flagship phones this year, with stunning under-display selfie camera technology and an active cooling system in addition to iconic hardware like Snapdragon 8Gen2, LPPD5X and UFS 4.0. The 6.8-inch UDC under-display camera full-screen, AMOLED flexible straight screen, supports 120Hz refresh rate and 960Hz touch sampling rate, definitely one of the most favorite cell phone screens for gaming enthusiasts. In terms of heat dissipation, the Red Magic 8Pro+ uses 3D ice-level dual-pump VC liquid cooling technology, full penetration air duct and centrifugal fans to effectively reduce body temperature and ensure long hours of gaming without heating up.
No.2: Mi 13
Average score: 1,278,193
Mi 13 is a small, straight-screen Android flagship, which is not often seen in the first half of 2023. 6.36-inch Samsung E6 AMOLED straight screen with support for 120Hz refresh rate and 960Hz touch sampling rate, brightness up to 1200nit, accurate color reproduction, HDR10+ and Dolby Vision. The single-layer motherboard design gives Mi 13 excellent performance and heat dissipation. 4500mAh dual-cell battery, support 120W wired fast charging and 50W wireless fast charging. The rear triple camera has excellent quality and is also backed by Leica images.
No.3: Mi 13 Pro
Average score: 1,272,017
Mi 13 Pro has enhanced screen and image performance compared to Mi 13. The screen is upgraded to a 6.7-inch 2K resolution Samsung E6 OLED screen, which supports LTPO adaptive refresh rate and 1920Hz high-frequency PWM dimming for excellent display and eye protection. The rear triple camera is equipped with a 1-inch Sony IMX989 main camera, as well as 50-megapixel ultra-wide angle and telephoto lenses. With support for 70x hybrid zoom and Leica color management, the photo performance is very powerful.
---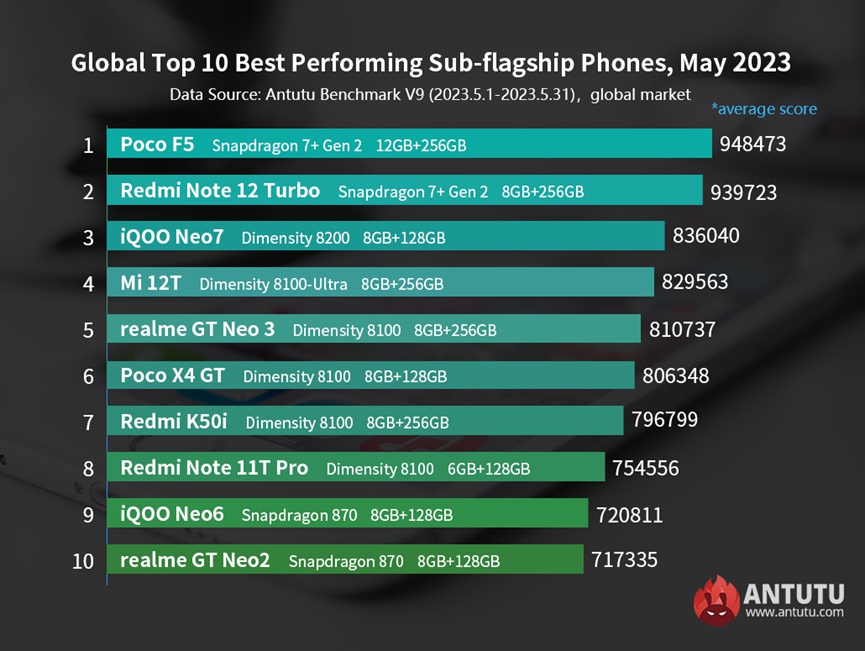 No.1: Poco F5
Average score: 948,473
No.2: Redmi Note 12 Tubro
Average score: 939,723
No.3: iQOO Neo 7
Average score: 836,040
The Poco F5 and the Redmi Note 12 Tubro can be seen as the same model of phone, with the Poco F5 being considered the international version of the latter. Both are powered by the Qualcomm Snapdragon 7+ Gen2 processor, which is the best 7-series processor from Qualcomm in recent years. It is identical in design to the Snapdragon 8+ and differs only in some parameters. It is suitable for both daily use and slight gaming enthusiasts.
The iQOO Neo7 ranked first on the sub-flagship list again in March. iQOO Neo7's appearance has not changed much from its predecessor, still using Vivo's typical lens module design. It is equipped with the processor Dimensity 8200, which is the ultra-high frequency version of Dimensity 8100, but its Antutu score has only improved by about 30,000 to 100,000, with limited upgrades in performance.
That's it for the global Android phone performance rankings for May 2023.