Global Top10 Best Performing Android Phones, April 2023
After entering the new January, only the Snapdragon 8Gen2 Soc is left on the Android flagship list, but MediaTek has just released its own Dimensity 9200+, and the performance seems to be flat to the Snapdragon 8Gen2, and we can look forward to the performance of the Dimensity 9200+ device next month.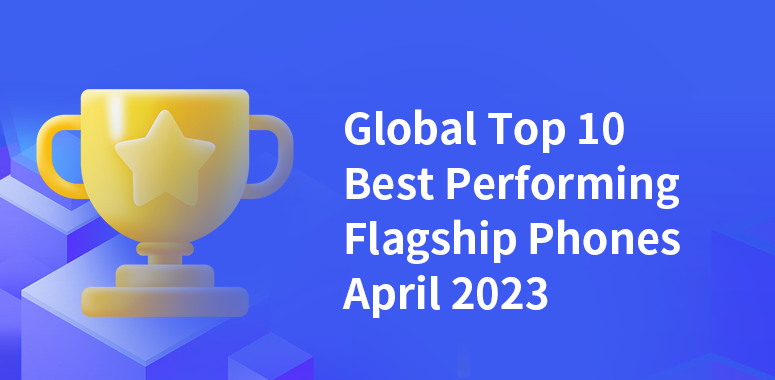 In order to ensure the reasonableness and fairness of the ranking list, please note:
* 1 AnTuTu was developed based on the unique technologies of different platforms, such like Vulkan(Android) and Metal(iOS). cross-platform products may not be directly comparable.
* 2 The above list, only the popular models will be displayed, monthly update.
* 3 The score displayed is the average of all data for that device, not the highest score for that device.
* 4 The list is global data but does not include the Chinese market, for more information about Chinese market, please visit our Chinese website.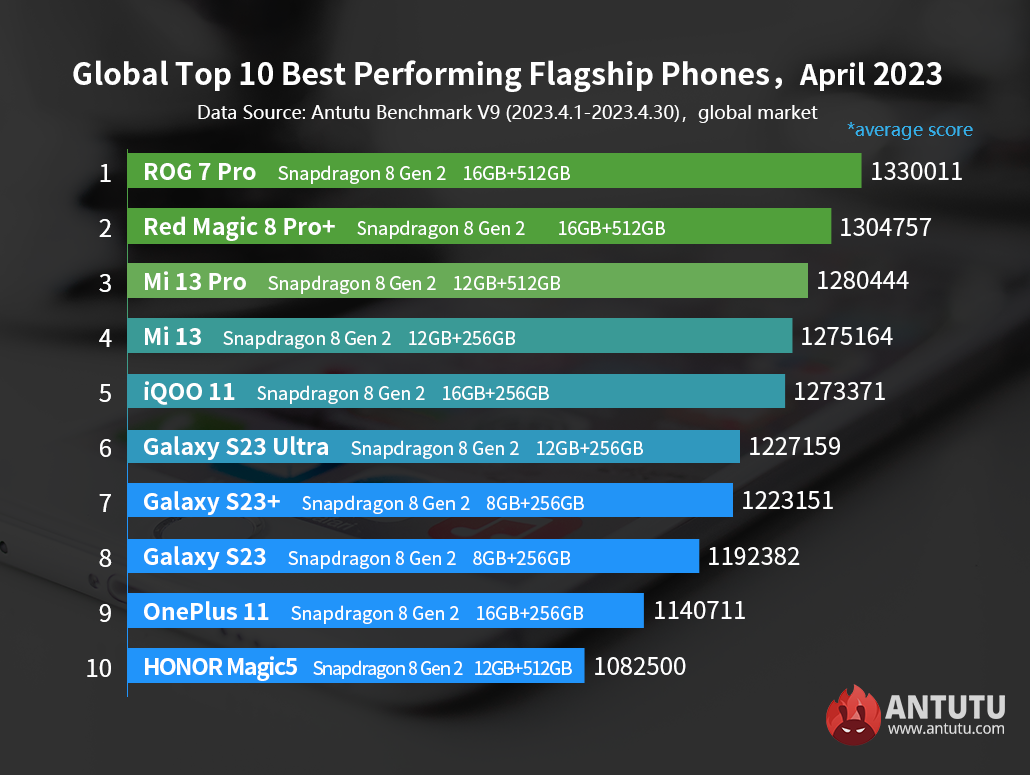 ---
No.1:ROG 7 Pro
Average score: 1,330,011
After many months, the game mobile phone ROG finally topped the Android performance list flagship with the new Snapdragon 8Gen2 flagship ROG 7 Pro, and the 132W+ running score is not only a symbol of ROG's strength, but also represents the control of ROG gaming mobile phones for the smaller and smaller category of game mobile phones.
The new ROG 7 Pro actually has many similarities with the ROG6 Dimensity Extreme Edition of the previous generation, especially the design of the cool heat vent, simple and efficient, but this has to be combined with the dedicated cool fan 7 to open widely, and ROG for this fan is also further, adding a woofer and headphone hole to it, it can be said that with this cool fan 7, it is the complete body of ROG 7 Pro, if you want to buy a gaming phone that is impeccable in terms of audio and video, then ROG 7 Pro is your only option.
---
No.2:Red Magic 8 Pro+
Average score: 1,304,757

The gaming phone Red Magic 8 Pro+ is once again at the top of the performance list, but that's not a surprise. This phone comes with an active cooling fan for better performance, and it's hard for a regular phone to outperform a gaming phone like this with a massive built-in cooling fan.

In addition to the excellent cooling configuration, the Red Magic 8 Pro+ also has a very sci-fi look. With a screen without front camera cutouts and ultra-narrow four-sided bezels, the front of the phone has an attractive visual appearance for gaming enthusiasts.

But the downside of the under-display camera is also obvious, as the Red Magic 8 Pro+ has a resolution of only 1080p, which is not competitive in the flagship market, and the imaging of the under-screen front camera is not great. Its parent company, ZTE, has removed the under-display camera from its upcoming flagship phone, the AXON 50 Ultra, returning to a hole-punch design.
---
No.3: Mi 13 Pro
Average score: 1,279,978

The Mi 13 Pro was released in late 2022. Its global launch hasn't been long, so it didn't appear on the performance list until March.

Mi 13 Pro is powered by Snapdragon 8 Gen 2 and features a 6.73-inch curved Samsung 2K E6 material screen that supports 120Hz high refresh rate and up to 240Hz touch sampling rate. It is available in four colors: light blue, white, black and green. The camera module lenses are a 1-inch large base main camera, 75mm telephoto floating lens, and ultra-wide angle lens, both with 50Mp pixels, and have been tuned by professional camera manufacturer Leica.

In addition, Mi 13 Pro also has a 4820mAh battery and 120W wired fast charging, 50W wireless fast charging, and supports dust and water resistance with an IP68 rating.

Unlike the previous month's list, the top 10 on this month's list are all powered by Snapdragon processors. It seems that the Dimensity 9200 is still not trusted by phone manufacturers, losing completely to the Snapdragon 8 Gen 2. However, MediaTek is said to release the Dimensity 9200+ later this year, which is the real rival of the Snapdragon 8 Gen 2.
---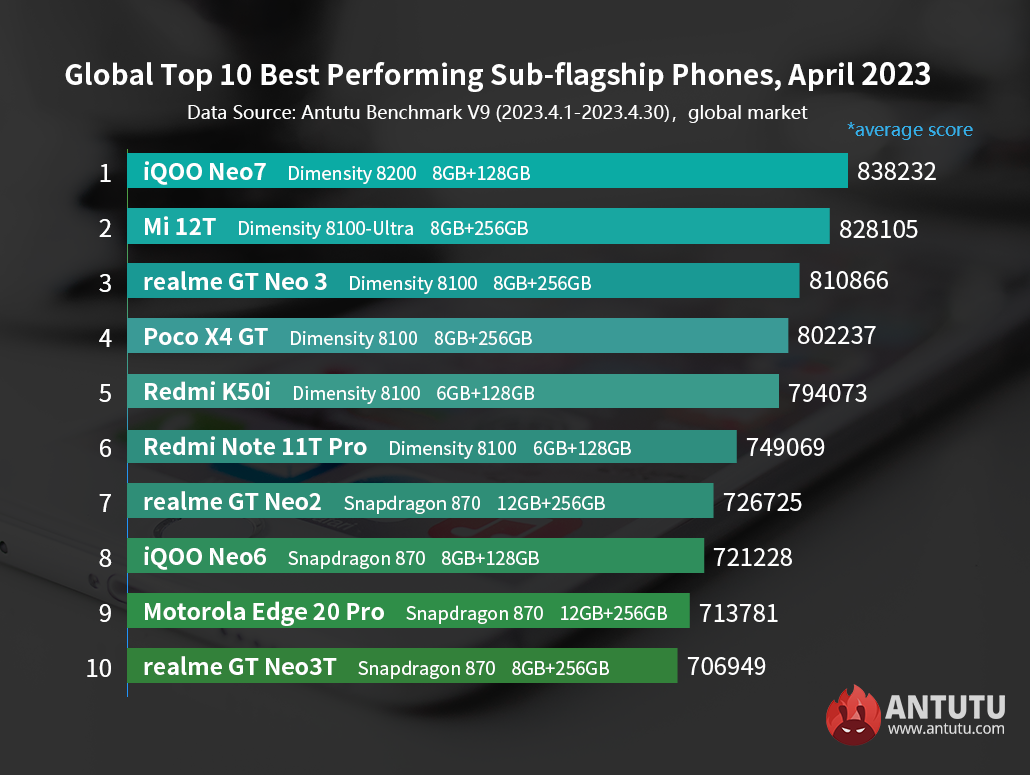 ---
No.1: iQOO Neo7
Average score: 838,232

The iQOO Neo7 ranked first on the sub-flagship list again in March. iQOO Neo7's appearance has not changed much from its predecessor, still using Vivo's typical lens module design. It is equipped with the processor Dimensity 8200, which is the ultra-high frequency version of Dimensity 8100, but its Antutu score has only improved by about 30,000 to 100,000, with limited upgrades in performance.
---
No.2: Mi 12T
Average score: 828,105
Mi 12T is a series launched by Xiaomi in the second half of 2022 for the global market, including Mi 12T and Mi 12T Pro. The Mi 12T offers excellent performance for a phone in its price range, and with its excellent sound quality and screen, the overall competitiveness is very high. But here we need to remind you that the performance improvement of Dimensity 8100 Ultra is very limited compared to the ordinary Dimensity 8100, and the parameters of both are basically the same.
---
No.3: realme GT Neo 3
Average score: 810,866
As a young phone brand, realme understands the appeal of the phone's appearance to young users, so the realme GT Neo 3 comes in a COF package with narrow bezels on all sides, and there is also a version co-branded with well-known social media.
The powerful performance of realme GT Neo 3 comes from its combination of Dimensity 8100 chip + LPDDR5 memory + UFS 3.1 flash memory. In addition, the realme GT Neo 3 is equipped with dual stereo speakers and X-axis Linear Motor for a better vibration experience.
The most impressive feature of the realme GT Neo 3 is the 150W charging speed, a charging system that is much bolder than Apple and Samsung and doesn't seem to have brought negative press to realme so far.
---
Starting in March, we adjusted our Android list and removed the content about mid-range phone ranking for now. This is mainly due to the following reasons: First, the market lacks new mid-range phones, and Snapdragon 778G is still the mainstream chip in this price range. Second, chip makers basically no longer release new mid-range chips, but directly use the old sub-flagship chips in the mid-range market. For more information on the ranking, please refer to the 'Ranking' page.

That's it for the global Android phone performance rankings for April 2023.