Global Top 10 Best Performing iOS Devices in December 2022
The Android performance list has seen an increasing number of Snapdragon 8 Gen 2 flagship phones, while the iOS list continues to rank pretty much the same as last month. This list is unlikely to change significantly until at least March when the new iPad Air is released.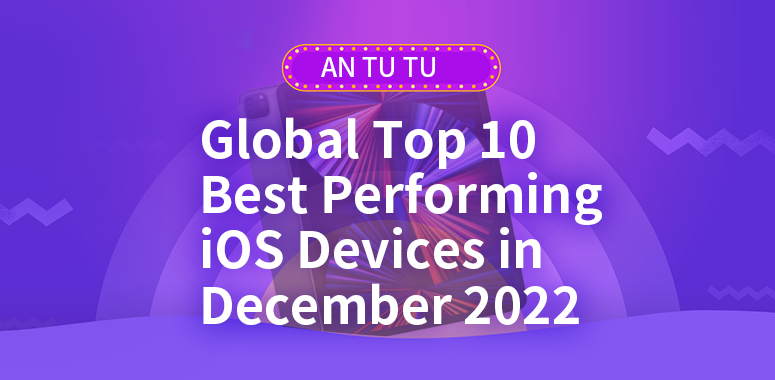 It should be noted that figures in this ranking list were calculated from December 1 to December 31, 2022. The results in the ranking list are average scores instead of the highest scores. The model configurations listed are the ones that received the most running score results for each model.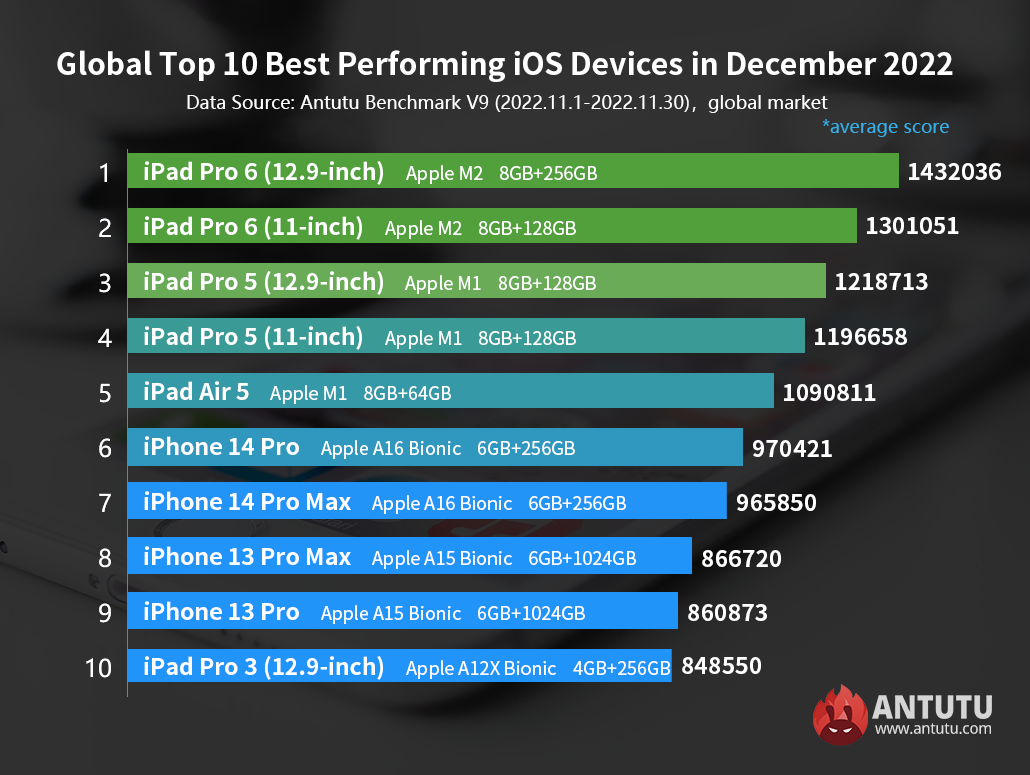 ---
No.1: iPad Pro 6 (12.9-inch)
Average score: 1,432,036
---
No.2: iPad Pro 6 (11-inch)
Average score: 1,301,051
---
No.3: iPad Pro 5 (12.9-inch)
Average score: 1,218,713
---
In first and second place remain the two iPad Pro 6 models, released on October 18, 2022, which score over 300,000 points higher than the iPhone 14 Pro series and almost 200,000 points higher than the iPad Pro 5, which is in third place. These two devices are without doubt the most powerful of all mobile devices.
The performance benefits of iPad Pro 6 come from the M2 chip, which offers up to 15% faster 8-core central processing, up to 35% faster 10-core graphics, 40% faster neural network engine and 50% more memory bandwidth than the M1. The iPad Pro 6 also features ProMotion Adaptive Refresh Rate, Native Display and P3 Wide Color Gamut to significantly enhance the experience.
It is worth noting that the iPad Pro 6 (11-inch) and iPad Pro 6 (12.9-inch) screens do not differ only in size. iPad Pro 6 (11-inch) is an LCD screen, while iPad Pro 6 (12.9-inch) is a mini LED screen, so some of the screen characteristics are different.
In third and fourth place on the list are the iPad Pro 5, which was released last year, and both of which don't differ much from the iPad Pro 6 series in terms of configuration and experience. In fact the earlier released iPad Pro 5 is the better value for money.
The iPhone 14 Pro and iPhone 14 Pro Max came in only sixth and seventh place, followed closely by the iPhone 13 Pro Max and iPhone 13 Pro. There was not much difference between the scores of these four models.
That's all for the iOS Performance list in December 2022. Wish you a wonderful holiday season and a happy New Year!