Global Top 10 Best Performing iOS Devices in November 2022
This year's new iOS devices were released in October, so the Apple market didn't get as much attention in November as the Android market. But it also shows Apple's confidence. With each iteration, Apple relies on its unique ecosystem and hardware configuration. Although many users believe that the iPhone 14 series and iPad Pro series are not upgraded enough, these new products still have a clear advantage in terms of performance and ecology, especially the new iPad Pro series, which is still the best in hardware and experience.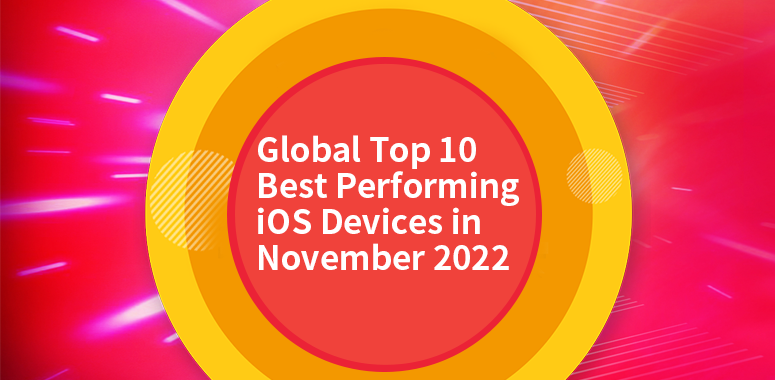 It should be noted that figures in this ranking list were calculated from November 1 to November 30, 2022. The results in the ranking list are average scores instead of the highest scores. The model configurations listed are the ones that received the most running score results for each model.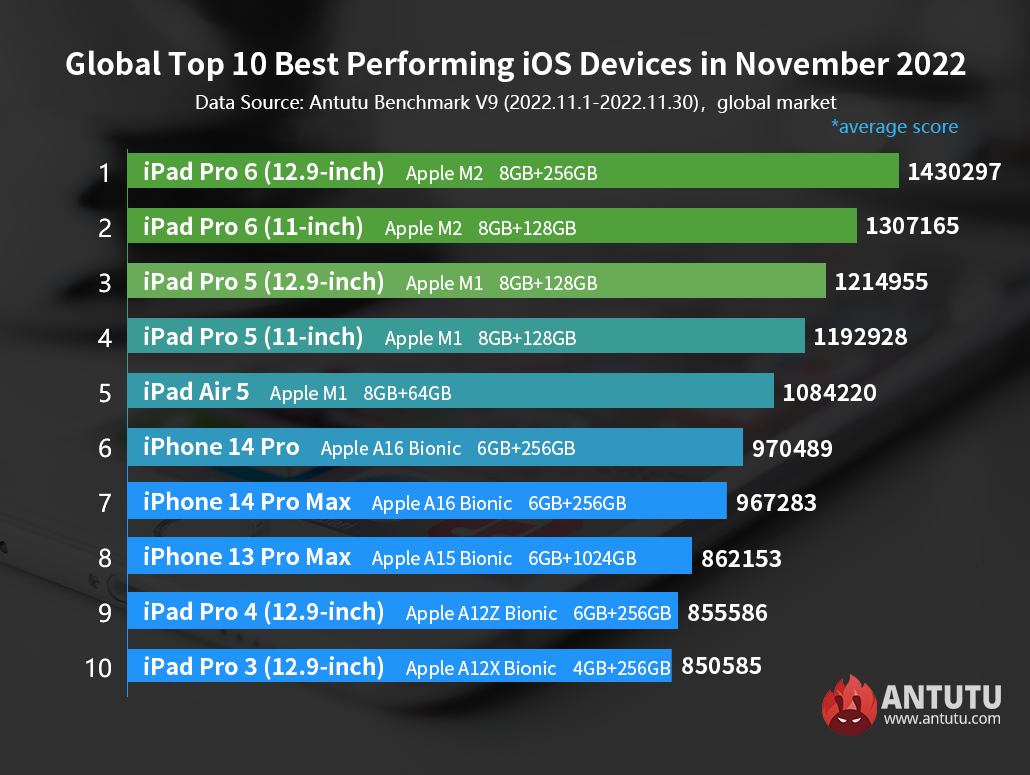 No.1: iPad Pro 6 (12.9-inch)
Average score: 1,430,297
---
No.2: iPad Pro 6 (11-inch)
Average score: 1,307,165
---
No.3: iPad Pro 5 (12.9-inch)
Average score: 1,214,955
The two iPad Pro products released by Apple on 18 October 2022 achieved average scores of 1.43 million and 1.3 million respectively with their M-Series second generation chips, more than 300,000 points higher than the iPhone 14 Pro series released this year and nearly 200,000 points higher than its predecessor, the iPad Pro 5, released in April 2021, making it undoubtedly the most powerful of mobile devices.
The performance benefits of iPad Pro 6 come from the M2 chip, which offers up to 15% faster 8-core central processing, up to 35% faster 10-core graphics, 40% faster neural network engine and 50% more memory bandwidth than the M1. The iPad Pro 6 also features ProMotion Adaptive Refresh Rate, Native Display and P3 Wide Color Gamut to significantly enhance the experience.
It is worth noting that the iPad Pro 6 (11-inch) and iPad Pro 6 (12.9-inch) screens do not differ only in size. iPad Pro 6 (11-inch) is an LCD screen, while iPad Pro 6 (12.9-inch) is a mini LED screen, so some of the screen characteristics are different.
In third and fourth place on the list are the iPad Pro 5, which was released last year, and both of which don't differ much from the iPad Pro 6 series in terms of configuration and experience. Overall, the iPad Pro 5, which was released earlier, offers better value for money.
In sixth and seventh place are the iPhone 14 Pro and iPhone 14 Pro Max respectively, although they are powered by the latest A16 processor, they still don't match the performance of the M1 chip.
The iPhone 13 Pro, which came in 10th place last month, has been replaced by the iPad Pro 3 this time. Looking at the background data, the iPhone 13 Pro has an average score of 847,249, which is only 3,336 points away from the average score of the iPad Pro 3.
That's all for the iOS Performance list in November 2022.