Global Top 10 Best Performing Android Phones, September 2022
There were not many new products in the Android market in September, with the most expensive and most talked-about being the ROG Phone 6D Ultimate. Other new products, although each with their own strengths, did not have much impact on the AnTuTu Android list.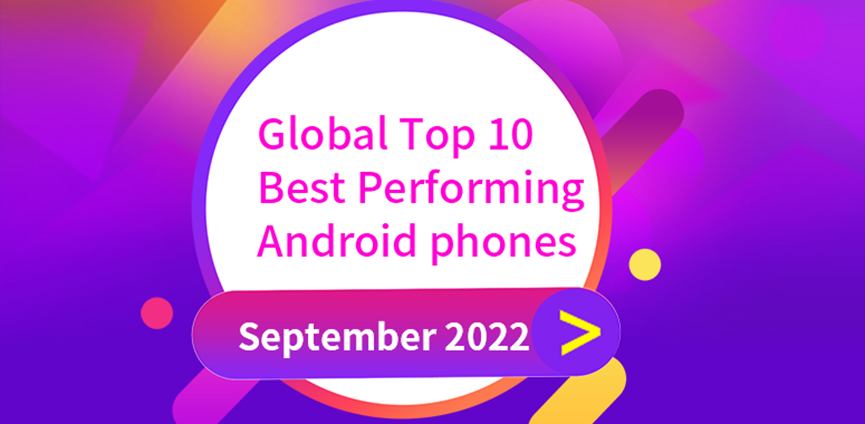 It should be noted that figures in this ranking list were calculated from September 1 to September 30, 2022. The results in the ranking list are average scores instead of highest scores, and thus more representative.
Let's start by looking at the list of Android flagship phones. Here we also remind users once again that AnTuTu classifies flagship, sub-flagship and mid-range phones by processor rather than price. In addition, only phones with 1,000 or more valid scores for the month are counted, so many phones don't actually appear on the monthly list.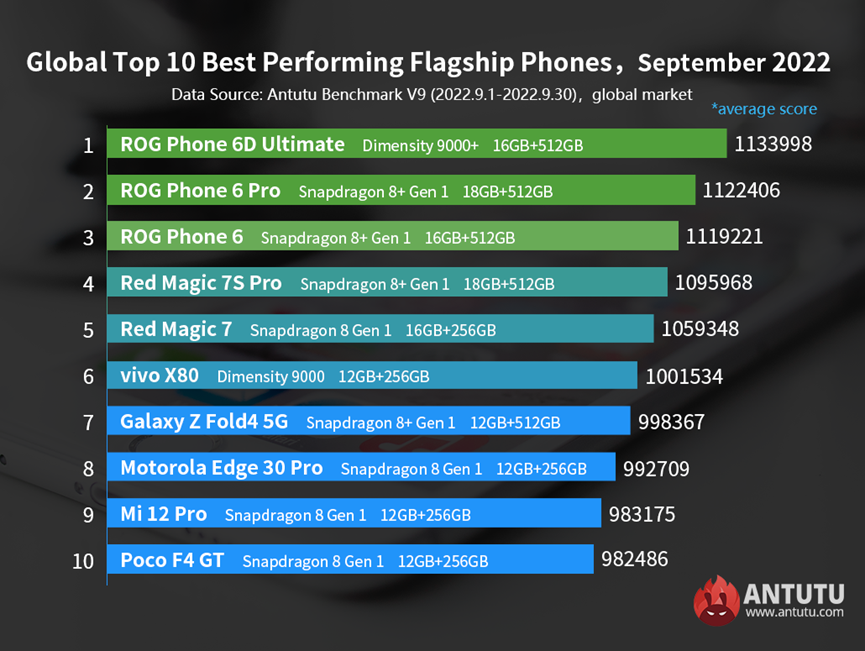 No.1: ROG Phone 6D Ultimate
Average score: 1,133,998
No.2: ROG Phone 6 Pro
Average score: 1,122,406
No.3: ROG Phone 6
Average score: 1,119,221
In first place is the ROG Phone 6D Ultimate with the Dimensity 9000+. This should be the first time that Mediatek's flagship processor has beaten Qualcomm's Snapdragon processor. The Dimensity 9000+ delivered a very impressive performance.
In fact, the list is based on data from users, so it's no surprise that the ROG Phone 6D Ultimate, which makes a bold breakthrough in heat dissipation, tops the list, but that doesn't mean the Dimensity 9000+ doesn't deserve to be No. 1.
In second and third place are the ROG Phone 6 Pro and ROG Phone 6 respectively. As one of the first brands to make a gaming phone, ROG's phone configuration has always been very powerful. The back of the phone has a new design style, continuing the ROG colorful personality window and the ROG logo lighting effect, increasing the overall recognition. The camera module fits in with the back design and is full of gaming elements. The ultrasonic shoulder button is also retained, allowing for multi-finger operation when playing games, which is one of the unique advantages of a gaming phone.
Behind the three ROG gaming phones are also two gaming phones, the Red Magic 7S Pro and the Red Magic 7. The gaming phones focus on performance without regard to the size and thickness of the phone, and while the performance is ahead of conventional phones, the experience is not perfect for everyday use.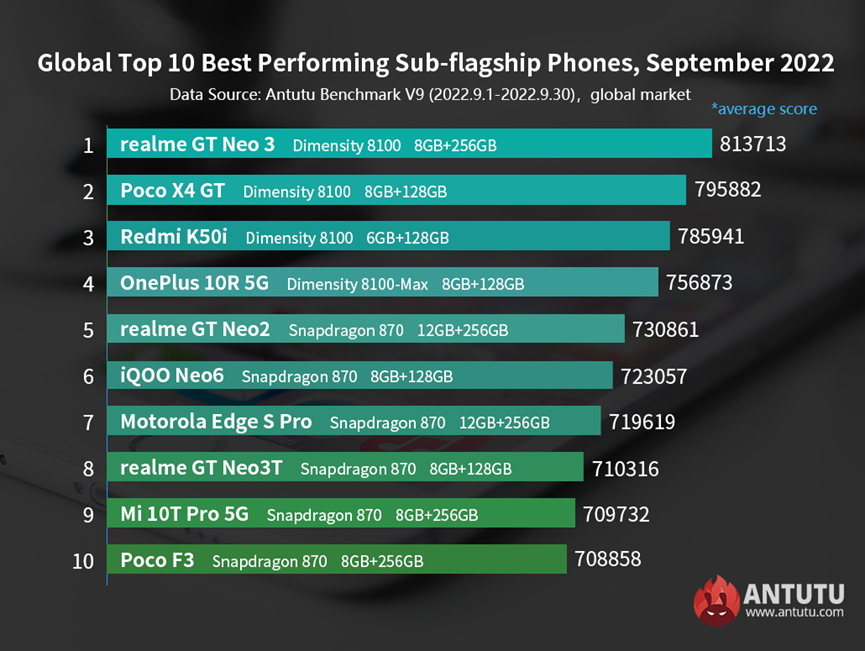 No.1: realme GT Neo 3
Average score: 813,713
No.2: Poco X4 GT
Average score: 795,882
No.3: Redmi K50i
Average score: 785,941
Until a new sub-flagship processor is released, the list of Android sub-flagship phones probably won't see any major changes. Given the impending release of the Snapdragon 8 Gen 2, it doesn't seem like any phone manufacturers are planning to release a new phone with Dimensity 8100 or Snapdragon 870 at this time.
Similar to August, September's sub-flagship list is also dominated by phones powered by the Dimensity 8100 processor. The top three are not only powered by the Dimensity 8100, but are also sub-brands. realme is from OPPO, while redmi and Poco are sub-brands of Xiaomi.
No.1: Nothing Phone 1
Average score: 579,096
No.2: iQOO Z5
Average score: 559,594
No.3: realme GT Master
Average score: 545,860
At the top of the list is the recently popular Nothing Phone 1. Although its performance is not powerful enough, the Nothing Phone 1 is getting a lot of attention for its unique appearance. If its quality issues can be resolved, it should become an option for more users.
In second place is the iQOO Z5, which is also very popular thanks to its ultra-low price and higher specs than its rivals. Apart from the lack of NFC, it is almost the perfect mid-range phone.
Third place goes to the realme GT Master from realme, which, as a Master product, does have a flagship quality that is not often seen in mid-range phones. Unlike the nothing phone 1, which is very close to Apple's design, it is a full-on Android phone in appearance.
The performance of the Snapdragon 778G processor is capable of meeting daily use, but is inadequate for larger games and more performance-demanding applications.
The competition among the mid-range models is mainly in terms of battery life and appearance. The appearance of the Nothing Phone 1 can also be very competitive in the flagship Phone market.
The running score is only a reference for users when choosing a phone they are not familiar with, it does not represent the actual experience. If you are considering changing your phone, you can refer to the score and try it out in a mobile phone store to see if it really matches what you have learned.
That's all for the global Android phone performance list in September 2022. The full lists can be viewed on our official website or in the AnTuTu application.