Global Top 10 Best Performing Android Phones, May 2022
Qualcomm held its Snapdragon launch event on May 20 and announced two chips, the Snapdragon 7 Gen 1 and the upgraded version of Snapdragon 8 Gen 1, Snapdragon 8+ Gen 1. The Snapdragon 7 Gen 1 is Qualcomm's new chip for the mid-range phone market, but it has not attracted much attention since it is not as good as MediaTek's two Dimensity 8000 series chips.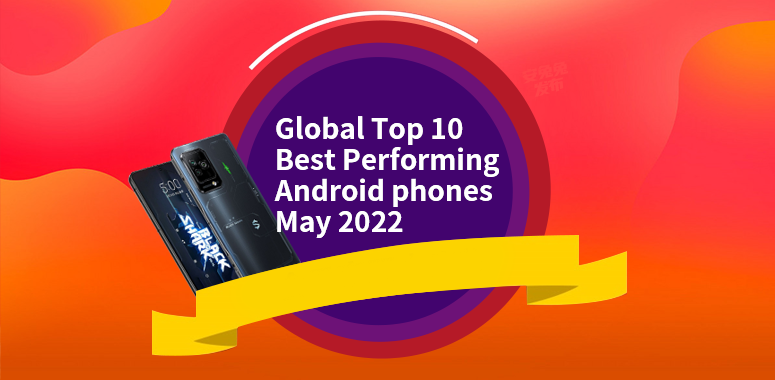 The Snapdragon 8+ Gen 1 is the first choice for new flagship phones in the second half of the year. It not only has an upgraded CPU and GPU, but most crucially, the foundry has been changed from Samsung to TSMC, which also uses a 4nm process, but delivers better performance in terms of power consumption and heating. The Snapdragon 8's biggest rival this year, the Dimensity 9000, is also manufactured by TSMC. The second half of this year will be a critical period for Qualcomm and MediaTek to compete for more flagship model chip market share.
Let's take a look at the specific data of the May ranking list below. It should be noted that figures in this ranking list were calculated from May 1 to May 31, 2022. The results in the ranking list are average scores instead of highest scores, and thus more representative.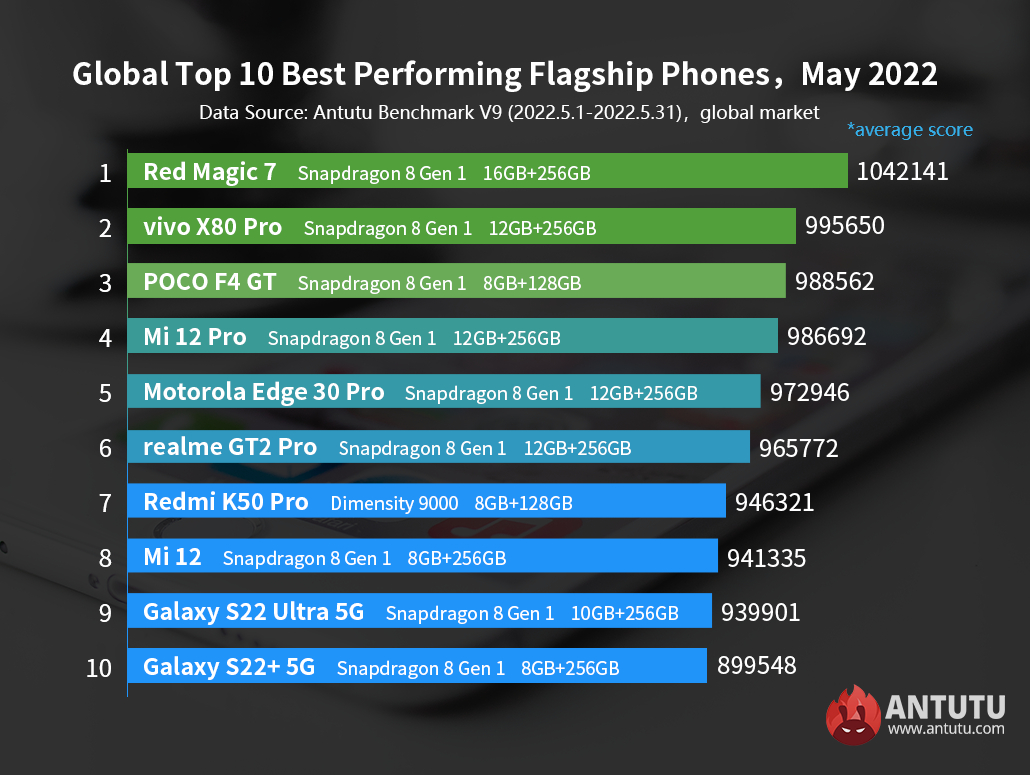 No.1: Red Magic 7
Average score: 1,042,141
The Red Magic 7 series was released in February this year, and as the first gaming phone powered by Snapdragon 8 Gen 1, the Red Magic 7 has a superb configuration.
The phone continues the design style of the previous generation. It features a 6.8-inch AMOLED screen with a resolution of 2400x1080p, supports up to 165Hz refresh rate, 720Hz touch sampling rate, tripod pixel arrangement, and DCI-P3 100% wide color gamut.
In terms of core configuration, the Red Magic 7 Series is powered by the Snapdragon 8 mobile platform with LPDDR5 RAM and UFS 3.1 flash storage, support for ARC Performance system, and also support for virtual memory with an additional 6GB, up to 24GB.
In terms of heat dissipation, the Red Magic 7 has a built-in fan with a maximum speed of 20,000 RPM, aerospace-grade phase change heat dissipation materials, ultra-soft, and high thermal conductivity rare earth, which form the ICE Magic cooling system.
In addition to the standard edition, the Red Magic 7 also launched an under-screen lens edition and a Transformers co-branded edition, making it a very competitive phone in the gaming phone market in the first half of the year.
No.2: Vivo X80 Pro
Average score: 995,650
The Vivo X80 Pro was released late compared to other Snapdragon 8 flagship phones, but because of this, it has a very balanced configuration in all aspects.
The series has a single hole on the front with under-screen fingerprint recognition. The shape continues the Cloud Stage design with square ceramic tiles and circular camera modules.
In terms of imaging, the rear camera of the model is equipped with a 50 MP Sony IMX866 RGBW sensor, 12MP ultra-wide angle, and 12MP portraits. It is equipped with Zeiss T* lens. Each layer is coated from the cover glass to the lens to the bottom filter. 360°Horizon Level Stabilization keeps your video rock-steady.
It also comes with the self-developed chip V1+. Vivo says the new V1+ draws on the experience of the first-generation chip V1, which is both an imaging chip and a unique display chip.
The phone also features a 6.78-inch Samsung 2K E5 super-sensing screen, that supports a 120Hz screen refresh rate, 300Hz touch sampling rate, 1000Hz touch sampling rate, and LTPO free frame rate 3.0. Power consumption is 13% lower compared to X70 Pro+ and debuts Android XDR Photo technology with HDR10+ support, breaking Display Mate's 15 record certifications.
No.3: POCO F4 GT
Average score: 988,562
POCO is Xiaomi's brand in overseas markets, and the POCO F4 GT is the Redmi K50 gaming edition in the Chinese market, with the same appearance and configuration.
The Redmi K50 Gaming Edition is the first product to be launched in Redmi's K50 universe this year and is powered by the Snapdragon 8 Gen1 processor. It comes with a 6.67-inch OLED straight screen, supplied by Huaxing Optoelectronics. The resolution is 2400x1080p and supports 1920Hz high-frequency PWM dimming to solve the stroboscopic problem under OLED low brightness. Support for 10-bit color depth display, P3 color gamut, HDR10+ high dynamic range, video super-resolution enhancement, Motion estimation (ME) and motion compensation(MC), and other functions. In addition, the screen is also a Display Mate A+ certified high-quality screen and has achieved 15 screen records.
POCO F4 GT is one of the few straight screen flagship phones in the new Snapdragon 8 Gen1 market this year.
The following seven products are Mi 12 Pro with an average score of 986,692, Motorola Edge 30 Pro with an average score of 972,946, Realme GT2 Pro with an average score of 965,772, Redmi K50 Pro with an average score of 946,321, Mi 12 with an average score of 941,335, Galaxy S22 Ultra 5G with an average score of 939,901, Galaxy S22+ 5G with an average score of 899,548.
Of the top ten flagship models, all nine are powered by Snapdragon 8 Gen1 processors, except Redmi K50 Pro, which ranks seventh. This shows that Qualcomm is still more recognized in the high-end market, but the Redmi K50 Pro also proves that MediaTek also has a chance to compete for more market share. Compared to the previous situation where the top 10 were all Qualcomm processors, the market share is still changing, but it will take more time for the bigger changes to happen.
In the sub-flagship list, there is less of a difference in market share between MediaTek and Qualcomm. There are also some self-developed processor brands.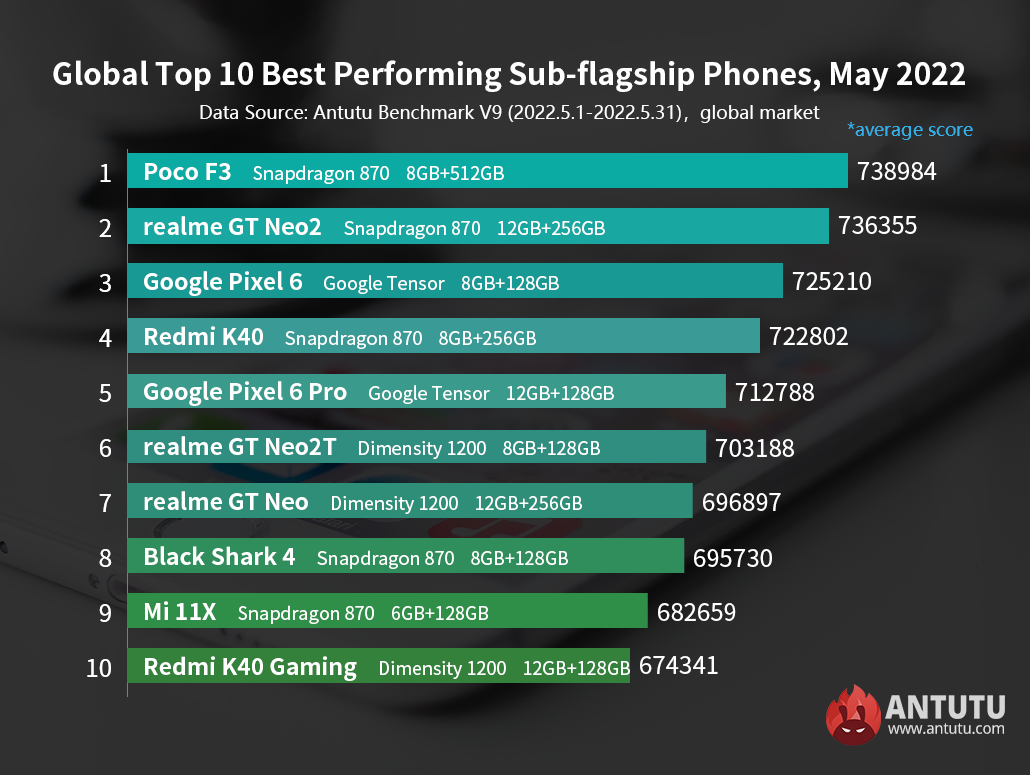 No.1: POCO F3
Average score: 738,984
The POCO F3 is the Redmi K40 series in China and looks basically the same, except that the rear case of the phone has a clashing color design. The phone has also been a high hit on Chinese social media platforms for a while, with many people finding its rear case design a little better looking than the K40 standard version.
The POCO F3 is a flagship phone released last year and is powered by the Snapdragon 870 processor, which is also currently used by many Chinese manufacturers in their low to mid-range phones. Compared to the Snapdragon 7 Gen 1, the Snapdragon 870 maybe even better in terms of performance.
No.2: Realme GT Neo2
Average score: 736,355
The Realme GT Neo2 is also powered by a Snapdragon 870 processor. Realme GT Neo2 is the lower-end version of last year's Realme GT series and tends to be balanced in overall configuration. Its biggest competitor happens to be the POCO F3 Chinese version, the Redmi K40, which is in the first place.
This year Redmi launched the K50 with a MediaTek Dimensity 8100 processor, and Realme launched the GT Neo3 with the same processor, so it looks like the two brands will once again compete in this series.
No.3: Google Pixel 6
Average score: 725,210
The Pixel 6 is powered by a chip designed in-house by Google. Google calls its chip Tensor and also customizes the chip's features. For example, the Tensor processor is customized for Pixel's computational photography function, providing Pixel users with features they are familiar with, while also being further optimized. This strategy is somewhat similar to Apple's self-developed M1 series chips, in addition to getting rid of the dependence on chip manufacturers, but more importantly, the chip can better serve their own mobile phone's software, currently, only Apple and Google can do so.
Both the Google Pixel 6 and 6 Pro phones are powered by the Google Tensor chip, and the upcoming Google Pixel 7 series will also feature the new Google Tensor chip, with the performance expected to be upgraded to the Snapdragon 888/888+ level.
The following seven products are Redmi K40 with an average score of 722,802, Google Pixel 6 Pro with an average score of 712,788, Realme GT Neo2T with an average score of 703,188, Realme GT Neo with an average score of 696,897, Black Shark 4 with an average score of 695,730, Mi 11X with an average score of 682,659, Redmi K40 Gaming with an average score of 674,341.
The overseas sub-flagship market is not as competitive as the Chinese market, and the models and chips on board are all sub-flagships from last year. To see the competition between the MediaTek Dimensity 8100 and Snapdragon 888, we'll have to wait for the performance ranking list in June.
The mid-range phone market has not changed much either, with the same models and processors in the top ten of the list. In addition to phones with MediaTek and Snapdragon processors, there is also a phone powered by a Samsung Exynos processor.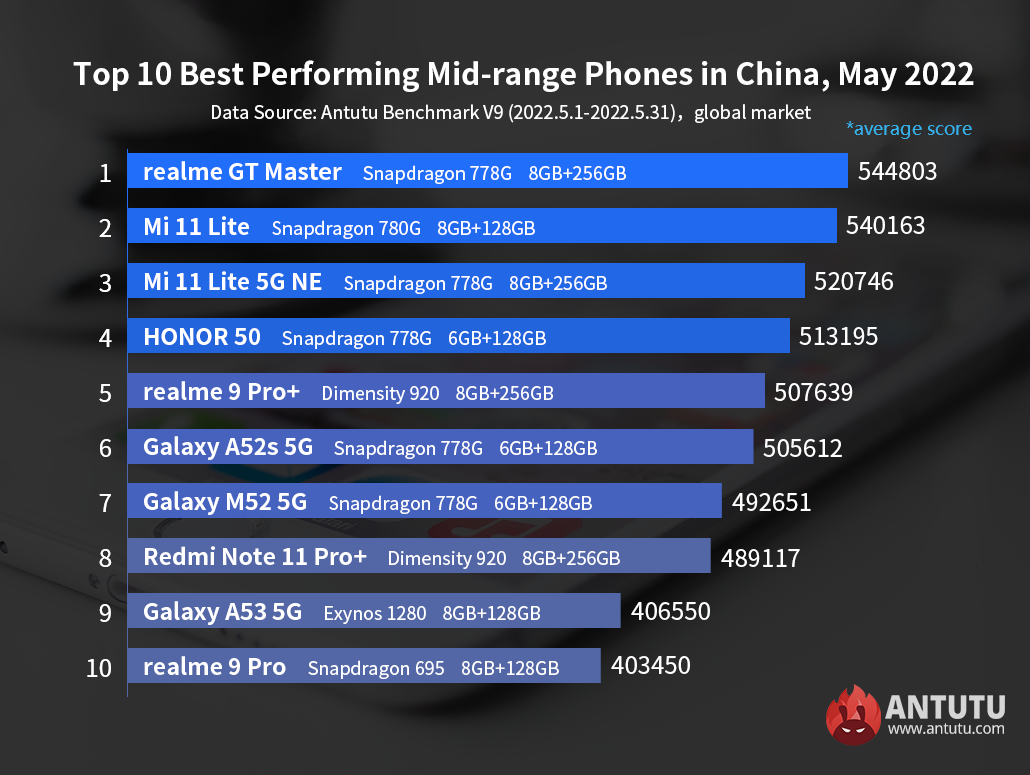 No.1: Realme GT Master
Average score: 544,803
No.2: Mi 11 Lite
Average score: 540,163
No.3: Mi 11 Lite 5G NE
Average score: 520,746
The top three mid-range phones are powered by snapdragon 778G and Snapdragon 780G processors, which can actually be seen as the same one. Only one phone, the Mi 11 Lite, came with the Snapdragon 780G, and the chip was discontinued and replaced with the Snapdragon 778G a few months later.
The Snapdragon 7 series has not performed satisfactorily in the past two years. The Snapdragon 7 Gen 1 is not as good as MediaTek's Dimensity 8000 and Dimensity 8100, and can only open up the market relying on the manufacturer's previous preferences. Currently, there is only one new phone released with Snapdragon 7 Gen 1 in the mid-range version, while the high-end version is equipped with Dimensity 8100, which shows that manufacturers do not have very high expectations for the Snapdragon 7 Gen 1.
The following seven products are HONOR 50 with an average score of 513,195, Realme 9 Pro+ with an average score of 507,639, Galaxy A52s 5G with an average score of 505,612, Galaxy M52 5G with an average score of 492,651, Redmi Note11 Pro+ with an average score of 489,117, Galaxy A53 5Gwith an average score of 406,550, Realme 9 Pro with an average score of 403,450.
The Exynos 1280 is the only Exynos processor in all the lists this month. Released in April this year, the chip is based on Samsung's 5nm EUV process and features an octa-core CPU design consisting of two Cortex-A78 cores and six Cortex-A55 cores. The GPU is the public version of Arm Mali-G68, which supports sub-6GHz and mmWave 5G connectivity for better battery life, and comes with an NPU that supports AI functions such as scene segmentation and multi-object tracking.
The Galaxy A53 5G equipped with this processor is also pretty much a youthful version of the S22, and the overall design is also simplified from the flagship to bring down the price so that more people can buy products similar to the flagship phone.
That's all for the global Android phone performance list in May 2022. Overall, the flagship market competition is more intense, sub-flagships and mid-range markets are still dominated by most of last year's models. With the Snapdragon 8+ Gen 1 now released and a new generation of flagships from many brands ready to hit the market, the performance list for Android phones is expected to change dramatically once again.