Global Top 10 Best Performing Android Phones, April 2022
The number of phones released in the market in April was significantly less than that in the first quarter. In addition to a few major manufacturers releasing flagship phones this month, most of the other manufacturers mainly update mid-range models, so the performance ranking list of flagship phones in April did not change much.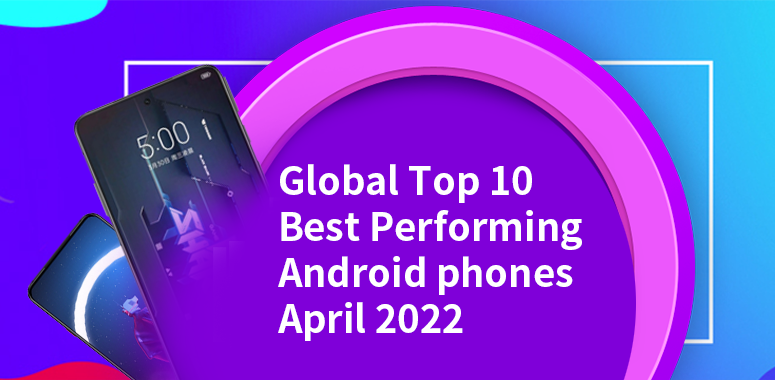 There are many highlights in the mid-range market this year. Most of the mid-range models are using the last generation of flagship processors - Snapdragon 870, Snapdragon 888, etc., and many are using MediaTek's two new sub- flagship processors Dimensity 8000 and Dimensity 8100. Considering the sharp increase in the number of cost-effective new models, this time we have added a performance ranking of sub-flagship models to the list. The score difference between flagship and mid-range phones is about 300,000 points, so we believe that the addition of the sub-flagship will give the list a good transition and better meet everyone's expectations.
Let's take a look at the specific data of the April ranking list below. It should be noted that figures in this ranking list were calculated from April 1 to April 30, 2022. The results in the ranking list are average scores instead of highest scores, and thus more representative.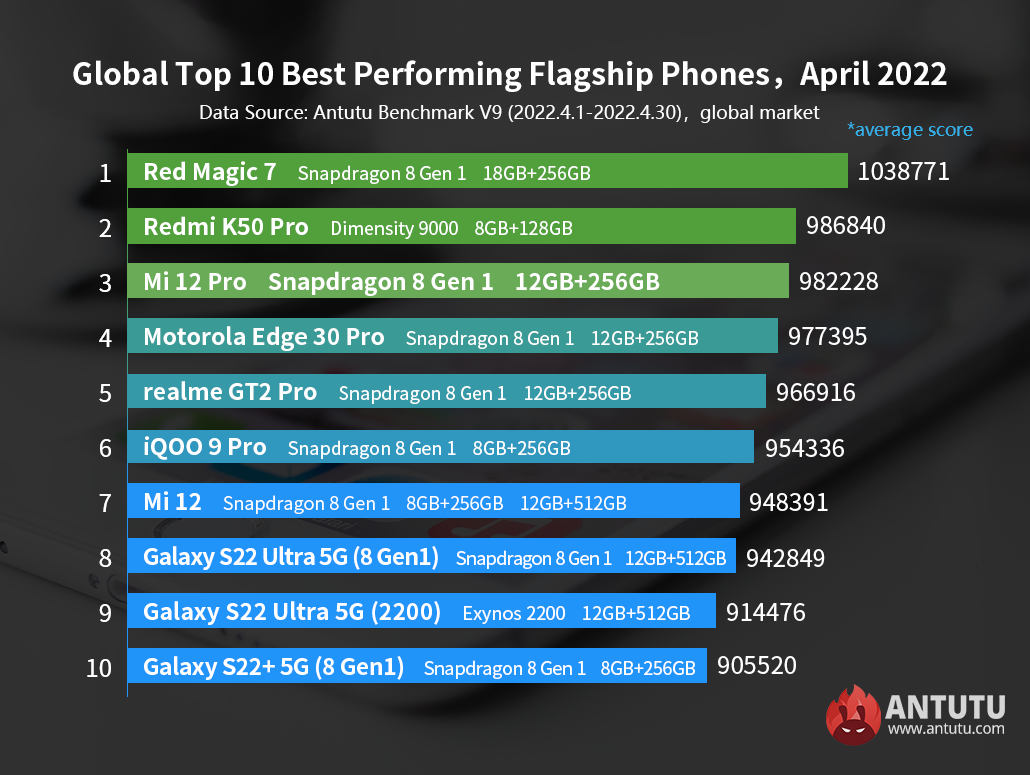 No.1: Red Magic 7
Average score: 1,038,771
Every new generation of Nubia's Red Magic game phone since its release has had impressive running scores that have completely surpassed the older gaming phone, the ROG Phone. The new Red Magic 7, equipped with a new generation of Snapdragon 8 processor, ranked at the top of the overseas Android phone performance list in April with an average running score of more than one million points. It is also the only flagship phone on the list with a score of more than one million, which once again proves the strength of the game phone in terms of performance.
In addition to the Snapdragon 8 Gen 1 processor, Red Magic 7 features a 6.8-inch AMOLED screen with a resolution of 2400x1080p, supports up to 165Hz refresh rate, 720Hz touch sampling rate, tripod pixel arrangement, and DCI-P3 100% wide color gamut.
In terms of imaging, the rear is a 64-megapixel main camera + 2-megapixel macro + 8-megapixel wide-angle, and the front is an 8-megapixel selfie lens. The phone is equipped with a 165W gallium nitride charger, which supports up to 120W fast charging, and the battery capacity is 4500mAh. The starting price for the 8GB + 128GB version of this phone is CNY3,999.
No.2: Redmi K50 Pro
Average score: 986,840
It can be seen that Xiaomi is paying more and more attention to the Redmi phone. The Redmi K50 Pro is Redmi's latest K-series flagship phone released this year. It is the world's first phone to be sold with MediaTek's Dimensity 9000 processor. The phone's average score of about 980,000 points proves MediaTek's strength. Impressively, the eight phones that came after it are equipped with Qualcomm's Snapdragon 8 Gen 1 chip and Samsung's Exynos 2200 chip, which use this year's latest 4nm process, yet they were still surpassed by Dimensity 9000.
The running scores of gaming phones are generally higher, so except for the gaming phone Red Magic 7, the average running scores of all other phones with Snapdragon 8 Gen 1 processors are surpassed by the Dimensity 9000, and the Samsung Exynos 2200 is even about 70,000 points lower.
Why is there only one phone equipped with Dimensity 9000 in the top 10 of the flagship performance list? Because there are only three new Dimensity 9000 models released in the market so far, the OPPO Find X5 Pro Dimensity version is delayed due to the epidemic, and the Vivo X80 Dimensity version is only available in May.
So after a while, if MediaTek's production capacity keeps up, the top 10 flagship models will change dramatically. MediaTek does have the strength to compete with Qualcomm this year.
No.3: Mi 12 Pro
Average score: 982,228
As we mentioned earlier, Xiaomi has increased the focus on the Redmi series, so this time we dramatically see the Mi 12 Pro coming in behind the Redmi phone. As the world's second flagship phone equipped with Snapdragon 8 Gen 1, Mi 12 Pro has undoubted performance and configuration. However, the Mi series is now more focused on the high-end market, and the Redmi is different. Redmi K50 Pro features a 2K resolution straight screen, Dimensity 9000 processor, and 120W fast charging, but is priced at only CNY 3,000, which would have been hard to imagine a year ago.
Compared with the Redmi series, the Mi series gets more profits from the market, which also supports Redmi to sell such a good configuration at such a low price to a certain extent.
The following seven products are Motorola Edge 30 Pro with an average score of 977,395, Realme GT2 Pro with an average score of 966,916, iQOO 9 Pro with an average score of 954,336, Mi 12 with an average score of 948,391, Galaxy S22 Ultra 5G (8 Gen 1) with an average score of 942,849, Galaxy S22 Ultra 5G (2200) with an average score of 914,476, Galaxy S22+ 5G (8 Gen 1) with an average score of 905,520.
Last month the top 10 flagship models were all equipped with Snapdragon 8 Gen 1 and Samsung Exynos 2200 processors, in April the Dimensity 9000 finally appeared on the list and ranked second.
Although the release of the Dimensity 9000 processor is relatively late, the market recognition of MediaTek is much higher than Snapdragon and Samsung this year. The number of flagship phones powered by the Dimensity 9000 could end up having a similar market share to Qualcomm. Samsung Exynos 2200 may gradually withdraw from the market.
Next, let's look at the newly added sub-flagship phones list. Compared to high-end flagships, the competition in the sub-flagship market is more intense.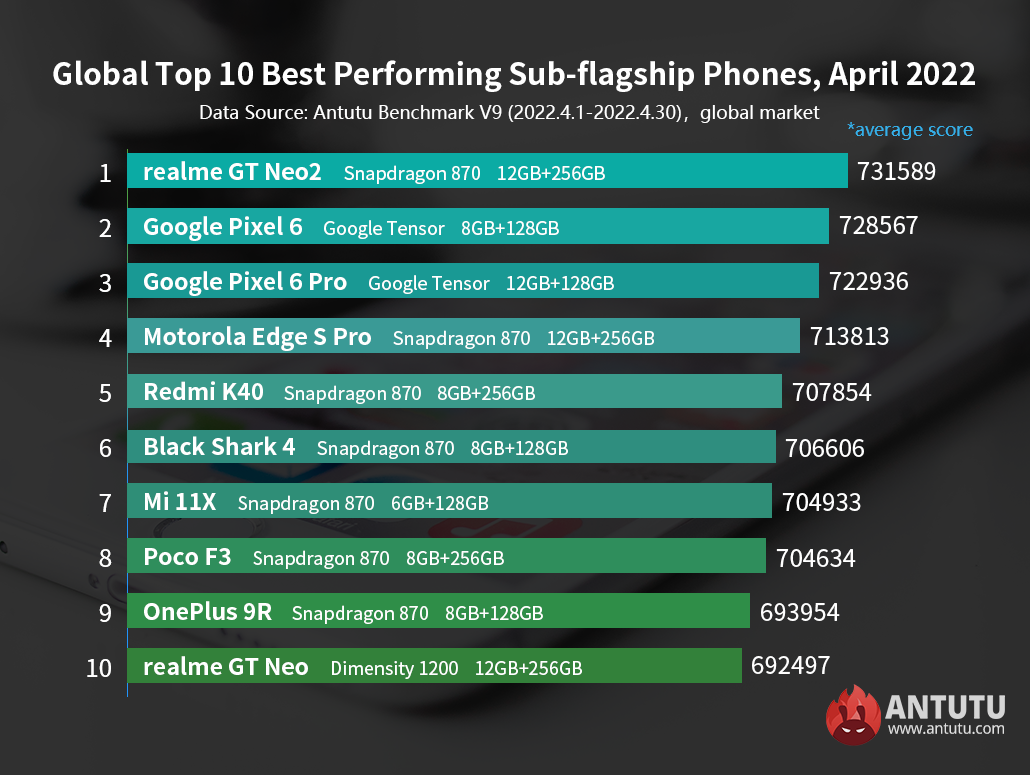 No.1: Realme GT Neo 2
Average score: 731,589
The model at the top of the list is the GT Neo 2 from Realme, which was released in 2021 and is equipped with the Snapdragon 870 processor, which is the same processor that has been used in many new sub-flagships this year. Manufacturers are very familiar with this chip and it is very suitable to be used as a sub-flagship.
However, GT Neo 3 was also released last month, and the processor upgraded to Dimensity 8100, which is equivalent to Qualcomm's Snapdragon 888. Therefore, GT Neo 2 will not be at the top of the sub-flagship list for a long time, and it is likely to be replaced by GT Neo 3 in the future.
No.2: Google Pixel 6
Average score: 728,567
No.3: Google Pixel 6 Pro
Average score: 722,936
In second and third place are the Pixel 6 series from Google, both of which were also released last year.
The Pixel 6 is equipped with a 6.4-inch AMOLED screen, which supports a 90Hz refresh rate, while the Pixel 6 Pro is a 6.71-inch AMOLED screen, supports a 120Hz refresh rate.
Instead of using Qualcomm processors, both the Pixel 6 and Pixel 6 Pro opted for a chip designed in-house by Google. Google calls its chip Tensor and also customizes the chip's features. For example, the Tensor processor is customized for Pixel's computational photography function, providing Pixel users with features they are familiar with, while also being further optimized.
This strategy is somewhat similar to Apple's self-developed M1 series chips, in addition to getting rid of the dependence on chip manufacturers, but more importantly, the chip can better serve their own mobile phone's software. We believe it will be a key direction in the future development of smartphones, but currently only Apple and Google have the ability to do so.
The average score of Google Tensor is close to that of Snapdragon 870, showing strong performance. However, the starting price of nearly CNY 5,000 is a bit too expensive. Hopefully, Google's next-generation chip can have the same high-cost performance as Mediatek Dimensity 9000.
The following seven products are Motorola Edge S Pro with an average score of 713,813, Redmi K40 with an average score of 707,854, Black Shark 4 average score of 706,606, Mi 11X with an average score of 704,933, Poco F3 with an average score of 704,634, OnePlus 9R with an average score of 693,954, Realme GT Neo with an average score of 692,497.
Seven of the top 10 models in the first-ever sub-flagship ranking are equipped with Snapdragon 870 processor. Although Qualcomm's processors have heat problems, they will still be very popular in the market as long as there is an appropriate price, and the performance of the Snapdragon 8 series processor is certainly much better than that of the 7 series.
MediaTek's new Dimensity chips have not yet appeared on the list, because although there are several cost-effective new models equipped with these chips in the Chinese market, there are no such models released overseas at present. We believe that after a while MediaTek will also make get a good ranking on the global sub-flagship list.
From the overall running score of the list, the scores of mid-range models are between 490,000 and 550,000, and the scores of sub-flagship models are between 690,000 and 730,000. The sub-flagship models are generally the ones with the highest user attention.
Finally, let's take a look at the ranking of mid-range phones.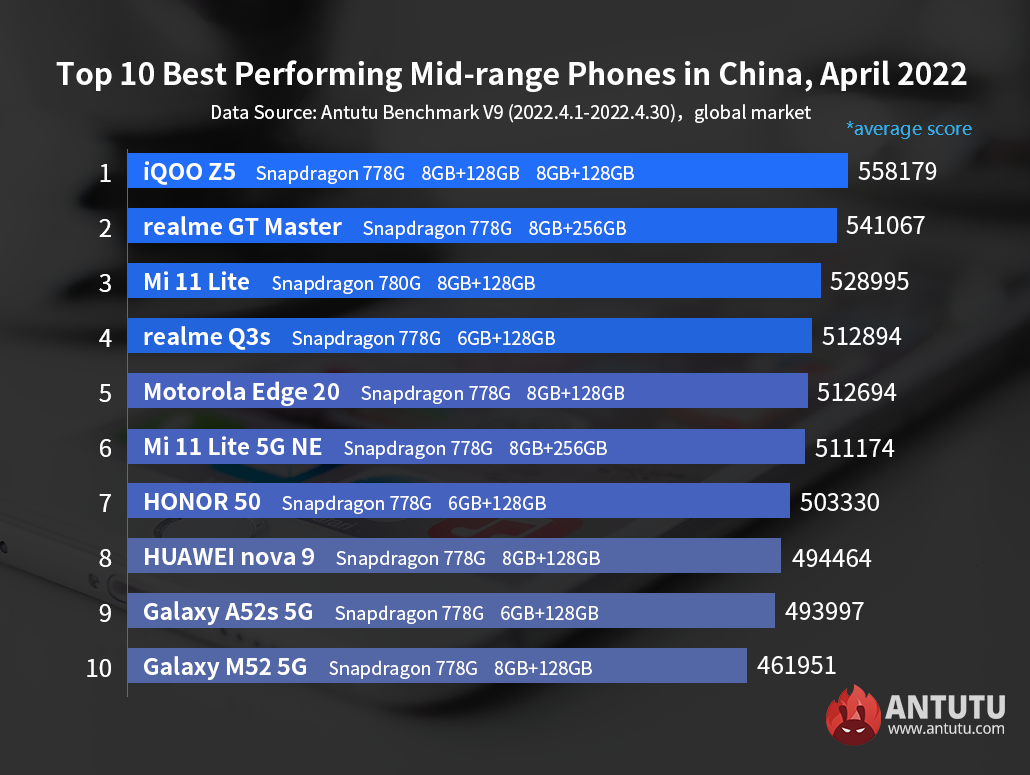 No.1: iQOO Z5
Average score: 559,591
No.2: Realme GT Master
Average score: 544,862
No.3: Mi 11 Lite
Average score: 532,023
The following seven products are Realme Q3s with an average score of 530,806, Motorola Edge 20 with an average score of 526,824, Mi 11 Lite 5G NE with an average score of 516,932, HONOR 50 with an average score of 511,424, HUAWEI nova 9 with an average score of 508,020, Galaxy A52s 5G with an average score of 501,567, Galaxy M52 5G with an average score of 490,315.
The mid-range list looks more like a test run for the Snapdragon 778G processor, as nine of the top 10 phones are powered by this processor. The other Snapdragon 780G chip has been discontinued and replaced with the Snapdragon 778G, so the two chips are actually equivalent to the same one. The Mi 11 Lite, which is powered by Snapdragon 780G, has also been replaced with snapdragon 778G, proving that there is little difference between the two chips.
The Snapdragon 778G is launched globally by the Honor 50 series, which is the first blockbuster product brought by Honor after its independence, and also marks Honor's official joining Qualcomm Snapdragon camp. Specific performance parameters, the snapdragon 778G is manufactured using 6nm process technology, CPU is composed of four 2.4Ghz A78 cores + four 1.8Hz A55 cores, and GPU is integrated with Adreno 642L. According to Qualcomm, the Snapdragon 778G has a 40% increase in both CPU and GPU performance compared to the Snapdragon 768G.
That's all for the global Android phone performance list in April 2022. The newly added sub-flagship list compares models with average running scores between 690,000 and 730,000, giving people a better reference when making choice.