Global Top 10 Best Performing Android Phones, February 2022
After the launch of Qualcomm's next-generation flagship processor each December, smartphone manufacturers often start releasing new flagship phones equipped with the processor. As in previous years, the competition for the next-generation flagship phone market has now begun and our ranking list is expected to be completely updated after one quarter.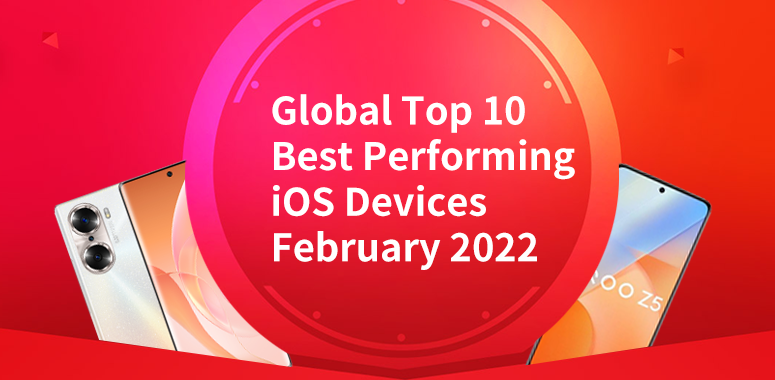 In the performance list of overseas Android phones in February 2022, four of the top 10 mobile phones are equipped with Snapdragon 8 Gen 1 processors, accounting for almost half. By the end of March, the top 10 could all be Snapdragon 8 Gen 1 devices.
Let's take a look at the specific data of the February ranking list below. It should be noted that figures in this ranking list were calculated from February 1 to February 28, 2022. The results in the ranking list are average scores instead of highest scores, and thus more representative.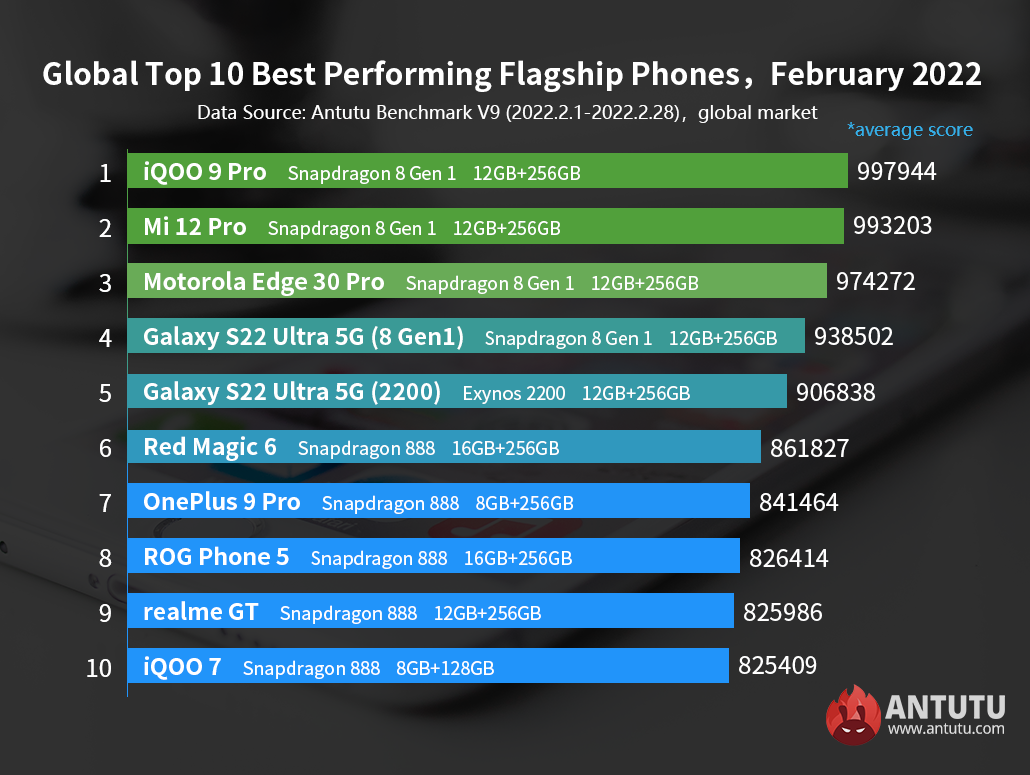 No.1: iQOO 9 Pro
Average score: 997,944
The iQOO9 series, launched on January 5, 2022, is arguably the first flagship phone in 2022. It is equipped with a Snapdragon 8 Gen 1 processor, with an average running score of 997,944, which is very close to one million points.
The appearance of the iQOO 9 Pro follows the design style starting from iQOO7, the legend one has a BMW M-branded glass back, which gives it a unique look. The new ultra-large horizontal lens module also underlines its image strength.
In addition to the Snapdragon 8 Gen 1 processor, iQOO9 Pro is also one of the first phones to use Samsung's GN5 image sensor. Overall, iQOO 9 Pro is currently the best in all aspects of configuration, and its performance is beyond doubt.
No.2: Mi 12 Pro
Average score: 993,203
Xiaomi 12 Pro, released on December 28, 2021, is the world's second flagship phone equipped with Snapdragon 8 Gen1 processor. In addition to the powerful processor, it uses a 6.73-inch screen with a resolution of 3200x1440p, Samsung E5 luminescent material, supports for second-generation LPTO and 120Hz refresh rate. The screen is claimed to be the second-generation low-power 2K screen.
Xiaomi has always been a model for the industry in terms of configurations. As a digital series aimed at the high-end phone market, the starting price of the Xiaomi 12 Pro is set at CNY 4,699. It seems that Xiaomi is developing more and more smoothly towards the high-end phone market.
No.3: Motorola Edge30 Pro
Average score: 974,272
Lenovo completed the first global launch of the new generation of Qualcomm processor phones, outpacing Xiaomi for the second time in a row. Motorola, the founder of mobile phones, has a great global reputation despite poor sales in China. It now looks like Lenovo will also focus on increasing Motorola's market share in China this year.
As the world's first Snapdragon 8 Gen 1 processor phone, the starting price of the Motorola Edge30 Pro is only CNY 2,999 in the Chinese market. It is currently the cheapest Snapdragon 8 Gen1 phone and has a very high-cost performance.
However, although it has excellent cost performance, there are still deficiencies in system localization, such as back shell, frame, unlocking method, and so on, which are slightly inferior to the brands that have been deeply developing the Chinese market. People can make the choice according to their own preferences.
The following seven products are Galaxy S22 Ultra 5G (8 Gen1) with an average score of 938,502, Galaxy S22 Ultra 5G (2200) with an average score of 906,838, Redmi Magic6 with an average score of 861,827, OnePlus 9 Pro with an average score of 841,464, ROG Phone 5 with an average score of 826,414, Realme GT with an average score of 825,986, iQOO 7 with an average score of 825,409.
Among the top 10 flagship phones, the top four Snapdragon 8 Gen 1 processor phones all had average scores close to one million points, which is the progress of the 4nm technology era. The best running score for Snapdragon 888 processor is about 860,000 points of Redmi Magic 6, which didn't reach 900,000 points.
In addition to the new Snapdragon 8 Gen 1 and the old Snapdragon 888, Samsung's Exynos 2200 processor is also getting a lot of attention. Although using the same 4nm technology, Exynos 2200 has been criticized in the industry, even Samsung's home market is not willing to pay the same amount of money for a phone equipped with the Exynos 2200 chip. It is said that Samsung management also intends to terminate this unprofitable project, so the Exynos 2200 may be the last generation of Exynos processors. Then will the running score of 900,000 points be its final best achievement?
The mid-range phone ranking is similar to that of last month as this phone market has not yet been taken into account by the manufacturers. The list is still dominated by phones equipped with Snapdragon 778G/780G.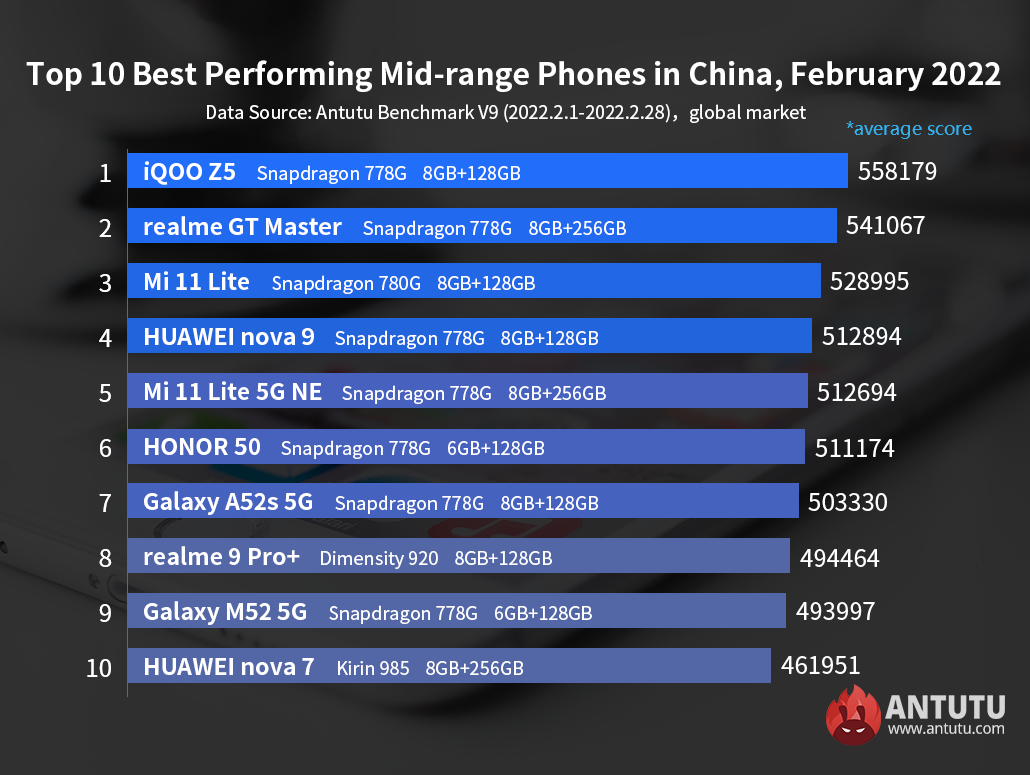 No.1: iQOO Z5
Average score: 558,179
No.2: Realme GT Master
Average score: 541,067
No.3: Mi 11 Lite
Average score: 528,995
Not only the top three phones but eight of the top ten phones in the mid-range phone performance ranking are equipped with Snapdragon 778G or Snapdragon 780G processors. Snapdragon 778G and Snapdragon 780G can actually be regarded as the same chip, the only smartphone equipped with Snapdragon 780G, Mi 11 Lite, has also replaced the processor with Snapdragon 778G. There is no difference in performance between the two chips.
Because of the same core configuration, the eight phones are also very close to each other in terms of running scores, basically between 500,000 and 550,000 points. In addition to the eight phones equipped with Qualcomm Snapdragon chips, the other two phones are equipped with MediaTek Dimensity 920 and Huawei HiSilicon Kirin 985 respectively.
MediaTek will definitely upgrade Dimensity 920 this year, or directly use the previous flagship Dimensity 1100, Dimensity 1200 or the latest Dimensity 1300 as mid-range chips. However, HiSilicon Kirin 985 is not expected to be updated, Huawei nova 7, which ranks 10th in this list, will probably be the last product equipped with a Kirin chip in the performance list.
The following seven products are HUAWEI nova 9 with an average score of 512,894, Mi 11 Lite 5G NE with an average score of 512,694, HONOR 50 with an average score of 511,174, Galaxy A52s 5G with an average score of 503,330, Realme 9 Pro+ with an average score of 494,464, Galaxy M52 5G with an average score of 493,997, HUAWEI nova 7 with an average score of 461,951.
Qualcomm is currently selling last year's flagship phones directly as mid-to-high-end products, while MediaTek is launching entirely new products. On March 1 MediaTek announced a new Dimensity 8000 series, along with a slightly upgraded Dimensity 8100, to compete with the Snapdragon 870 and Snapdragon 888. MediaTek has TSMC technology, so its products are much better than Qualcomm's two chips in terms of power consumption and reputation. In general, MediaTek is expected to compete with Qualcomm for more market share this year.
A number of new flagship phones equipped with Dimensity 9000 will be released in March, the market competition will definitely be more intense by then. We are looking forward to next month's ranking list.