Global Top 10 Best Performing Android Phones, January 2022
After Qualcomm released the new generation of Snapdragon 8 processors in early December last year, the first mobile phone equipped with this chip soon went on sale. Phones equipped with Snapdragon 8 Gen 1 chip also appear on the Global Android phones performance list in January, and not surprisingly, become the champion.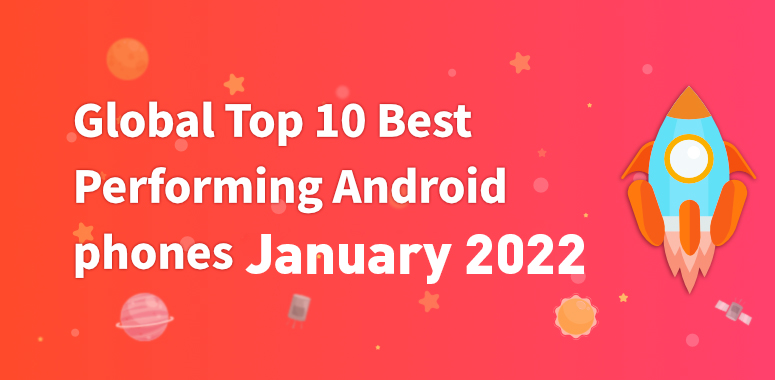 Let's take a look at the specific data below. It should be noted that figures in this ranking list were calculated from January 1 to January 31, 2022. The results in the ranking list are average scores instead of highest scores, and thus more representative.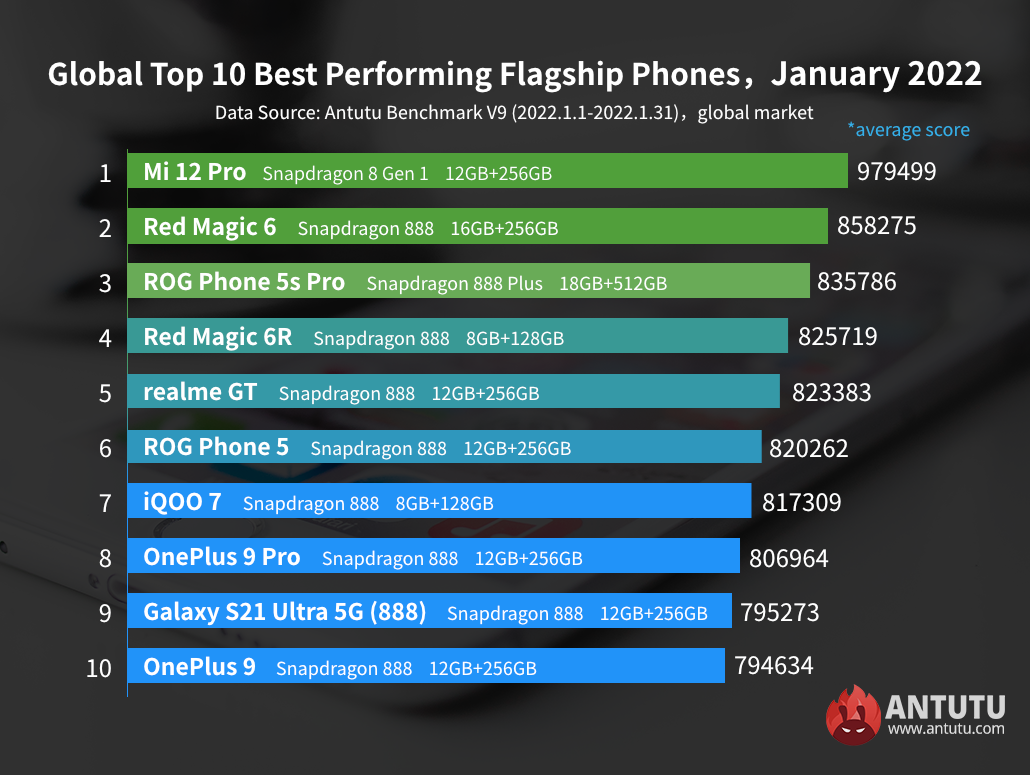 No.1: Mi 12 Pro
Average score: 979,499
While Xiaomi had previously announced that the Xiaomi 12 series would be powered by Qualcomm's new Snapdragon 8 Gen 1 chip, the first phone to be powered by this chip ended up being Lenovo's Moto Edge X30. The release time of the two mobile phones is only less than a month apart.
However, it was the Mi 12 Pro, not the Moto Edge X30, that took first place in the performance list.
As the second smartphone equipped with Snapdragon 8 Gen1 processor, Mi 12 Pro uses a 6.73-inch screen with a resolution of 3200x1440p, Samsung E5 luminescent material, second-generation LPTO, supports for 120Hz refresh rate, and also ten-finger 480Hz touch sampling rate. The screen is claimed to be the second-generation low-power 2K screen.
Core configuration, in addition to the Snapdragon 8 Gen 1 processor, Mi 12 Pro is also equipped with LPDDR5 6400Mbps, and a full-featured new generation of UFS 3.1 flash memory.
The phone is a big step forward in appearance design and the price has risen a lot, the price has been set at CNY 4,699, the top-most model will cost CNY 5,399.
No.2: Red Magic 6
Average score: 858,275
Because of the release of the flagship mobile phone equipped with a Snapdragon 8 Gen 1 processor, Red Magic 6 only ranked second this time. Snapdragon 8 Gen 1 is really powerful, the running score of Xiaomi 12 Pro is more than 120,000 points higher than that of Red Magic 6. 4nm process is much more advanced than 5nm, TSMC's 4nm process may have even better performance, we can't wait to see the performance of Dimensity 9000.
Red Magic 6 is powered by last year's flagship processor Snapdragon 888, which is expected to continue to be used in many phones this year, and the price for it will decline further, there may be a large number of Snapdragon 888 mobile phones under CNY2,000 soon.
No.3: ROG Phone 5s Pro
Average score: 835,786
The ROG Phone 5s Pro was released in the second half of last year, it has the same appearance as the ROG Phone 5, the only optimization is that the processor is upgraded. But even with a higher configuration, ROG Phone 5s Pro still has a lower performance score than Red Magic 6, it is no longer the best gaming phone.
The following seven products are Red Magic 6R with an average score of 825,719, realme GT with an average score of 823,383, ROG Phone 5 with an average score of 820,262, iQOO 7 with an average score of 817,309, OnePlus 9 Pro with an average score of 806,964, Galaxy S21 Ultra 5G (888) with an average score of 795,273, OnePlus 9 with an average score of 794,634.
As we mentioned in our December 2021 performance ranking list, more and more Snapdragon 8 Gen 1 phones will appear on the list during the transition to this new Qualcomm flagship processor, we can already see this happening from this list.
The mid-range mobile phone ranking is still dominated by phones equipped with Snapdragon 778G. MediaTek has announced the Dimensity 8000 processor, but we still haven't seen any related information about Qualcomm's new mid-range processor this year. Even with the release of the 790G processor, it seems that it's going to be tough for Qualcomm to beat Mediatek. It is also possible that Qualcomm will directly use Snapdragon 888 as a mid-range chip as it did last year, which may still have a chance of winning.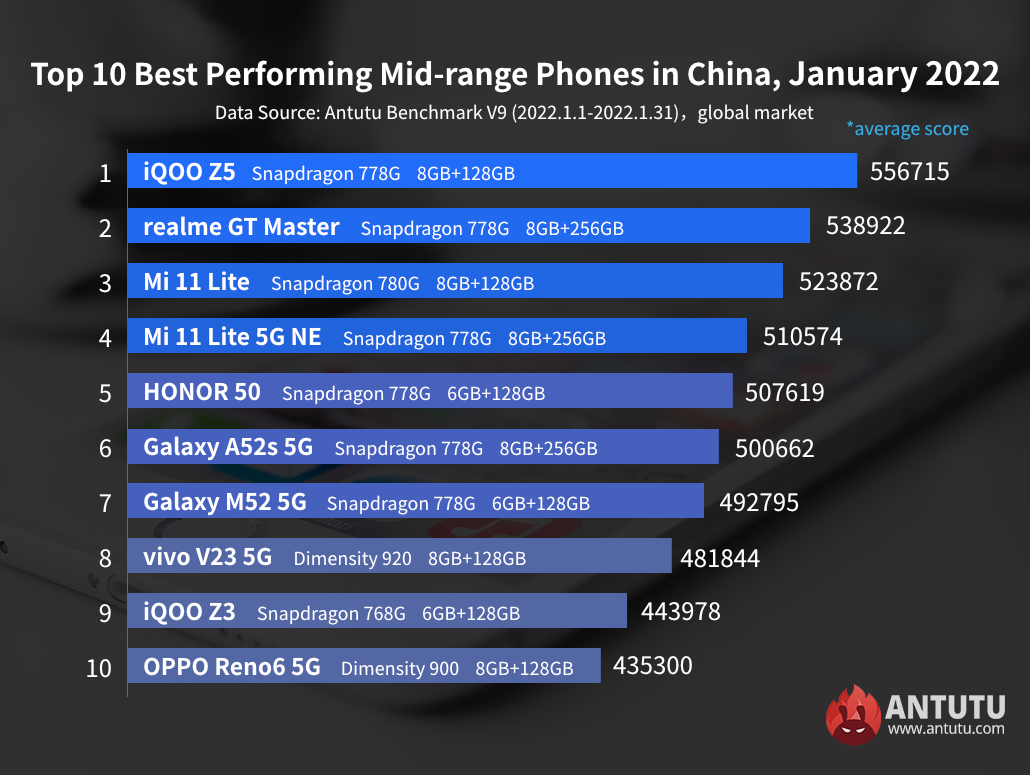 No.1: iQOO Z5
Average score: 556,715
The iQOO Z5, launched last September, packs a large 6.67-inch LCD with a 120Hz refresh rate and 240Hz touch sampling rate, a good choice for LCD enthusiasts. It is powered by a Snapdragon 778G SoC. The appearance adopts the design of the high-end phone Vivo X70 series.
iQOO is a very cost-effective brand. The starting price of this Snapdragon 778G phone with full-featured LPDDR5 (6400Mbps) and full-featured UFS3.1 is only CNY 1,799.
No.2: realme GT Master
Average score: 538,922
No.3: Mi 11 Lite
Average score: 523,872
The Realme GT master and Mi 11 Lite are ranked second and third respectively. The special features of these two mobile phones are their design and appearance. The Realme GT master is designed by the world-famous designer Naoto Fukazawa. Mi 11 Lite has ultra light weight and a lot of different colors. The Snapdragon 778G processor is also powerful enough for people who prefer a better appearance.
The following seven products are Mi 11 Lite 5G NE with an average score of 510,574, HONOR 50 with an average score of 507,619, Galaxy A52s 5G with an average score of 500,662, Galaxy M52 5G with an average score of 492,795, Vivo V23 5G with an average score of 481,844, iQOO Z3 with an average score of 443,978, OPPO Reno6 5G with an average score of 435,300.
In summary, the mid-range mobile phone rankings are still relatively stable, major changes are likely only if there are new mid-range chips. Currently, there is only one Snapdragon 8 Gen 1 mobile phone in the ranking list of high-end flagship phones, we believe that more mobile phones equipped with this chip will appear in the future.
In addition to the Snapdragon 8 Gen 1 flagship phones, the first Dimensity 9000 flagship phone will also be released in February, we will be able to have a closer look at the performance difference between the Snapdragon 8 Gen 1 and MediaTek Dimensity 9000.