Global Top 10 Best Performing iOS Devices in January 2022
Happy Chinese New Year everyone! January 2022 has already passed, the first round of competition in the Chinese phone market has ended, and a new round of competition is expected to start after the Spring Festival. Just in time for the end of the Chinese New Year holiday, we bring you the performance rankings of iOS devices in January.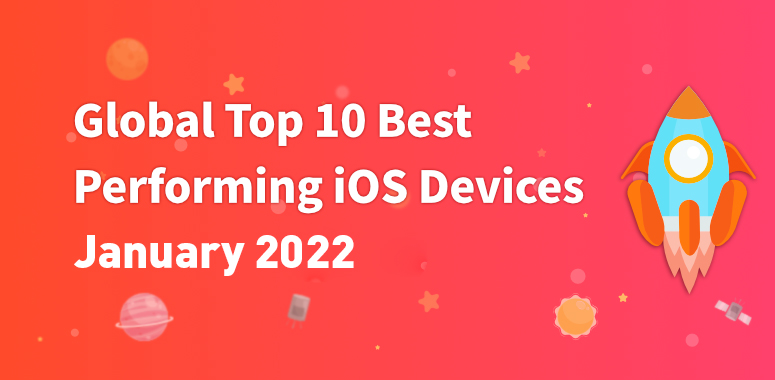 It should be noted that figures in this ranking list were calculated from January 1 to January 31, 2022. The results in the ranking list are average scores instead of the highest scores, and thus more representative. The scores in the list are mainly based on Antutu V9 and cannot be compared with the results of the previous versions.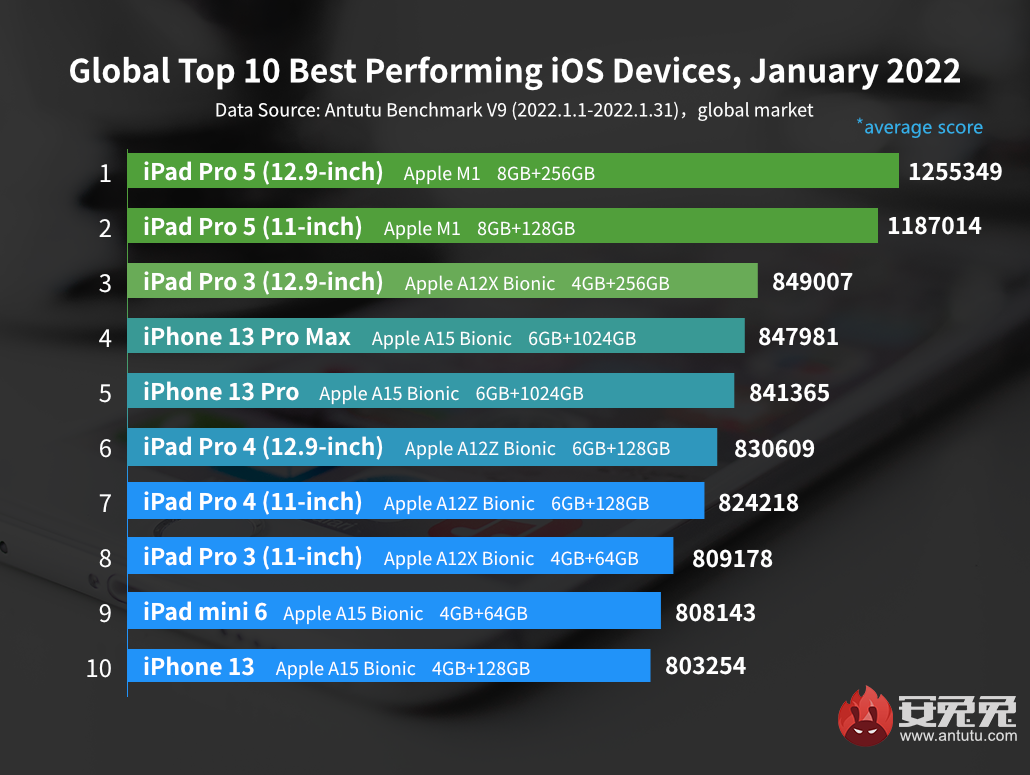 No.1: iPad Pro 5 (12.9-inch)
Average score: 1,255,349
No.2: iPad Pro 5 (11-inch)
Average score: 1,187,014
The two iPad Pro5 tablets equipped with the M1 chip are still at the top of the list with scores of more than 1.1 million, which is not surprising. Since their launch, the two products have consistently ranked in the top two, people who often check the list are probably tired of seeing them.
These two devices were released in April 2021, and if Apple upgrades them this year, it will also be in April. It is difficult to say whether the M1 chip will be upgraded to M1 pro and M1 Max used on PC. It is also possible that Apple will not have the chip upgraded, since the two products have no rivals in the current tablet market, an upgrade is not really necessary.
No.3: iPad Pro 3 (12.9-inch)
Average score: 849,007
The iPad Pro 3 (12.9-inch) equipped with A12X chip continues to rank third. This device was released in 2018, it has an 8-core CPU (four big cores, four small cores) and 7-core GPU, as well as a neural network engine with up to five trillion operations per second, uses TSMC's 7nm process and features 10 Billion transistors.
The average running score of iPad Pro 3 (12.9-inch) is 849,007 this time. Although the score is much lower than the top two, it is still one of the best tablet products, running apps and games very smoothly, which is also a unique feature of large-screen iPad products.
The following seven products are iPhone 13 Pro Max with an average score of 847,981, iPhone 13 Pro with an average score of 841,365, iPad Pro 4 (12.9-inch) with an average score of 830,609, iPad Pro 4 (11-inch) with an average score of 824,218, iPad Pro 3 (11-inch) with an average score of 809,178, iPad mini 6 with an average score of 808,143, iPhone 13 with an average score of 803,254.
Except for the iPad Pro 3 and iPad Mini 6 rankings, there is no change in the ranking of other devices. It is normal for the scores to differ by only a few hundred points from the previous performance list. Let's keep looking forward to the release of Apple's new devices.
That's all for the January iOS Performance List. And again, Happy year of the tiger!