Global Top 10 Best Performing Android Phones, December 2021
Compared with the Chinese Android phone market, the global market is relatively stable. It can be said that the Chinese market has always been more competitive than any other market. One week after Qualcomm released Snapdragon 8 Gen 1, the first new Android phone equipped with this chip has already been launched in the Chinese market. So far, there are four new Snapdragon 8 Gen 1 flagship phones launched in the global market, all of which are in China. It's also worth noting that Samsung, which used to be the leader in launching next-generation Android flagship phones, has been largely ignored by the Chinese market.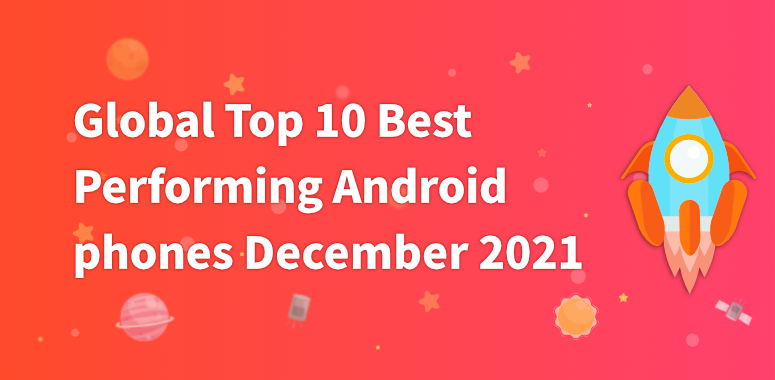 The Global Android phone performance ranking list is still dominated by the flagship phones equipped with Snapdragon 888 and 888 Plus. The top 10 are still the phones we often see, and the ranking has not changed much.
Let's take a look at the specific data below. It should be noted that figures in this ranking list were calculated from December 1 to December 31, 2021. The results in the ranking list are average scores instead of the highest scores, and thus more representative.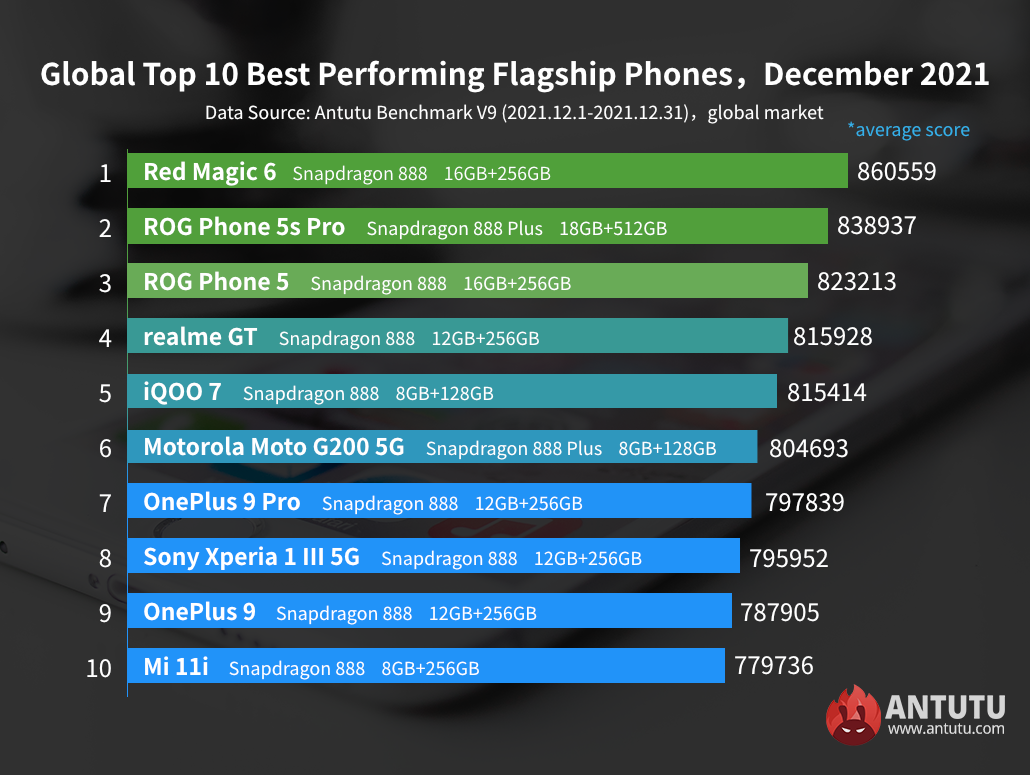 No.1: Nubia Red Magic 6
Average score: 860,559
The Nubia Red Magic 6 was launched in March 2021 as a game phone equipped with Snapdragon 888 processor. The Pro version of the Nubia Red Magic 6 also repeatedly ranked first in the Global Android phone performance ranking list. The average performance score for the combination of 16GB RAM + 256GB ROM + Snapdragon 888 was more than 20,000 points higher than the second-placed ROG Phone 5s Pro. The ROG Phone 5s Pro is significantly more powerful, with an 18GB RAM + 512GB ROM + Snapdragon 888 plus combo, but still lost to Nubia Red Magic 6.
No.2: ROG Phone 5s Pro
Average score: 838,937
The ROG Phone 5s Pro was released in August 2021 as a gaming Phone powered by Snapdragon 888 Plus processor. It only made its debut on the Global Android performance list last month, and it won't stay on the list for long because of the upcoming Snapdragon 8 Gen 1. ROG Phone used to be the highlight of gaming mobile phones, and its running score topped the list for half a year. Now it's a shame to see ROG Phone 5s Pro has a lower score than Nubia Red Magic 6, even with a higher configuration.
However, the score is just a reference, the real experience of both phones in terms of gaming is very smooth, and can absolutely meet the various needs of users.
No.3: ROG Phone 5
Average score: 823,213
As a previous generation product, the ROG Phone 5 isn't much different from the ROG Phone 5s Pro, the appearance is even identical. The only key point is that the processor is upgraded. As we all know, it is impossible to have a super-strong component output in a few months, ROG Phone 5s Pro is just a product update to meet some small needs of users. Since there is very little difference between the two generations of mobile phone products, people can just make the choice according to their budget.
The following seven products are Realme GT with an average score of 815,928, iQOO 7 with an average score of 815,414, Motorola Moto G200 5G with an average score of 804,693, OnePlus 9 Pro with an average score of 797,839, Sony Xperia 1 III 5G with an average score of 795,952, OnePlus 9 with an average score of 787,905, Mi 11i with an average score of 779,736.
The Snapdragon 888 Plus powered only two phones in the Global Android performance rankings for the last month of 2021, with all the rest powered by Snapdragon 888. It is currently a time of transition between old and new, the new Snapdragon 8 Gen 1 is likely to completely replace these two chips in January. With an average performance score of over 1M, Snapdragon 8 Gen 1 is really a huge upgrade for the Snapdragon 888 era.
Snapdragon 778G still dominates the mid-range mobile phone ranking list. A new version of Mi 11 Lite equipped with Snapdragon 778G was also released last month, which means the Snapdragon 780G chip has been withdrawn from the stage of history. The Mi 11 Lite is no longer the exclusive Snapdragon 780G device, and the ranking list is more unified.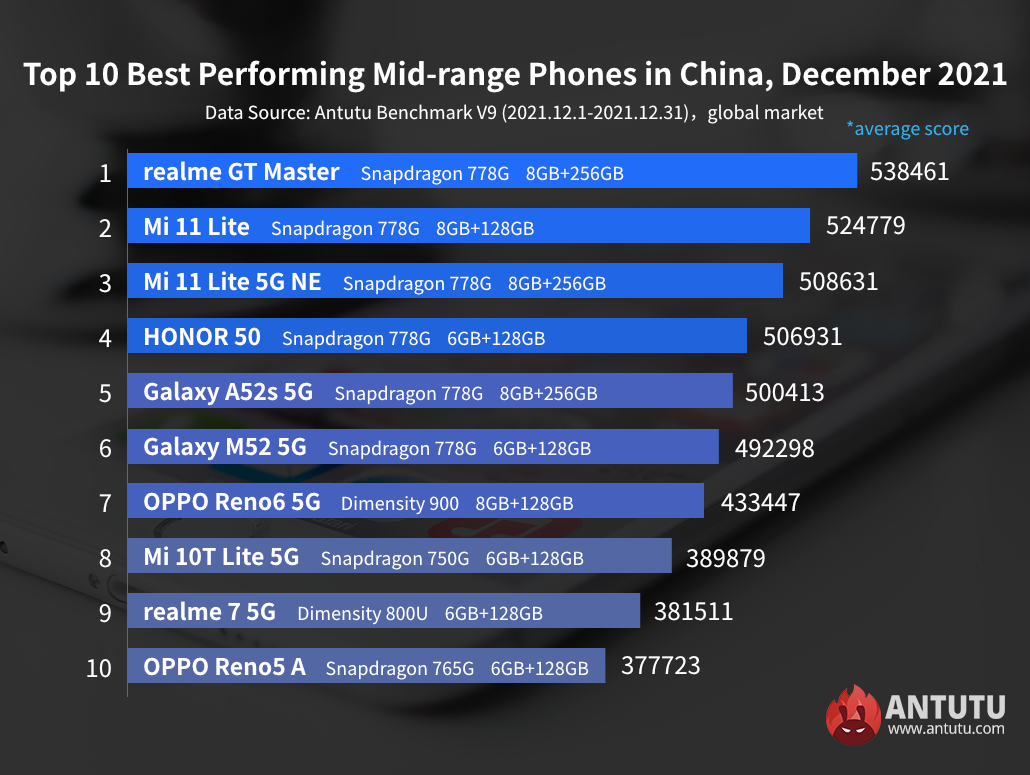 No.1: Realme GT Master
Average score: 538,461
No.2: Mi 11 Lite
Average score: 524,779
No.3: Mi 11 Lite 5G NE
Average score: 508,631
In addition to the top three, the top six phones on the mid-range mobile phone list are all powered by Snapdragon 778G, with the highest score being 538,461 for the Realme GT Master and the lowest score being 492,298 for the Galaxy M52 5G. The score difference is very small. Samsung phones have never had an edge in performance scores, even with better hardware, they can end up scoring lower than their rivals, but few say Samsung phones offer a bad experience.
Therefore, it is worth mentioning that the score is only a reference for users who do not know the phone. It does not fully represent the efforts made by the mobile phone manufacturer and users' personal experience. Only products with particularly low scores are likely to provide a worse experience. For example, Snapdragon 765G mobile phone, which ranked last, is obviously not competent for the current market.
The following seven devices are HONOR 50 with an average score of 506,931, Galaxy A52s 5G with an average score of 500,413, Galaxy M52 5G with an average score of 492,298, OPPO Reno6 5G with an average score of 433,447, Mi 10T Lite 5G with an average score of 389,879, Realme 7 5G with an average score of 381,511, OPPO Reno5 A with an average score of 377,723.
There are a few mobile phones equipped with the new Snapdragon 8 Gen 1 released, some of which are already on sale. However, Qualcomm has yet to announce any new mid-range chips, it looks like it will focus first on the capacity of flagship phones. How will the new mid-range chip be named? How will its performance be? It is expected that it will not be known until the second quarter of 2022 at the earliest.
In addition, as Qualcomm's biggest competitor, Mediatek has made every possible preparation. Not only a Dimensity 9000 with a better reputation than Snapdragon 8 Gen 1, but also a mid-to-high-end processor Dimensity 8000 to compete with Qualcomm's Snapdragon 870. Currently, Snapdragon 8 Gen 1 still has a heating problem, which gives Dimensity 9000 a very good opportunity. Whether Mediatek can capture more of the market depends on the first batch of new phones to be released after February.
2021 has now officially passed and 2022 has arrived. The New Year competition in the Android phone market has been going on since January, with all the mobile phone manufacturers promoting their new phones. We look forward to seeing the rankings in January 2022.