Global Top 10 Best Performing Android Phones, November 2021
Mobile phone manufacturers would definitely not release flagship products during the transition period in November, as they had to wait for chip makers to deliver next year's flagship processors. As a result, our rankings usually stay the same during this period.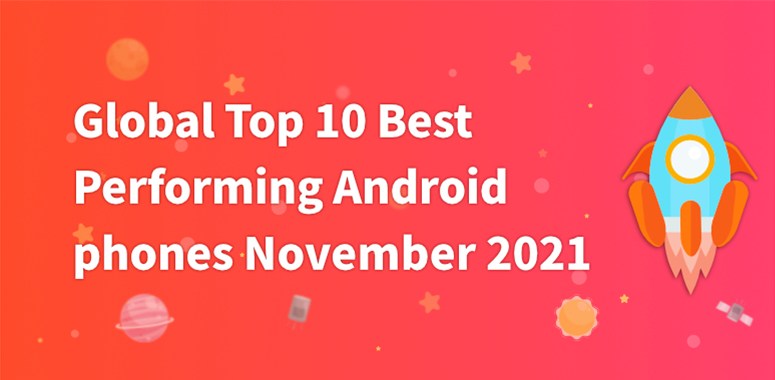 The overseas smartphones are facing the global market, their pursuit of performance is not as aggressive as the Chinese market, so Snapdragon 888 is generally seen as a better choice. However, a new phone equipped with Snapdragon 888 Plus processor finally appeared on this list.
Let's take a look at the specific data below. It should be noted that figures in this ranking list were calculated from November 1 to November 30, 2021. The results in the ranking list are average scores instead of the highest scores, and thus more representative.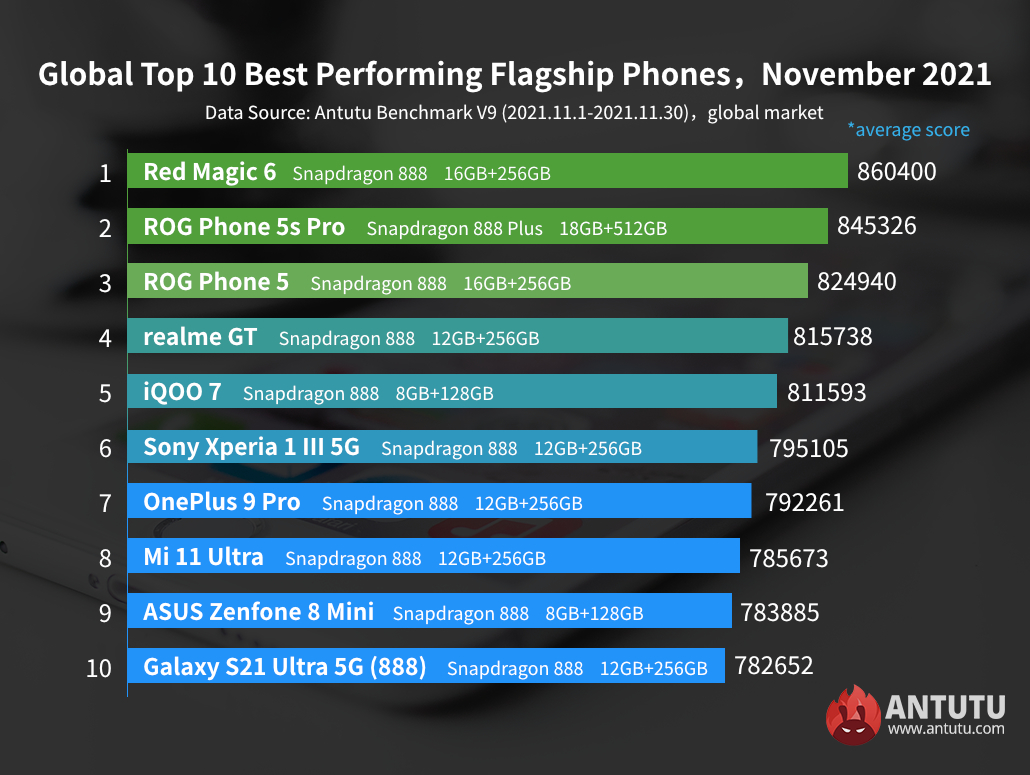 No.1: Nubia Red Magic 6 Pro
Average score: 860,400
The score of Nubia Red Magic 6 Pro has reached a new high. The average running score of 860,400 is more than 30,000 higher than that of 825,145 in September and more than 10,000 higher than that in October. As one of the game phones, it has occupied first place in the ranking list of Global Android phones for several consecutive months, which is really impressive.
Most importantly, even equipped with a Snapdragon 888 processor, the Nubia Red Magic 6 Pro beats the runner-up ROG Phone 5S Pro equipped with a snapdragon 888 Plus processor, with more than 10,000 average running score. Moreover, both the RAM and ROM of ROG Phone 5S Pro are higher than Nubia Red Magic 6 Pro. It can be seen that in addition to hardware configuration, the system also plays a big role in the performance score of a mobile phone.
No.2: ROG Phone 5s Pro
Average score: 845,326
Launched in August, the game phone ROG Phone 5s Pro equipped with Snapdragon 888 Plus didn't appear in the ranking list until November, which is a bit disappointing.
In terms of appearance, ROG Phone 5s Pro has only undergone routine small upgrades, which is almost unchanged from the previous generation. A colorful personalized window is added on the back of the Pro version, which will display different contents in different scenes and support customization, the waist buttons are also retained.
The screen is still a 6.78-inch Samsung AMOLED screen with a diamond arrangement, 1080x2448px resolution, 144Hz refresh rate, 800 nits (typ), HDR10+.
The processor has been upgraded to Snapdragon 888 Plus, the maximum frequency of the Prime Kryo 680 CPU core is 3.0 GHz, 12GB of LPDDR5 RAM and 256GB of UFS 3.1 storage. The battery capacity is 6000mAh and supports 65W wired fast charging.
However, even with the latest Snapdragon 888 Plus processor, the average running score of this device was still lower than that of the Nubia Red Magic 6 Pro equipped with Snapdragon 888.
No.3: ROG Phone 5
Average score: 824,940
ROG Phone5 ranked third this time, replaced RealMe GT, which had been in third place for several consecutive months.
The biggest difference between ROG Phone 5 and ROG Phone 5S Pro has already been mentioned. There is little difference in appearance between the two phones, but the key point is that the processor has been upgraded. - The hardware configuration of the ROG Phone 5S Pro has to be the best as it is the biggest highlight of a game phone.
The following seven products are RealMe GT with an average score of 815,738, iQOO 7 with an average score of 811,593, Sony Xperia 1 III 5G with an average score of 795,105, OnePlus 9 Pro with an average score of 792,261, Mi 11 Ultra with an average score of 785,673, Asus Zenfone 8 Mini with an average score of 783,885, Galaxy S21 Ultra 5G (888) with an average score of 782,652.
Sony Xperia 1 III 5G, which just had been ranked top 10 last month, moved up three places to sixth place this time. Sony might still have a long way to go in the Chinese market, but it is selling well in the global market.
When the Snapdragon 888 Plus processor finally appears on the Global Android phones list, Qualcomm has already unveiled the Snapdragon 8 Gen 1 processor, which has broken the 1M mark. We believe such incredible performance means that the Snapdragon 888 era is coming to an end.
It is not surprising to see that the mid-range mobile phone ranking is still dominated by phones equipped with Snapdragon 778G processor. There are not many mid-range chips launched in the market this year, as result, only Snapdragon 778G could be widely used by manufacturers.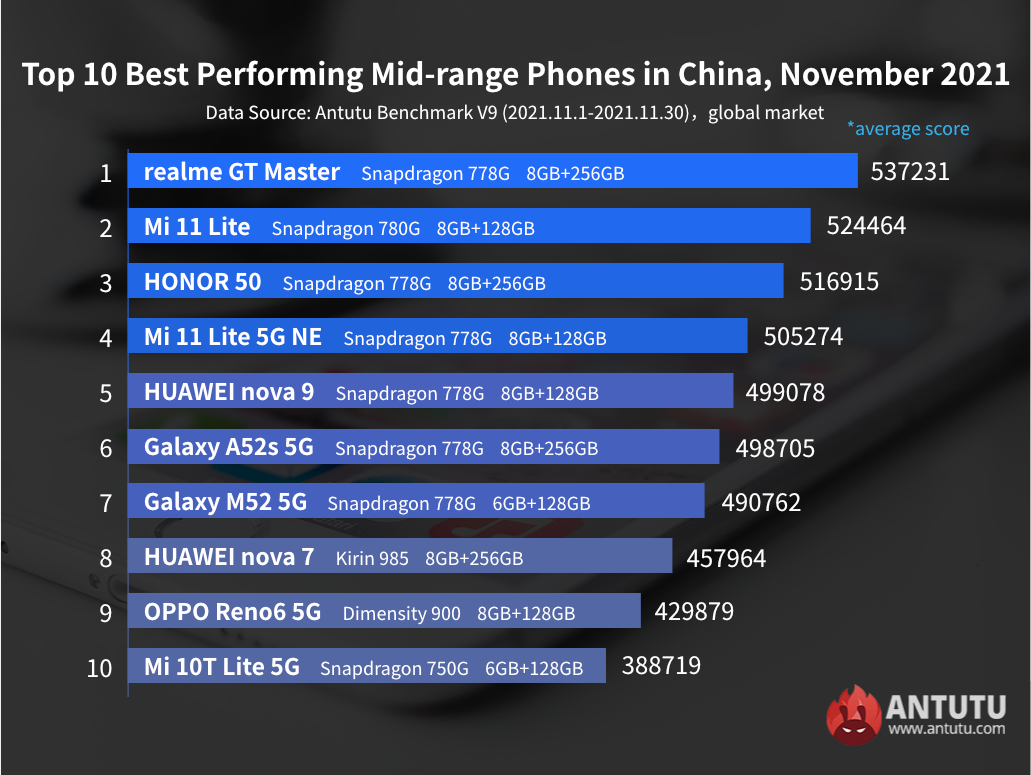 No.1: RealMe GT Master
Average score: 537,231
No.2: Mi 11 Lite
Average score: 524,464
The two mobile phones have ranked in the top two for a consecutive quarter. The RealMe GT master is equipped with Snapdragon 778G processor and Mi 11 Lite is equipped with Snapdragon 780G. The difference between the two processors is very little, but Mi 11 Lite became the first and only Snapdragon 780G phone due to various reasons, which makes it special. We heard from some bloggers today that the Mi 11 with two new colors will be launched soon and the processor will be replaced with Snapdragon 778G as well, so those who bought Mi 11 Lite in the early stage, congratulations on getting the out-of-print product.
In fact, the highlight of these two mobile phones is not the processor. The real GT master focuses on appearance design, the well-known MUJI designer Naoto Fukazawa has made this mobile phone fully recognizable. Mi 11 Lite features light and stylish, a variety of fresh colors and the weight of the 159g are definitely the highlights of the current 5G phone market.
No.3: HONOR 50
Average score: 516,915
When HONOR 50 got third place in the Global Android phone performance list, HONOR also officially released its new generation model HONOR 60.
Interestingly, the HONOR 60 is equipped with the Snapdragon 778G Plus, a minor upgrade to the Snapdragon 778G processor, the appearance has not changed much. To be honest, it feels like it would be more appropriate for this phone to be called HONOR 50S, as the Snapdragon 778G Plus isn't much of an upgrade for a mid-range processor, as Qualcomm is focusing on the Snapdragon 8 Gen 1 processor.
To review the parameters of the Snapdragon 778G, it is built on TSMC's 6nm node and brings an 8-core Kryo 670 CPU. The maximum dominant frequency is 2.4GHz. The CPU performance claims to be improved by 40% compared with the previous generation. The GPU is Adreno 642L, which also has a 40% performance increase.
The following seven devices are Mi 11 Lite 5G NE with an average score of 505,274, HUAWEI nova 9 with an average score of 499,078, Galaxy A52s 5G with an average score of 498,705, Galaxy M52 5G with an average score of 490,762, HUAWEI nova 7 with an average score of 457,964, OPPO Reno6 5G with an average score of 429,879, Mi 10T Lite 5G with an average score of 388,719.
18 of the 20 phones mentioned above are equipped with Qualcomm Snapdragon processors, with Huawei HiSilicon and MediaTek each having only one model, which is undoubtedly a near monopoly. Huawei HiSilicon is limited by the ban and difficult to expand, while MediaTek still has great potential in the 5G chip market. The Dimensity 1200 is having good performance in all aspects, but hard to get a further price increase. However, it is said that the new Dimensity 9000 processor is getting better reviews than the Snapdragon 8 Gen 1, 2022 Might be the key year for Mediatek to expand its share of the market.
Both Qualcomm and MediaTek have already released their new flagship processors, but the new phone with Dimensity 9000 won't be released until February of next year due to production issues, giving the Snapdragon 8 Gen 1 almost two months to grab the market, posing a big challenge for MediaTek. The market will tell us which of the two processors will remain at the top of the list, we will wait and see what happens in 2022.