Global Top 10 Best Performing iOS Devices in October 2021
The iOS performance ranking has been basically determined after the release of the iPad Pro with M1 chip and iPhone 13 series with A15 chip. Even though the strongest M1 Pro and M1 Max have been released, for now, it is impossible to use them in the two product lines. The performance ranking list in October is still mainly focused on the latest iPad Pro and iPhone 13 series.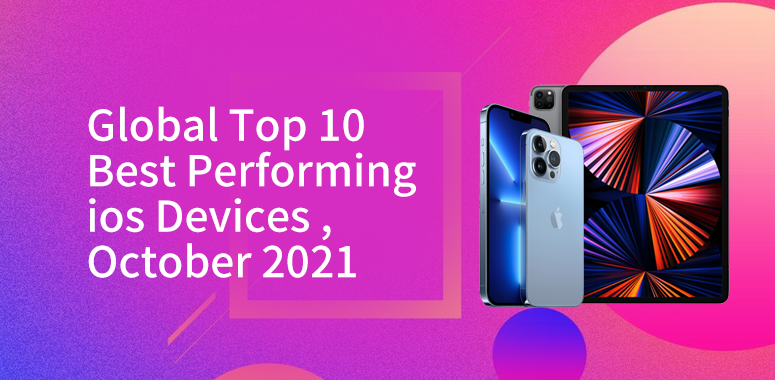 It should be noted that figures in this ranking list were calculated from October 1 to October 31, 2021. The results in the ranking list are average scores instead of the highest scores, and thus more representative. The scores in the list are mainly based on the Antutu V9 version and cannot be compared with the results of the previous versions.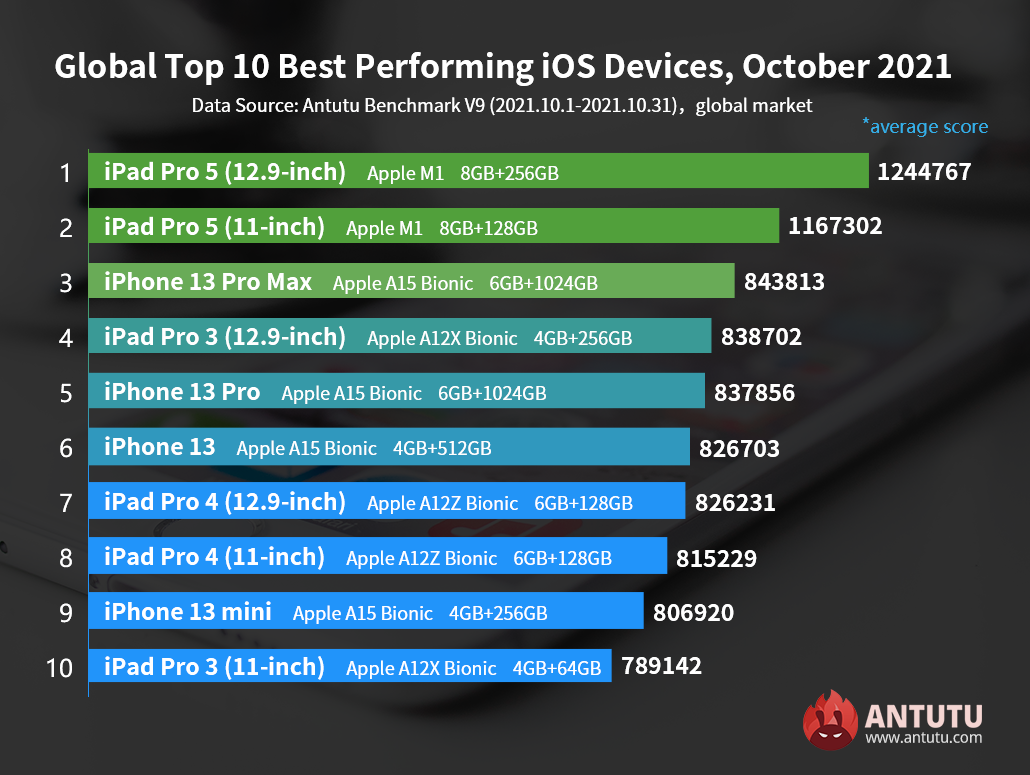 No.1: iPad Pro 5 (12.9-inch)
Average score: 1,244,767
No.2: iPad Pro 5(11-inch)
Average score: 1,167,302
The top two, of course, are still the two iPad Pros with different screen sizes, equipping with an M1 chip. As we mentioned in our last performance list, we expected to see a rival to the M1 chip at apple's spring event next year, but we didn't expect Apple to update its products so quickly.
You must have heard a lot about how powerful the M1 Pro and M1 Max chips are, but what we are most curious about is whether such powerful chips can be put into the iPad product line. How many points can it run at that time? Take a wild guess.
No.3: iPhone 13 Pro Max
Average score: 843,813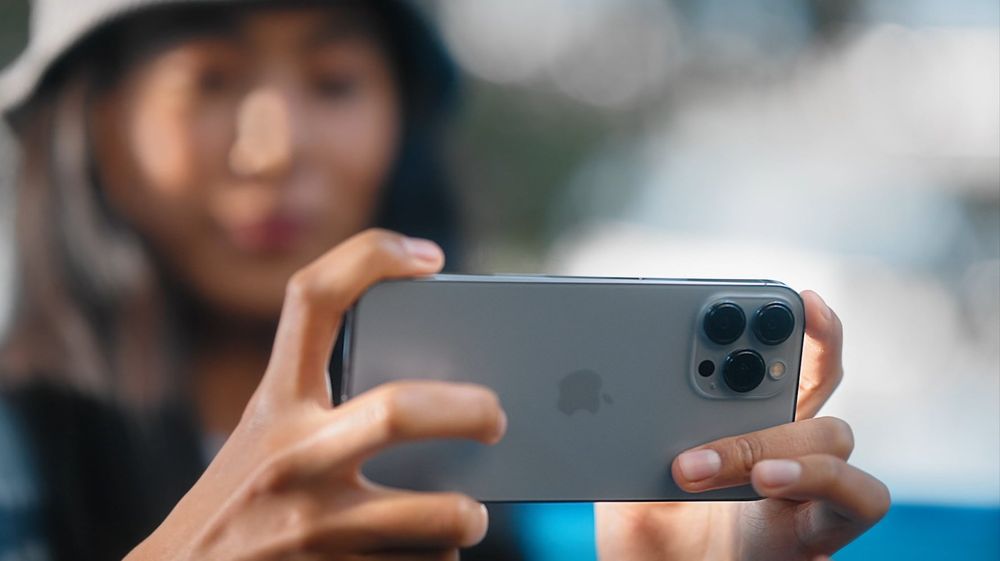 The iPhone 13 Pro Max continued to rank third on the iOS performance list. Apple A15 chip surpassed A12X and A12Z in terms of performance. Although there is little difference in the final score, we must know that even a small upgrade has gone through great efforts for the core processor used in cutting-edge products. And it is still the strongest iPhone at present.
The following seven products are iPad Pro 3 (12.9-inch) with an average score of 838,702, iPhone 13 Pro with an average score of 837,856, iPhone 13 with an average score of 826,703, iPad Pro 4 (12.9-inch) with an average score of 826,231, iPad Pro 4 (11-inch) with an average score of 815,229, iPhone 13 mini with an average score of 806,920, iPad Pro 3 (11-inch) with an average score of 789,142.
The ranking of iPhone 13 pro and iPhone 13 has improved compared with that of the previous list. The brand new iPad mini6 was beaten by iPad Pro 3 (11-inch), but as Apple's first full-screen mini in years, its performance won't really affect user's choice because its core selling point is portability.
That's all for the October iOS Performance List, and we'll see you next month.