Global Top 10 Best Performing Android Phones, October 2021
A large number of new phones were released in the Chinese market in October, most of them are to improve the sales volume of Double 11 so as to have a good year-end report. Therefore, there are not many flagship phones, mainly some cost-effective ones. Some brands even launched special phones for Double 11 to increase sales through promotion. After all, it's already the fourth quarter, it is understandable that mobile phone manufacturers are getting prepared for the year-end.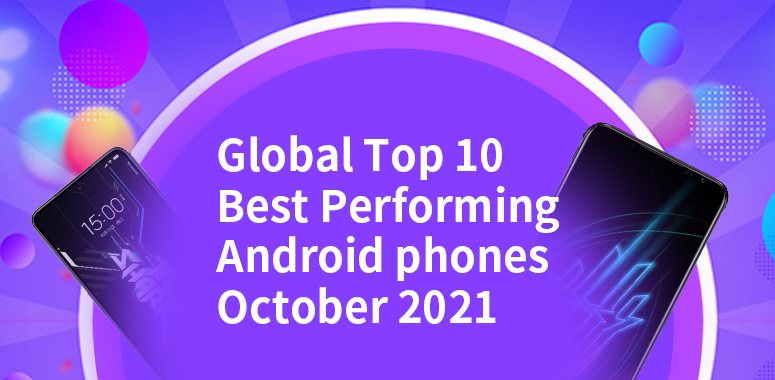 In this case, the Global Android phone performance list in October is not much different from the list in September, and the ranking is basically unchanged.
Let's take a look at the specific data below. It should be noted that figures in this ranking list were calculated from October 1 to October 31, 2021. The results in the ranking list are average scores instead of the highest scores, and thus more representative.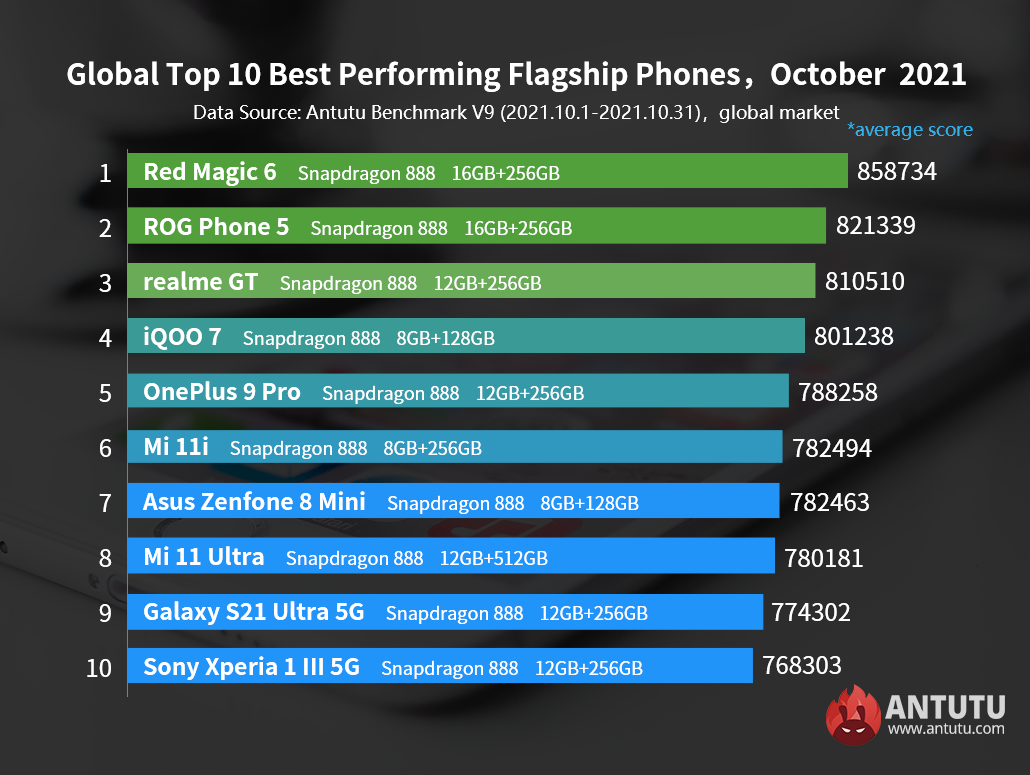 No.1: Nubia Red Magic 6 Pro
Average score: 858,734
The average performance score of Nubia Red Magic 6 Pro again creates a new high. The average score of 858,734 is much higher than that of 825,145 in September, which also makes this phone top the performance list of overseas Android mobile phones for a quarter in a row.
The configuration of game phones is always the best, mobile phone manufacturers can always get the best hardware on the market, and use them all in a game phone, so that users can have an excellent experience brought by the strongest mobile phone performance. The product ranked second is also a game phone.
No.2: ROG Phone 5
Average score: 821,339
ROG Phone 5, which is also a game phone, ranks behind Nubia Red Magic 6 Pro. Both phones are a combination of Snapdragon 888 + 16GB RAM + 256GB ROM, but the average performance score of ROG Phone 5 is more than 30,000 points lower than Nubia Red Magic 6 Pro. In the past, ROG game mobile phone could always be ranked at the top of the overseas Android mobile phone performance list for a long time once it was released. Although it was not going backwards in performance in the past two years, its performance score will soon be surpassed by many mobile phones that are not game positioning, such as RealMe GT, which ranks third.
No.3: RealMe GT
Average score: 810,510
Realme GT still ranks third. Its average score is 810,510, which is only more than 10,000 points lower than ROG Phone5. It is impressive that RealMe has not been making mobile phones for long, but it is already catching up with ROG's performance score. We wonder if the next generation ROG phone can bring some new cutting-edge technologies to break its current bottleneck.
The average scores certainly do not represent performance and experience, but losing is unacceptable to players.
The following seven products are iQOO 7with an average score of 801,238, OnePlus 9 Pro with an average score of 788,258, Mi 11i with an average score of 782,494, Asus Zenfone 8 Mini with an average score of 782,463, Mi 11 Ultra with an average score of 780,181, Galaxy S21 Ultra 5G (888) with an average score of 774,302, Sony Xperia 1 III 5G with an average score of 768,303.
The top eight phones in this month's overseas Android performance list are still the same as before, only the ranking changed slightly. It is worth noting the last two phones Galaxy S21 Ultra 5G (888) and Sony Xperia 1 III 5G. Galaxy S21 Ultra 5G (888) is the top product in the global Android mobile phone market and the benchmark product of Android mobile phones, but the other Sony Xperia 1 III 5G is a brand rarely seen on the list.
The hardware of the mobile phone made by Sony is completely OK and has its own characteristics, but it does not attract much attention in the mobile phone market. Hopefully, the performance of Sony Xperia 1 III 5G can gradually bring the mobile phone products of the Sony brand into the public's vision.
Because of the release of a large number of new Snapdragon 778G phones, there are many new additions to the mid-range phones ranking list.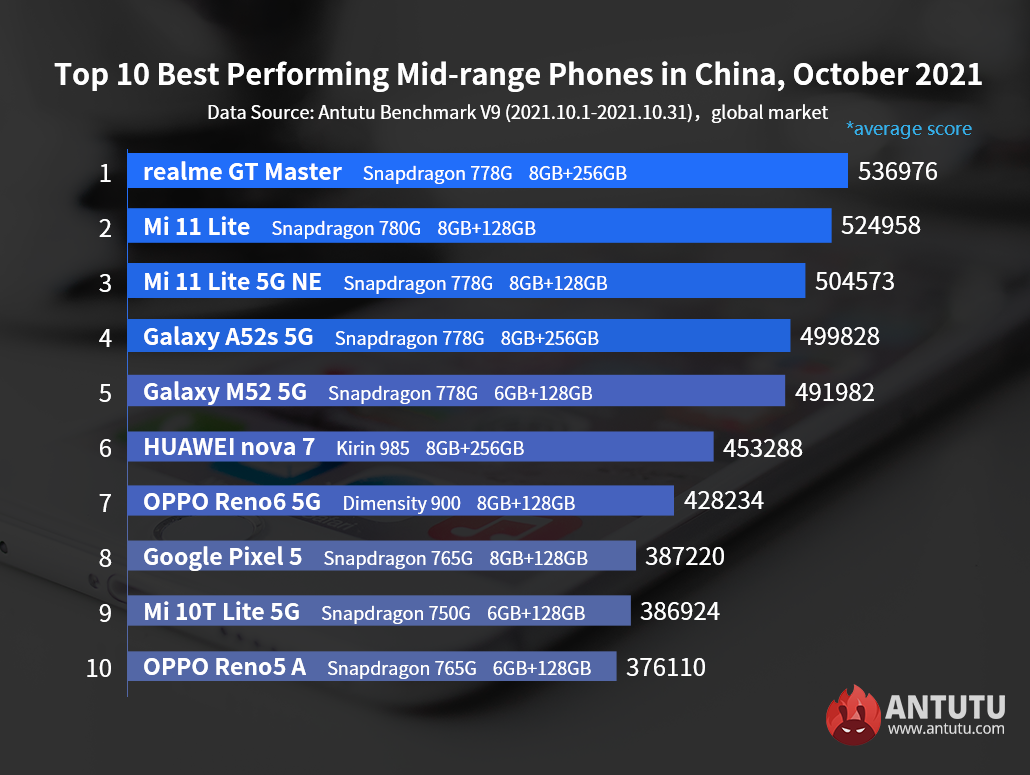 No.1: RealMe GT Master
Average score: 536,976
RealMe GT master has ranked first on the list of overseas Android mid-range mobile phones for three consecutive months. RealMe tends to produce many new products from a single mold, but the RealMe GT master doesn't do that. The well-known MUJI designer Naoto Fukazawa has made this mobile phone fully recognizable and one of the stunning looking phones in the mobile market this year.
No.2: Mi 11 Lite
Average score: 524,958
The second place is the same as last month, the Mi 11 Lite, which also ranks second for three consecutive times. Mi 11 Lite is the first and only Snapdragon 780G phone on the market. It is extremely thin and light, with a thickness of 6.81mm and a weight of 159g, making it a very different choice in the 5G phone market.
No.3: Mi 11 Lite 5G NE
Average score: 504,573
Although powered by the same Snapdragon 778G processor, Mi 11 Lite 5G NE still replaces Galaxy A52s 5G with a higher average running score and ranks third. Currently, there are many new phones equipped with Snapdragon 778G in the global market, which means the Snapdragon 778G has been verified by the market. It is a very qualified mid-range processor, and the performance scores are also stable at about 500,000.
In terms of specific parameters, the Snapdragon 778G is built on TSMC's 6nm node and brings an 8-core Kryo 670 CPU. The maximum dominant frequency is 2.4GHz. The CPU performance claims to be improved by 40% compared with the previous generation. The GPU is Adreno 642L, which also has a 40% performance increase.
The following seven products are Galaxy A52s 5G with an average score of 499,828, Galaxy M52 5G with an average score of 491,982, HUAWEI nova 7 with an average score of 453,288, OPPO Reno6 5G with an average score of 428,234, Google Pixel 5 with an average score of 387,220, Mi 10T Lite 5G with an average score of 386,924, OPPO Reno5 A with an average score of 376,110.
That's all for the October 2021 Global Android phone performance rankings, with mid-range phones changing significantly compared to flagship phones. On the mid-range phone ranking list, there are four mobile phones equipped with Snapdragon 778G processor, plus one mobile phone equipped with Snapdragon 780G processor, basically, the top five are occupied by Qualcomm.
We also noticed that two of the latter three phones are equipped with Qualcomm's last generation of mid-range processor Snapdragon 765G. The emergence of new processors and the exit of the old ones are often seen and memorable in the performance list, which represents another step forward in science and technology.