Global Top 10 Best Performing Android Phones, September 2021
September saw a lot of new phone launches in the Chinese market, while in contrast, there were no major changes in the global market. The snapdragon 888+ processor is mainly used in the Chinese market, even though it is only a minor upgrade with a more serious overheating problem, people are still keen to pursue the updated performance.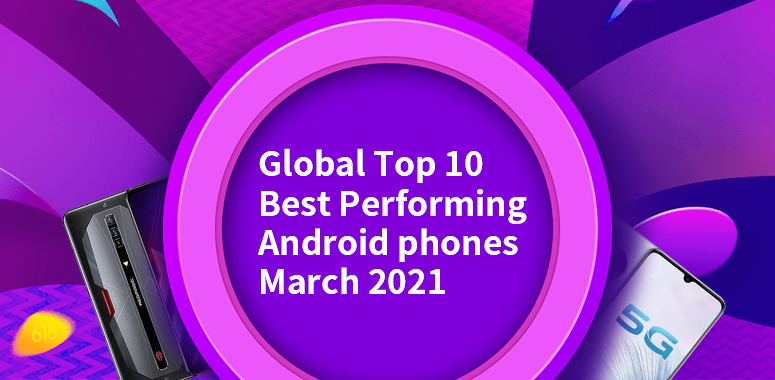 In this case, the Global Android phone performance list in September is not much different from the list in August, and the ranking is basically unchanged.
Let's take a look at the specific data below. It should be noted that figures in this ranking list were calculated from September 1 to September 30, 2021. The results in the ranking list are average scores instead of the highest scores, and thus more representative.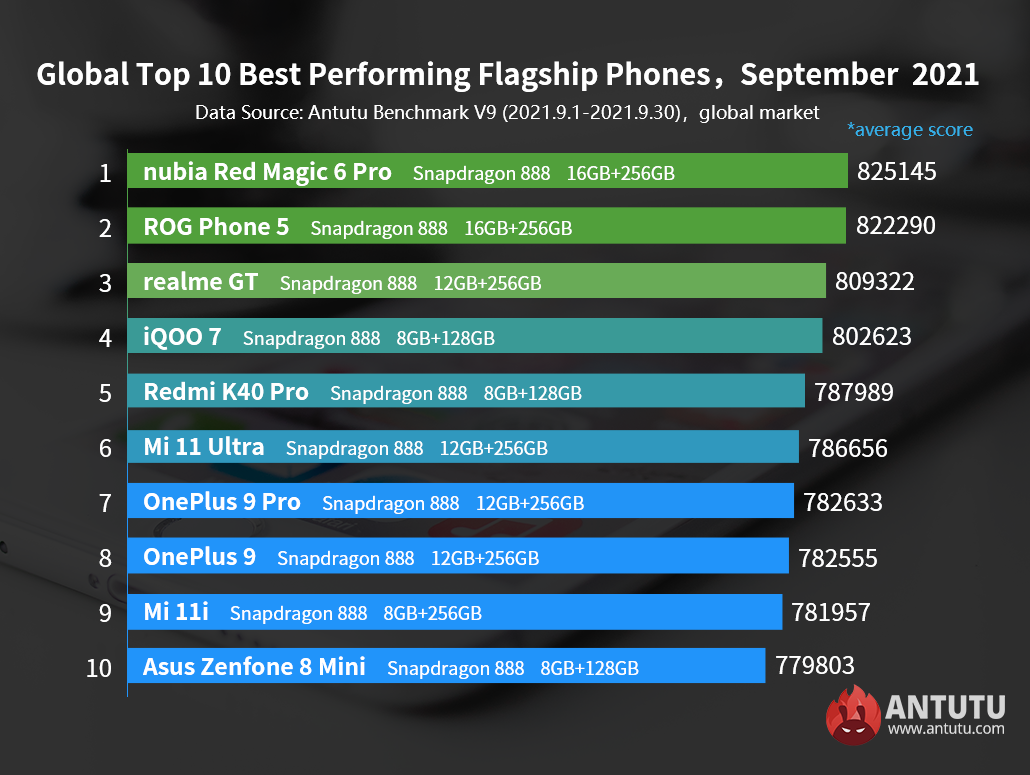 No.1: Nubia Red Magic 6 Pro
Average score: 825,145
With Qualcomm's Snapdragon 888 + 16GB RAM + 256GB ROM, Nubia Red Magic 6 Pro is still at the top of the performance list with an average running score of 825,145, which is the second time it has ranked first in the performance list of Global Android phones.
There is no need to worry about the performance since it is the basic configuration of a game phone. Only the super performance combination can meet the different needs of various games. Moreover, the upgraded Nubia Red Magic 6S Pro has been released in the Chinese market, using Snapdragon 888+ processor, and adding RGB lights to the cooling physical fan, making this game phone better in appearance.
No.2: ROG Phone 5
Average score: 822,290
As one of the game phones, ROG Phone 5 still ranks behind Nubia Red Magic 6 Pro this time. The two phones are both snapdragon 888 + 16G RAM + 256G ROM combination, and the average running score is only 2,000 points difference. Therefore, there is not much difference in the user experience, and the two phones are more different in the game configuration.
For example, Nubia Red Magic 6 Pro has a physical fan to cool the phone, while ROG Phone 5 has more than a dozen virtual buttons, which can bring more sophisticated operations to players. Therefore, when buying such game phones, people can choose according to their favorite specific games.
No.3: Realme GT
Average score: 809,322
In fact, if Realme GT still belongs to the OPPO ACE series, it could also be positioned as a game phone, but its appearance is not like a game phone. It is more like a comprehensive product that can not only meet the daily use but also bring a good game experience. The device has a better cost-performance after OPPO handed it over to RealMe, the average performance of 809,322 is the best proof of it.
The following seven products are iQOO 7 with an average score of 802,623, Redmi K40 Pro with an average score of 787,989, Mi 11 Ultra with an average score of 786,656, OnePlus 9 Pro with an average score of 782,633, OnePlus 9 with an average score of 782,555, Mi 11i with an average score of 781,957, Asus Zenfone 8 Mini with an average score of 779,803.
Gaming phones have performance advantages, so their performance scores are higher, and after them are some very cost-effective models, which are powerful and affordable, providing good choices for many users.
There is another Snapdragon 778G phone in the mid-range mobile phone ranking list, and another "old friend" in the top three is out of sight.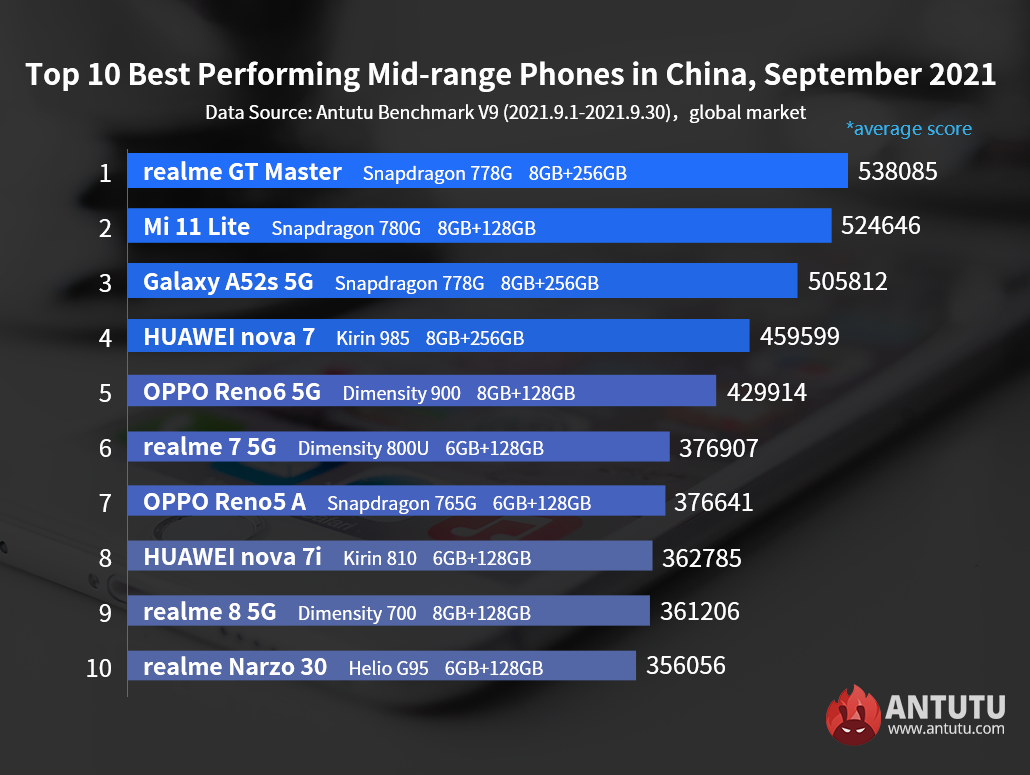 No.1: Realme GT Master
Average score: 538,085
Although the Snapdragon 778G processor was launched by the Honor 50 series, it is obvious that Honor 50 series mobile phones are weaker than the cost-effective Realme in terms of running score, and have never had a chance to be on the list. The Realme GT Master is still the No. 1 product in the list of mid-range mobile phones. The biggest highlight of the phone is the design, MUJI designer Naoto Fukazawa adds some recognizable appearance to the RealMe phone which has not changed much before.
No.2: Mi 11 Lite
Average score: 524,646
The Mi 11 Lite is the first and only Snapdragon 780G phone on the market. It is extremely thin and light, with a thickness of 6.81mm and a weight of 159g, making it a very different choice in the 5G phone market, where most phones weigh over 200g.
No. 3: Galaxy A52s 5G
Average score: 505,812
Finally, another phone with Snapdragon 778G processor replaced the two Huawei brand phones that have occupied the top three for a long time. There is a slight difference in performance between Snapdragon 778G and Snapdragon 780, and basically no difference in use. Besides Mi 11 Lite, There is no other Snapdragon 780 phone on the market, so the main selling point is still the Snapdragon 778G shortly.
The Snapdragon 778G is built on TSMC's 6nm node and brings an 8-core Kryo 670 CPU. The maximum dominant frequency is 2.4GHz. The CPU performance claims to be improved by 40% compared with the previous generation. The GPU is Adreno 642L, which also has a 40% performance increase.
The following seven products are HUAWEI nova 7 with an average score of 459,599, OPPO Reno6 5G with an average score of 429,914, Realme 7 (5G) with an average score of 376,907, OPPO Reno5 A with an average score of 376,641, HUAWEI nova 7i with an average score of 362,785, Realme 8 (5G) with an average score of 361,206, Realme Narzo 30 with an average score of 356,056.
The above is the list of Global Android phone performance in September 2021. Overall, there is no big change, the top three phones on both flagship and mid-range lists are the same as last month. It is worth noting that among the 20 mobile phones, Qualcomm processors account for 14 seats, and the processors of the flagship phones are all from Qualcomm, Huawei HiSilicon and MediaTek can only have one or two models in the mid-range market. Although we all know that Qualcomm has always been the dominant processor in Android phones, it is still a bit upsetting to see such a real proportion in the performance list. The dominance of any market will gradually create a monopoly, which is not conducive to development.