Global Top 10 Best performing iOS Devices in May 2021
After a long wait, the performance of iPad Pro with Apple's self-developed M1 chip has finally been confirmed, and we finally have the first product in history to break the one million points in this June.  
As usual, this iOS performance list is still based on Antutu's V8 version, we should know that the new V9 version is generally higher than V8, but even on such a basis, the M1 iPad Pro still broke the one million points, which is very impressive.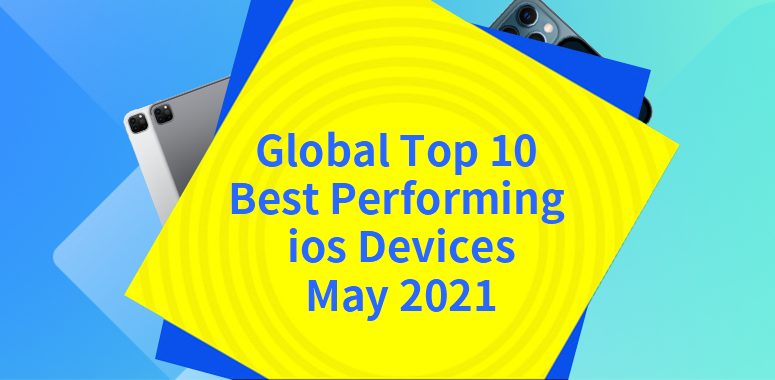 It should be noted that figures in this ranking list were calculated from May 1 to May 31, 2021. The results in the ranking list are average scores instead of the highest scores, and thus more representative.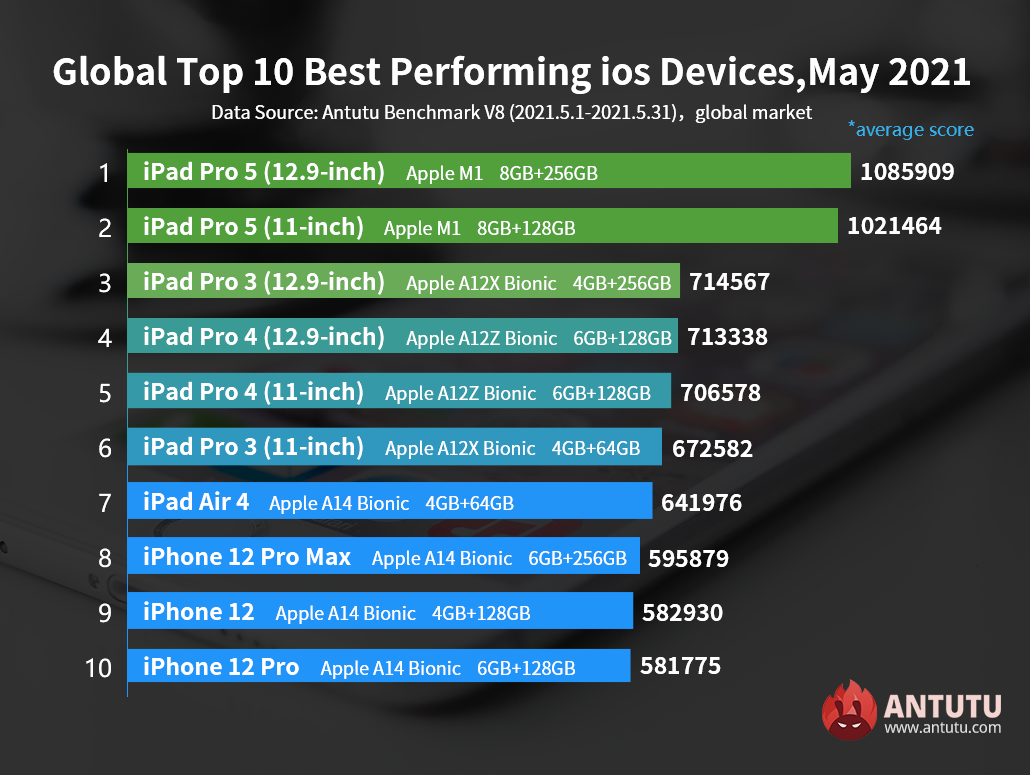 No. 1: iPad Pro 5 (12.9-inch)
Average score: 1,085,909
The score of the new iPad Pro is 370K + more than the old flagship, which is incredibly strong. However, there is no application of iPad OS ecosystem that can fully exert the strength of this unprecedented device.
All the new iPad Pro Series are equipped with Apple M1 chip, which is a complete kernel version of 8-core CPU and 8-core GPU. It is claimed that the CPU performance is improved by 50%, while the GPU performance is improved by 40%. Memory is available in 8GB and 16GB sizes, with 8GB RAM for 128/256/512GB models and 16GB RAM for 1TB or 2TB models.
Our background running score data is 8+256GB version, if there are enough 16GB data, WE believe that we can continue to exceed this score, Apple is super! 
No. 2: iPad Pro 5(11-inch)
Average score: 1,021,464
Both the products ranking No. 1 and No. 2 are changed with no exception, because Apple also brings the "small size" iPad pro with M1 chips. Except for the difference in screen size and material, there is no difference between 11-inch version and 12.9-inch version, both of them are equipped with Apple M1 chip.
Therefore, its final score is not far from that of the 12.9-inch version, because the background data of the 11-inch version is 8+128GB version, which has 128GB less storage space than that of the 12.9-inch version, so the score are presented on the mem. In general, the overall strength of the two products are not much different, the more important difference is on the screen size.
No. 3: iPad Pro 3(12.9-inch)
Average score: 714,567
The iPad Pro 3(12.9-inch) with Apple A12X chip is ranking No.3, average score 714,567. It's still pretty strong actually, but since there is a brand-new iPad Pro now, the old iPad Pro looks a bit out of date.
The following seven products are: iPad Pro 4 (12.9-inch) with an average score of 713,338, iPad Pro 4 (11 inch) with an average score of 706,578, iPad Pro 3 (11 inch) with an average score of 672,582, iPad Air 4 with an average score of 641,976, iPhone 12 Pro Max with average score of 595,879, iPhone 12 with an average score of 582,930, iPhone 12 Pro with an average score of 581,775.
From this list in May, the iPhone 11 series has completely dropped out of the performance list. It has been nearly two years after all. Every time when Apple updates its hardware, the performance is always way much better than the previous ones. The only one who can kill me is myself. - It's very appropriate to put it on IOS products.
The M1 iPad Pro has reached the top now. It is estimated that no products will surpass their scores in the next more than a year. The product cycle of iPad Pro(12.9-inch) with M1 chip and mini LED screen will also be unprecedented long.