Global Users Preferences for Android Phones, Q1 2021
Thefirst quarter of 2021 has come to an end in a blink of an eye. In this bloomyspring, we have worked out the user preference ranking list in the firstquarter of 2021 based on the backstage data of Antutu. What kind of mobilephones do Antutu users prefer? Let's have a look at the ranking list.
Itshould be noted that Antutu preference ranking list is based on the phoneconfiguration of Antutu users, so it does not represent the preference for theoverall Android phone market.
ScreenSize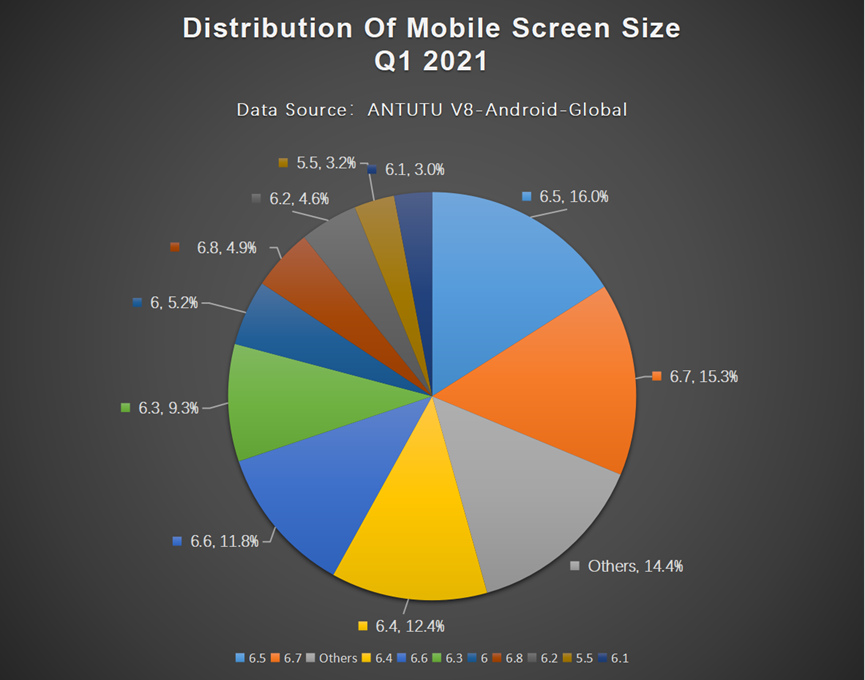 InQ1 of 2021, the 6.5-inch screen was still dominant in the international market,but its share decreased by 0.7% to 16%, compared with that in Q4 of 2020.Nevertheless, it was still the largest share.
The6.7-inch screen, ranking the second, continued to grow to 15.3% in the Q1 of2021, up1.4% from 13.9% last year. There was no further increase, but it's asignificant sign that the market share of mobile phones of this size wasincreasing.
Seeingfrom the new phones released globally at present, the screen size of mobilephones will be at least 6.5 inches or above. Apart from small-screen productslike iPhone 12 mini and iPhone 12, Android phones, even the standard version,will no longer have small screens. Except for the hardware difference, thescreen size and quality of the standard versions are basically the same asthose of the Pro versions. After all, a separate production line is required toproduce small screens, and whether the cost and the market will accept itremains to be tested. It is better to make a difference in the internalconfiguration, which will be money-saving, time-saving, and labor-saving.
ScreenResolution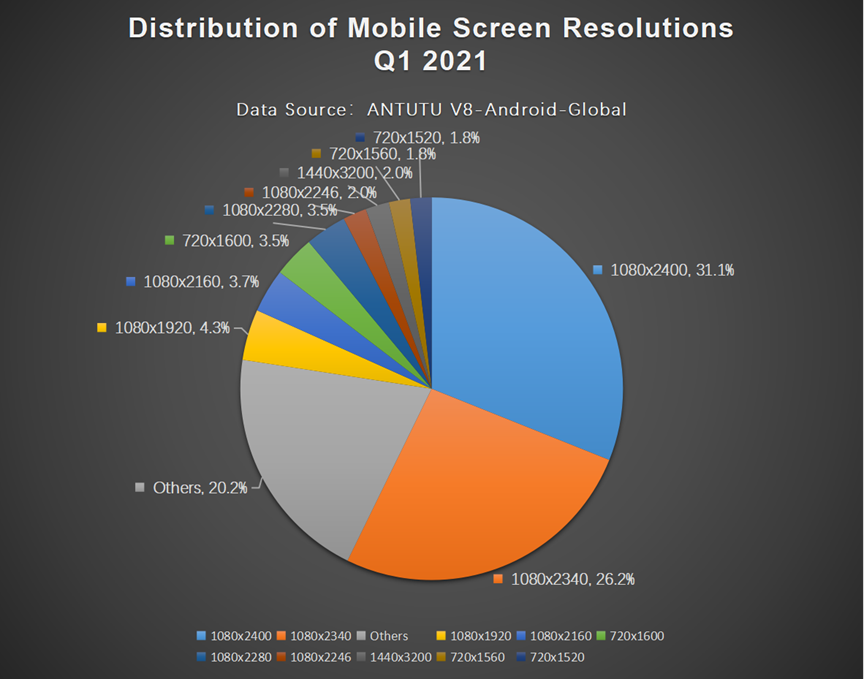 Accordingto the ranking list issued in Q4 of 2020, the phones with a screen resolution of 1080×2400accounted for 13.3%, more than 200% of the number in Q3 of 2020. But in Q1 of2021, this screen resolution accounted for an awesome 31.1%; that was to say,over one-third of phones adopted such a screen resolution. However, the displayresolution of 1080*2400 can be directly translated as the width and height ofthe screen; in other words, the difference in resolution is in fact the gapbetween screen sizes.
However,the resolution of the mobile phone is gradually improved up to 2K this year.Some high-end phones even have 3K resolution, and all of them support a highrefresh rate of 120Hz. What's more, the screens with a rational refresh rateranging from 1Hz to 120Hz are also developed. This is not empowered by Samsung'sscreens, but can be achieved by some Chinese manufacturers.
Asthe first element to satisfy users' eyes, the improvement of mobile phones inscreen resolution has attracted unprecedented attention.
ProcessorBrand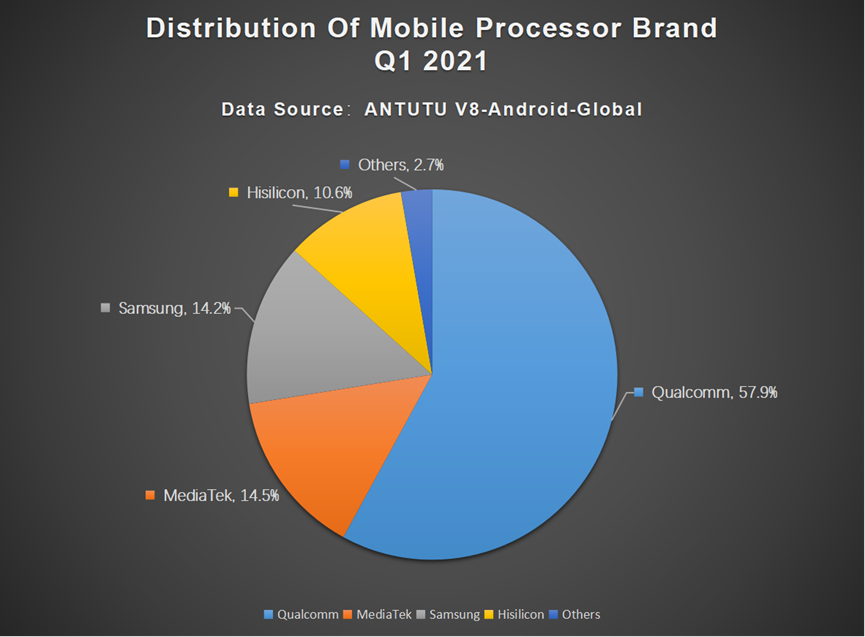 Interms of processor brand, Qualcomm maintained its first place although itsshare fell slightly by 0.6% to 57.9%, compared with that in Q4 of last year.
MediaTekranked second this quarter, with its share dropping by 0.4% from Q4 of lastyear. Samsung was still No.3, with its share rising by 1.2% from Q4 of lastyear. According to the figures, the market shares lost by Qualcomm and MediaTekare grabbed by Samsung Exynos.
Dueto the restriction, the market share of Huawei's Hisilicon Kirin chips fellagain by 1.7% to 10.6% in Q1 of 2021. It was no surprise that most of the Kirinchips had been launched in the Chinese market, and what will happen toHisilicon Kirin in the future is still unknown.
ProcessorCores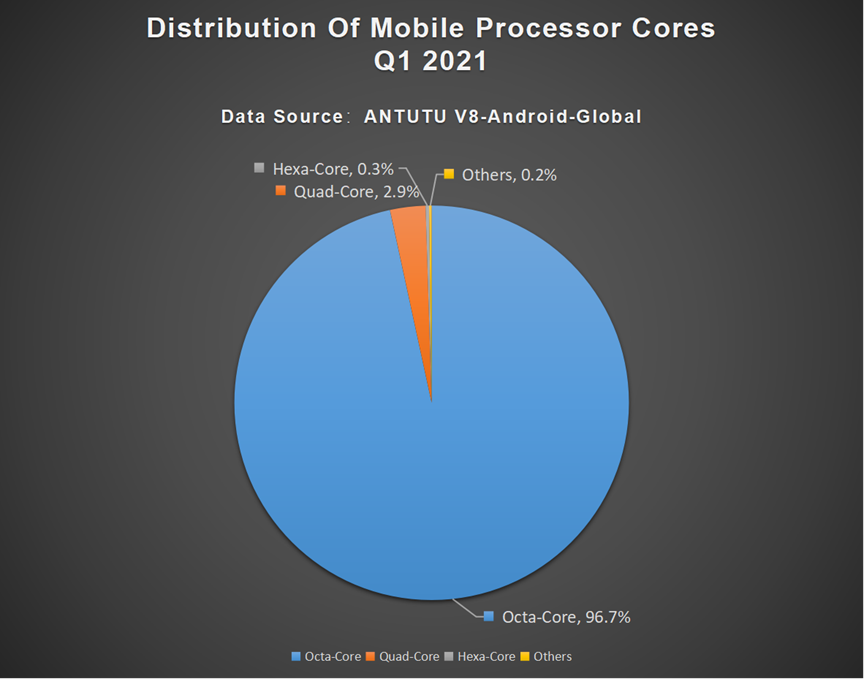 Octa-coremobile phones accounted for 96.7%, up 0.4% from Q4 of last year. It did notincrease too much, but the overall percentage told the whole story. After all,the process from 90+% to 100% has always been difficult, let alone the 100%market share worldwide, which will take some more time.
What'sinteresting was that the share of octa-core phones increased by 0.4%, and thetotal share lost by other models was exactly 0.4%. That's probably the casethat the market share is being swallowed bite by bite.
RAM Size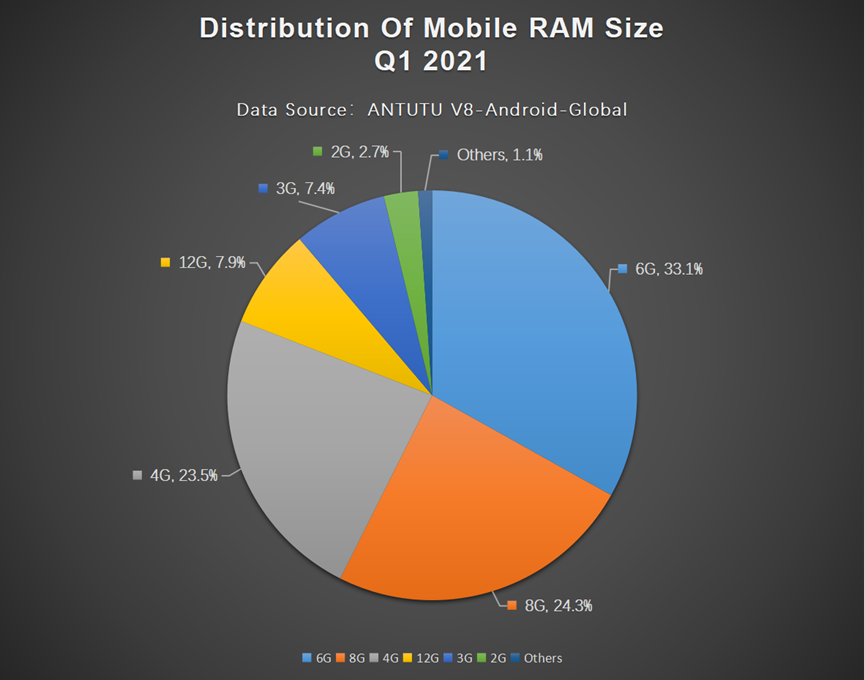 Comparedto Q4 of last year, the share of 8G RAM was up 1.7% again, followed by 12G RAM(up 0.9%). The shares of 6G RAM and 4G RAM fell by 1.9% and 0.6%, respectively.The increase is basically equal to the decrease.
Theminimum configuration of flagship phones is undoubtedly 8G RAM, followed by 12GRAM. Unexpectedly, Asus's ROG Phone 5 is equipped with 18G RAM. Based on suchstandard, the 4G and 6G RAM phones can only be entry-level smartphones;otherwise, they may be running poorly.
ROM Size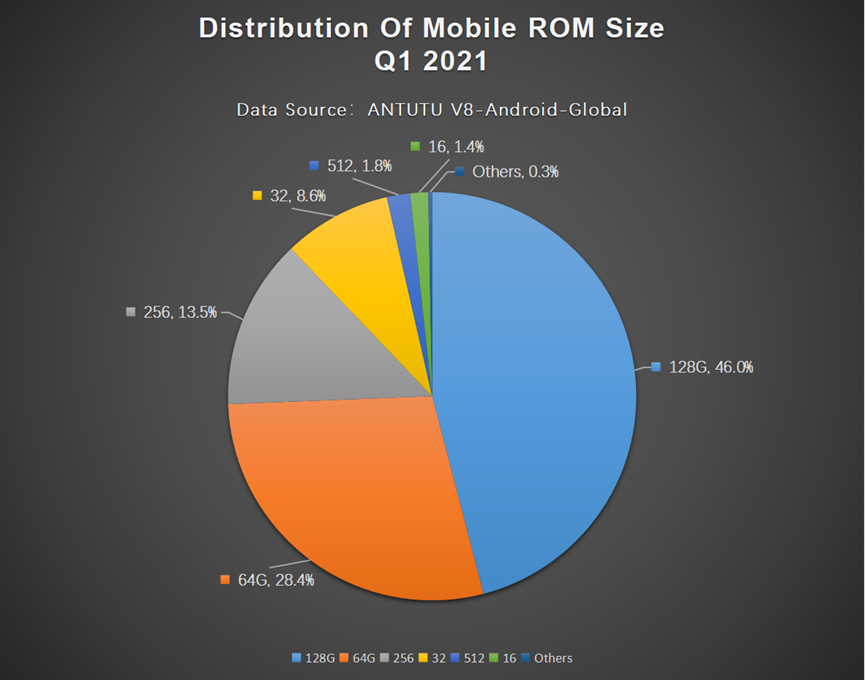 Inthe aspect of memory capacity, the share of 128GB ROM was on the increase to46% in Q1 of 2021, up 0.5% from Q4 of last year. 
Theshare of 256GB ROM also showed a significant increase, up 1.5% to 13.5% from Q4of last year. The phone with 256GB ROM indicated the most considerable growthin the chart.
Bycontrast, 64GB ROM and 32 GB ROM declined most sharply by 1.4% and 0.7%,respectively.
Itwas not surprising. Now that RAM has increased to 18G, the memory capacity ofmobile phones will increase as well. Moreover, the price of a mobile phoneequipped with the main camera of 100 million pixels hovers around RMB 2,000. Inthe era of high-resolution, high-definition and high-frame-rate videos, an increasein memory capacity is inevitable.
AndroidVersions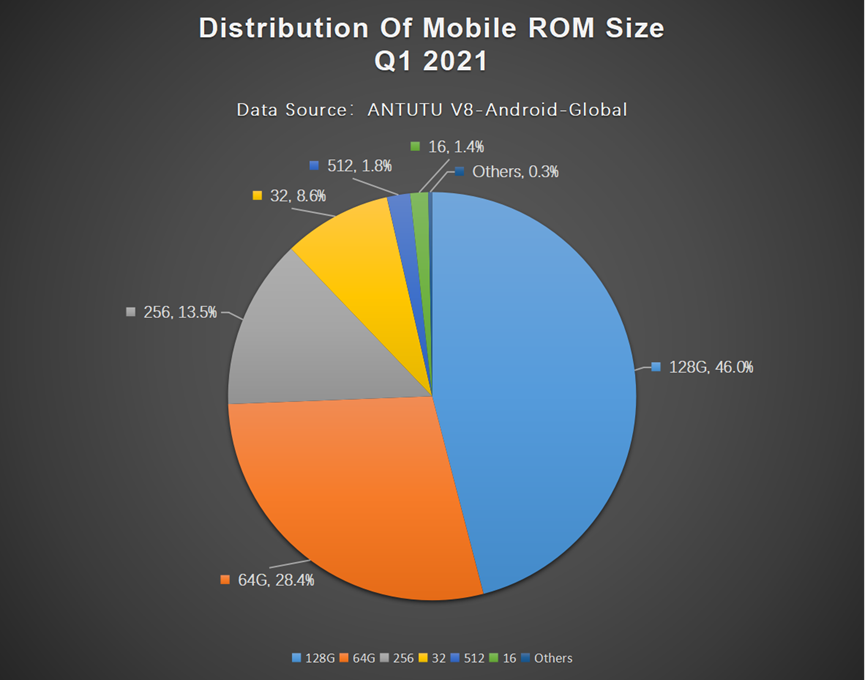 Asshown in the distribution diagram, Android 10 still dominated the market in Q1of 2021, but its share fell by 14.1% to 63.9% from Q4 of last year becausemobile phone users prefer Android 11 more.
Thepercentage of Android 11 was up 17.7% from Q4 of last year. In addition toAndroid 11, all other Android versions dropped by the same percentage-17.7%,compared with that in Q4 of last year.
Whatdoes this mean? Not only do phone manufacturers chase after Android 11, butusers also update fast. Both are good for the safety and functions of mobilephones.
Theabove is the overall picture of Antutu's global user preference ranking list in Q1 of2021. It can be seen from the data in 2020 that mobile phones are developing tobe faster, better, stronger, bigger, safer and more stable. This is also aninevitable trend of technological development. As industry practitioners, weare more curious about what the ultimate form of mobile phones will be. Let'shope that the day comes soon.
Itshould be noted again that the ranking list only represents the preferences ofAntutu users rather than the configuration distribution of the overall Androidmobile phone market.