Global Best Performing Android Phones March 2021: ROG Phone 5 Claimed the Throne
Thefirst quarter of 2021 has gone in the blink of an eye. Major mobile phonemanufacturers will update their flagship products in the first quarter of everyyear. Various domestic and overseas brands bring their brand new phones, whichwill shoulder the mission of starting the war among the mobile phones in the "redsea" market this year. Compared to the previous product update, the flagshipphone market has shown significant progress in all respects.
Let'stake a look at the ranking list.
Thistime, the data was collected for a period from March 1 to March 31, 2021, withthe results in the ranking list being average scores instead of highest scores;and there are more than 1,000 pieces of information on a single phone model.The data was calculated based on Antutu V8. If any single phone model hasseveral memory capacity versions, the version with the highest score shallprevail.
1. FlagshipPhones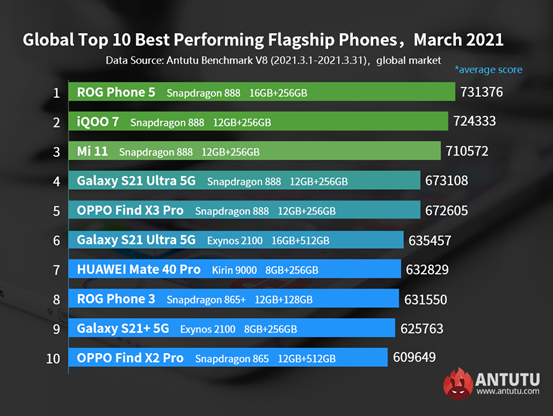 No.1: ROG Phone5
Averagescore: 731,376
ROG'snew phones frequently top our overseas performance ranking lists every year.ROG Phone 5 released on a date much earlier than its predecessors ever before isno exception and holds great promise for occupying the very top spot for thelongest time in history.
Thisyear, ROG Phone 5 has little change in the appearance design. As a gamingphone, its performance and heat dissipation ability is undoubted. The 6.78-inchhole-free full screen made from Samsung's AMOLED E4 luminous materials, with 144Hzrefresh rate and 300Hz native touch sampling rate ensure the visual advantageand experience of game players on the screen.
Inparticular, the top-level version of ROG Phone 5 Phantom has adopted the world'sfirst 18GB LPDDR5 RAM, which is even superior to that of most computers. Hence,it is worthy of being No.1 in the world.
No.2: iQOO 7
Averagescore: 724,333
iQOO7, which was released in January and shot to No. 1 of the ranking list inFebruary, has been pushed back to second place by an overpowered rival, RogPhone 5. However, iQOO 7 was only about 7,000 points behind Rog Phone5 in termsof final score. As a highly cost-effective mobile phone, it is also aheavyweight.
Mostimportantly, iQOO 7 is also very favorable in terms of price. With the combinationof Snapdragon 888 + enhanced version of LPDDR5 + enhanced version of UFS3.1+120W fast charging, iQOO 7 is available at a starting price of less thanRMB 4,000, which helps it rule out quite a few rivals.
No.3: Mi 11
Averagescore: 710,572
Mi11, the world's first phone equipped with a Snapdragon 888 processor, opens theera of Qualcomm's 5nm processors and also takes users' demand for mobile phoneperformance to a new level.
Amongthe top 10 phones on the ranking list of this month, the first five places areall occupied by those equipped with Snapdragon 888 processor, fully indicatingthe strong performance of the Snapdragon 888 processor.
Inthe Chinese market, apart from Mi 11, Xiaomi has released Mi 11 Pro and Mi 11Ultra recently. The three phones have almost the same configuration in terms ofperformance, with the biggest difference in the camera upgrade. Regardless ofthe camera improvement, the final scores of the three phones should be similar,also proving that Mi 11 has represented the top-level configuration of flagshipphones in the first half of this year since the moment of its release.
Exceptthe top three, the following seven products are: Galaxy S21 Ultra 5G(Snapdragon) with an average score of 673,108, OPPO Find X3 Pro with an averagescore of 672,605, Galaxy S21 Ultra 5G (Exynos2100) with an average score of635,457, HUAWEI Mate 40 Pro with an average score of 632,829, ROG Phone 3 withan average score of 631,550, Galaxy S21 5G (2100) with an average score of625,763, and OPPO Find X2 Pro with an average score of 609,649.
Exceptthat the Galaxy S21+ 5G ranking No. 9 is slightly lower than ROG's gaming phoneof last year in terms of the score, even if it is equipped with the 5nm Exynos2100processor, other phones equipped with 5nm processors outperformed those with 7nmprocessors of last year. The Oppo Find X2 Pro, which ranked top three forseveral months last year, is the last one this time. This is the last glory ofthe Snapdragon 865 era.
2. Mid-rangePhones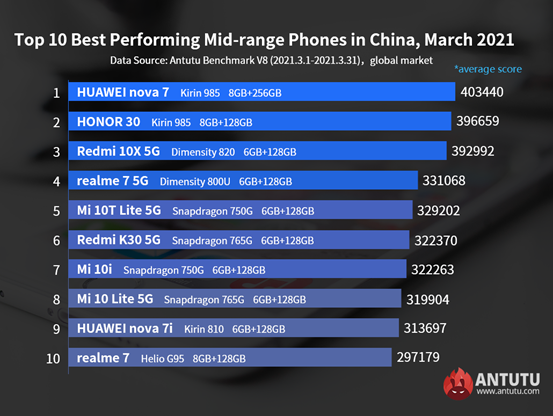 Themid-range phone market still remains stable this month, and the product rankingchanges little.
No.1: HUAWEI nova 7
Averagescore: 403,440
No.2: HONOR 30
Averagescore: 396,659
Thosewho often take a look at our ranking lists should also be clear that, forseveral consecutive months, No. 1 and No. 2 on the mid-range phone performanceranking list have been bouncing back and forth between the two phones, eitherHuawei nova 7 or Honor 30. There is also a very small difference in averagescore between the two phones, because the two phones can actually be regardedas the same model of different brands. Thus, no more description is given here.
No.3: Redmi 10X 5G
Averagescore: 392,992
Justas the first two do, Redmi 10X 5G ranking the third still remains unchanged.The average score of Dimensity 820 is almost the same as that of Kirin 985. Interms of the Chinese market, the flagship K40 series of Redmi has beenreleased, and the next step is to wait for the release of other mid-low-rangephone models. By that time, the ranking list will change greatly.
Thefollowing seven phone models are respectively realme 7 5G with an average scoreof 331,068, Mi 10T Lite 5G with an average score of 329,202, Redmi K30 5G withan average score of 322,370, Mi 10i with an average score of 322,263, Mi 10Lite 5G with an average score of 319,904, HUAWEI nova 7i with an average scoreof 313,697, and realme 7 with an average score of 297,179.
Itcan be seen that, except for a minority of 4G phones on the mid-range rankinglist, all the other phone models are already 5G phones. The internationalmarket is a global market because of its extensive coverage, so 4G mobilephones will not be knocked out soon. Since these 4G phones are released in theera of 5G phones, they will be more cost-effective, which could be a "blessingin disguise" for users with low budgets.
Thatis all for the global Android phone performance ranking in March 2021. It's nosurprise that ASUS's gaming phone ROG Phone 5 took the No.1 position once againamong all the mobile phones on the ranking list. The score of 731,376 is alsothe highest. It's April now, and it's still unknown whether it will besurpassed by any new product unveiled in the second half of this year.