Global Top 10 Best Performing Android Phones, February 2021
Compared to the Chinese market, the internationalsmartphone market did not have many new releases in February 2021. It is whythe one that rushed to the top of the ranking list this monthis a new releasein the Chinese market. This model is also the world's second smartphoneequipped with a Snapdragon 888 processor, even earlier than its rival from theinternational first-tier manufacturer Samsung. Furthermore, strong performance isalways the biggest selling point of this brand, so we have a champion with a veryhigh average score this time.
Let's take a look at the ranking list.
This time, the data was collected for aperiod from February 1 to February 28, 2021, and the results in the rankinglist were the average scores but not the highest ones; and there are more than1,000 pieces of information on a single phone model. The data was calculatedbased on Antutu V8. If a single phone model has several memory capacityversions, the version of the highest score shall prevail.
1. Flagship Phones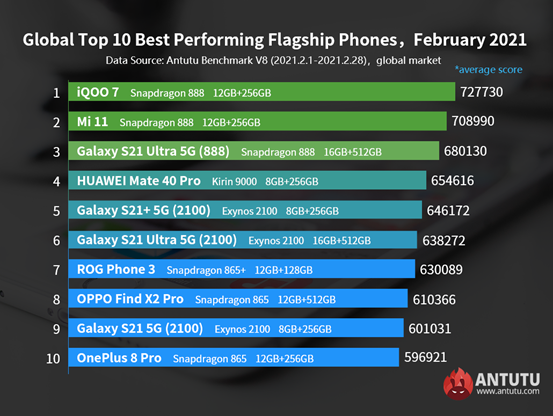 No. 1: iQOO 7
Average score: 727,730
After the first place of the ranking listwas taken by Mi 11 in January, the top position in February has changed handsagain, and was also seized by the latest phone model iQOO 7 of a Chinese mobilephone brand iQOO.
In terms of hardware, iQOO 7 is equippedwith Snapdragon 888 + enhanced LPDDR5 + enhanced UFS 3.1 as its standardconfiguration, a further upgrading of the "iron triangle"combination. iQOO has never ceased its efforts in improving the performance ofits mobile phones. In general, each time iQOO issues a new digital model, itsconfiguration will tell us what would be the combination with the strongestperformance in the following six months. Therefore, iQOO 7 has won the championship on the performanceranking list of overseas Android flagship phones, with an average scoreof 727,730, which was about 20,000 higher than that of Mi 11 equipped with thesame Snapdragon 888 processor. We may divine the whole from a part that iQOO 7really boasts a tough performance.
No. 2: Mi 11
Average score: 708,990
With the No.1 position being taken by iQOO7, Mi 11 was pushed to the No.2 position this time, with an average score of708,990. Although equipped with the same 5nm Snapdragon 888 processor, Mi 11still has a lower final score, which would, in fact, have little impact on itsactual experience. It could only be said that all brands are quite different inperformance tuning. iQOO 7 is more like an obsessive benchmarking monster,while Mi 11 is more balanced in overall performance, but both of them are veryoutstanding phones available on the market.
No. 3: Galaxy S21 Ultra 5G (888)
Average score: 680,130
The more new phones equipped withSnapdragon 888 processor, the harder it is for you to find the long-standingflagship phones on the performance list.
Samsung's S21 Ultra still adopts theprinciple of mixing its self-developed Exynos2100 and Snapdragon 888 in thechoice of processor. Based on the final results, Snapdragon 888 is stillslightly better than Exynos2100. The Snapdragon 888 version of S21 Ultra hasranked third on the ranking list with an average score of 680,130,while theExynos 2100 version has only ranked fifth, with an average score of 638,272,which is over 40,000 lower than that of its sibling.
What is the most interesting is that,although the top three phone models are all equipped with Snapdragon 888 processor,they have shown a gap of 47,600 in the average score. Such a big gap mainlyresults from the tuning preferences of different manufacturers. It is verycommon that some mobile phones will be optimized in terms of software for thebenchmarking, but when it comes to the actual user experience, the gap amongthem is acceptable. For example, Samsung's phone models never win a very highscore, but no one would complain about its user experience or itsconfiguration.
Following them, the seven phone models arerespectively Huawei Mate40 Pro (average score: 654,616), Galaxy S21+ 5G (2100) (averagescore: 646,172), Galaxy S21 Ultra 5G (2100) (average score: 638,272), ROGPhone3 (average score: 630,089), OPPO Find X2 Pro (average score: 610,366),Galaxy S21 5G (2100) (average score: 601,031), and OnePlus 8 Pro (average score:596,921).
Among the top ten of the ranking list offlagship phones, except OnePlus 8 Pro at the last, the other nine phones haveall reached an average score of over 600,000, and as many as seven of themadopt the 5nm processor. OPPO Find X2 Pro released in the same period last yeardominated the top of the ranking list with an average score of over 600,000 forseveral months, while this year, the average score has broken new ground toexceed 700,000. Apparently, mobile phones have been developing at an incrediblepace.
2. Mid-range Phones
Compared to the rapidly changing flagshipphone market, the mid-range phone market is almost still in a stable statebecause of no release of new phones or processors, so there is little change onthe ranking list.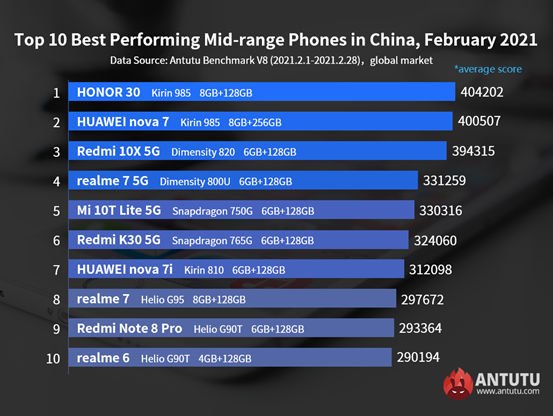 No. 1: HONOR 30
Average score: 404,202
With this February considered, HONOR 30 hasbeen ranked first in the performance ranking list of mid-range phones for fiveconsecutive months, with an average score of 404,202 this month, over 2,000higher than that in January, which is a normal fluctuation instead of anyindication that Kirin 985 has been optimized. With more samples in the backstagedatabase, the final score published each month will also change. Generallyspeaking, in the absence of new releases, HONOR 30 is expected to be thechampion for six months in a row.
No. 2: HUAWEI nova 7
Average score: 400,507
HUAWEI nova 7 with Kirin 985 processorstill ranks No.2 on the ranking list this time. In February, its average scoreis 400,507 with a normal floating growth compared to last month, and this isalso the fifth consecutive month when it ranks second on the list.
No. 3: Redmi 10X 5G
Average score: 394,315
Redmi 10X 5G still ranks No.3 this time. Thismodel, jointly customizedby Redmi and MediaTek, has passed its exclusive period of MediaTek Dimensity 820processor. Vivo's new phones arealso adopting this processor. It can be seenthat in the mid-range phone market, the performance of MediaTek Dimensity 820is still quite good, but the new MediaTek Dimensity 8 series will not bereleased until the second quarter of this year.
The next seven phone models that follow arerespectively realme 7 5G (average score: 331,259), Mi 10T Lite 5G (averagescore: 330,316,) Redmi K30 5G (average score: 324,060), HUAWEI nova 7i (averagescore: 312,098), realme 7 (average score: 297,672), Redmi Note 8 Pro (averagescore: 293,364), and realme 6 (average score: 290,194).
The newest model included in the rankinglist of mid-range phones is realme 6. In the international market, realme hasmaintained a good performance with the launch of various new products, so ithas occupied three places in the list of mid-range phones, but Xiaomi(including Redmi) has more phone models, taking up four places.
The above is the performance ranking listof overseas Android phones in February 2021. Flagship chipsets have entered themore advanced 5nm era processor, and the average scores have also reached thenew height of 700,000. Given the current advances in technology, how would nextyear's processors be and what height the average scores will reach? We are alllooking forward to finding out.