Global Best Performing Android Phones, January 2021: Mi 11 Won the Championship
In January 2021, in addition to the new products equipped with Snapdragon 888 SoC, the new ones of Galaxy S21 series equipped with Samsung's own 5nm-process-based Exynos 2100 were finally launched to the market, making a big change in the ranking list for the first month in 2021. The three 5nm-process-based products currently available on the market are all included in the ranking list this time.
They are Qualcomm Snapdragon 888, Huawei Hisilicon Kirin 9000 and Samsung Exynos 2100.
Let's take a look at the ranking list.
This time, the data was collected for a period from January 1 to January 31, 2021, and the results in the ranking list were the average scores but not the highest ones; and there are more than 1,000 pieces of information on single phone model. The data was calculated based on Antutu V8. If a single phone model has several memory capacity versions, the version with the highest score shall prevail.
1. Flagship Phones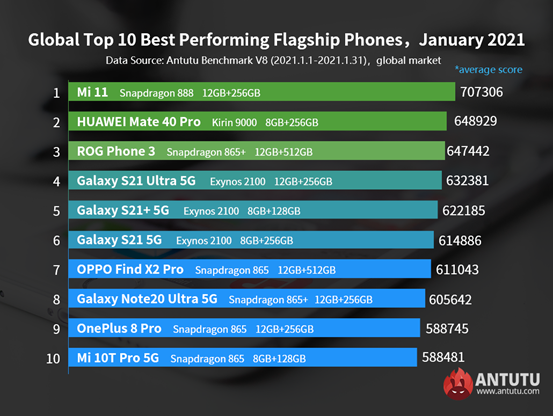 No. 1: Mi 11
Average score: 707,306
Mi 11, the world's first phone equipped with Snapdragon's latest flagship processor 888, finally appeared on the global Android phone performance ranking list and won the championship in one fell swoop. Thus it pushed Huawei Mate40 Pro, which ranked first last month, to the No. 2 position. The average score of Mi 11 was about 50,000 higher than that of the previous Huawei Mate40 Pro and its CPU, 3D and UX were all in the lead with high scores, so it is currently the product with the highest score on Android.
At present, Mi has also announced on its overseas account that Mi 11 will be officially introduced to the global market on February 8. Therefore, as one of only four new Snapdragon 888 flagship phones currently released on the market, Mi 11 is the only one currently to be sold in the international market.
No. 2: Huawei Mate 40 Pro
Average score: 648,929
As the No. 1 is a Mi phone model, Huawei Mate 40 Pro can only rank No. 2 with an average score of 648,929. Even though Mate 40 Pro also uses a 5nm processor, its final score is slightly lower than that of the Mi 11. However, score is just a reference parameter in terms of performance and cannot be used as a measure for phone experience. Overall, Mate 40 Pro has distinct advantages in many aspects.
No. 3: ROG Phone 3
Average score: 647,442
As the first phone model to ship with Snapdragon 865 Plus processor, Asus ROG Phone 3 is characterized by superior performance and a very high score. ROG Phone 3 has stayed on the No. 3 spot for several consecutive months. Without Snapdragon 888, it would have constantly ranked No. 1. Obviously, the scores of gaming phones have been very high so far.
But times have changed. So far, Qualcomm launched both Snapdragon 888 and Snapdragon 870. As Snapdragon 870 is a Plus product of Snapdragon 865 Plus, any phone with such a processor is expected to achieve a quite high score. At present, the only phone model with Snapdragon 870 on the market is Motorola Edge S, which temporarily fails to join into this month's ranking list but is expected to appear on the list of the next month.
Following them, the seven phone models are respectively Galaxy S21 Ultra 5G (average score: 632,381), Galaxy S21+ 5G (average score: 622,185), Galaxy S21 5G (average score: 614,886), OPPO Find X2 Pro (average score: 611,043), Galaxy Note20 Ultra 5G (average score: 605,642), OnePlus 8 Pro (average score: 588,745), and Mi 10T Pro 5G (average score: 588,481).
Samsung Exynos 2100 is also a brand-new flagship 5nm processor, but the three new phone models with Samsung Exynos 2100 are not among the top 3 in this Android phone performance ranking list. Even the score of Galaxy S21 Ultra 5G, which is the highest among those of the three phone models, is over 10,000 points lower than that of the phone model powered by Snapdragon 865 Plus, a last-generation flagship processor of Qualcomm.
However, this does not mean that the Samsung Exynos 2100 is worse than any Qualcomm Snapdragon flagship processor. In fact, every new flagship processor of Samsung can offer a great experience. However, the brand awareness of Samsung Exynos processors is slightly weaker than that of the Qualcomm Snapdragon counterparts because only few phone models have been equipped with Samsung Exynos processors, including Samsung's own phones.
The flagship phone market is still relatively stable this month, without the launch of any new phone or processor. Therefore, there aren't many changes in the rankings this month.
2. Mid-range Phones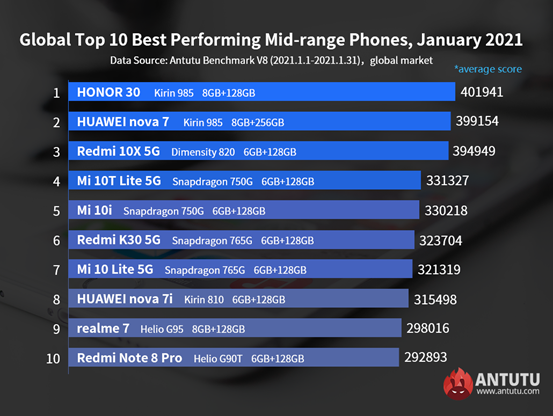 No. 1: HONOR 30
Average score: 401,941
Congratulations to HONOR 30 to stand at the first place in the mid-range phone performance ranking list for four consecutive months. This phone model with Huawei's independently-developed Kirin 985 processor is just inferior to the last-generation flagship phones with Kirin 990 processor in terms of performance. Subject to relevant bans, Huawei also used Kirin 985 on some new phone models recently launched, which also implies that this processor will still be competitive on the market in the next few years.
No. 2: HUAWEI nova 7
Average score: 399,154
HUAWEI nova 7 with Kirin 985 processor still ranks No. 2, with an average score of 399,154, slightly different from that in the previous month. It is the fourth month that it has ranked No. 2 consecutively. In case that no new phone models would be launched as mentioned above, these two phone models should rank No. 1 and No. 2 in a long run.
No. 3: Redmi 10X 5G
Average score: 394,949
Redmi 10X 5G still ranks No. 3, with a comprehensive score slightly lower than that of the previous month. But it does not influence the user experience. Any insignificant change in score is a natural phenomenon. For the most distinct feature, Redmi 10X 5G is equipped with MediaTek Dimensity 820 processor exclusively developed under cooperation with Media Tek. Inc, which is better than MediaTek Dimensity 800 or MediaTek Dimensity 800U processor in terms of performance, so it finally achieved a very good score.
Following them, the seven phone models are respectively Mi 10T Lite 5G (average score: 331,327), Mi 10i (average score: 330,218), Redmi K30 5G (average score: 323,704), Mi 10 Lite 5G (average score: 321,319), HUAWEI nova 7i (average score: 315,498), realme 7 (average score: 298,016), and Redmi Note 8 Pro (average score: 292,893).
Although Mi 10i is the only one phone model newly included in the mid-range phone performance ranking list, there are six Mi phone models in the Android mid-range phone performance ranking list. Upon launch, Mi 11 has taken the first place in the flagship phone performance ranking. It can be seen that Mi phones have always been very competitive in terms of performance and score.
The above are global Android phone performance rankings in January 2021. Many new phone models with three mainstream 5nm-process-based flagship processors appeared on the list, with Xiaomi phones dominating. A new round of phone replacement boom is coming. Are you ready?