Global Top 10 Best Performing Flagship Phones and Mid-range Phones,December 2020
Compared withconstant release of new models with 5nm processors on China's mobile phonemarket, there are only a handful of new phone models with 5nm processorsreleased globally. Among the Global Top 10 Best Performing Android FlagshipPhones on the ranking list, only Huawei Mate 40 Pro remaining the first placeon the list this month, the same as last month, adopts 5nm processor, while theother nine phones on the list carry Qualcomm Snapdragon 865 series.
Let's take a look atthe ranking list.
The data wascollected from December 1, 2020 to December 31, 2020 and the results on theranking list are average scores instead of highest ones. There are more than1,000 pieces of data for a single phone model. The data was calculated based onAntutu V8. If several memory capacity versions of any single phone model areavailable on the List, the version with the highest score shall prevail
1. Flagship phones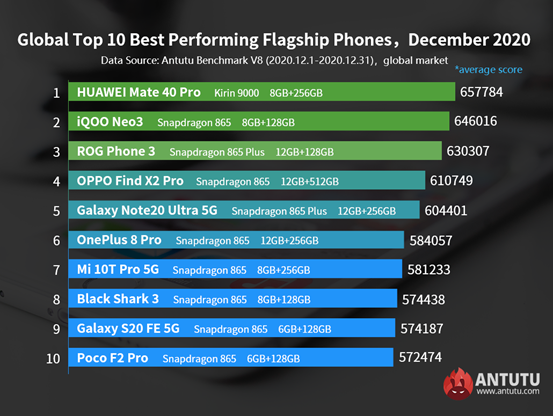 No.1: HUAWEI Mate 40 Pro
Averagescore: 657,784
Xiaomi 11 powered bythe Snapdragon 888 flagship processor has been released, but it is onlyavailable in China, so Huawei Mate 40 Pro still leads the global market, withits average score of 657,784, a big win over iQOO Neo3 ranking No. 2 by morethan 20,000 points.
In the first fewdays of 2021, the news came out that Huawei, despite severe restrictionssuffered, seems to have not given up on processor development. Thenext-generation Kirin processor will be called Kirin 9010 and the 3nm process itwill be using can be viewed as an iteration of 5nm. Compared to the 5nmprocess, 3nm process will bring 25~30% power reduction and 10~15% performanceimprovement. Whether this news is true or not depends on the actual situationof Huawei in the second half of this year.
No.2: iQOO Neo3
Averagescore: 646,016
iQOO Neo3, which hadbeen out of the top three for years, rushed into the second place this time. Withthe Snapdragon 865 processor series, it even has a higher average score thanthat of ROG Phone3, a ASUS gaming phone, which is to be congratulated. We knowthat ROG Phone3 carries 865 Plus, a slightly more powerful version thanSnapdragon 865, so such a score can be viewed the glory of the Snapdragon 865era. Probably on the ranking list from next month, Snapdragon 865 era is comingto an end and the new flagship Snapdragon 888 has officially debuted.
No.3: ROG Phone 3
Averagescore: 630,307
Being the firstphone with Snapdragon 865 Plus processor and with the support of ASUS's super gamingperformance, ROG Phone3 remained on the first place on the performance rankinglist for several months. However, with more and more new 5 nm flagshipprocessors making their debuts now and the difference in nature making thisveteran model a little bit out of its depth, ROG Phone3 only came in the thirdplace this time.
Following them, theseven phone models are respectively OPPO Find X2 (average score: 610,749),Galaxy Note20 Ultra 5G (average score: 604,401), OnePlus 8 Pro (average score:584,057), Mi 10T Pro 5G (average score: 581,233), Black Shark 3 (average score:574,438), Galaxy S20 FE 5G (average score: 574,187), and Poco F2 Pro (averagescore: 572,474).
Two new phones onthis List are Galaxy S20 FE 5G and Poco F2 Pro. The former is a fan-onlyversion of Samsung's S20 series and the latter is a new Xiaomi phone on theIndian market. These two phones are very cost effective and has good performance,so it is a natural thing for them to make the List,.
2. Mid-range phones
Compared with therapidly changing flagship phone market, the heat of mid-range phone market isobviously much lower, without release of new SoC and new models. So there islittle change in phone models on the list. Let's take a look in details.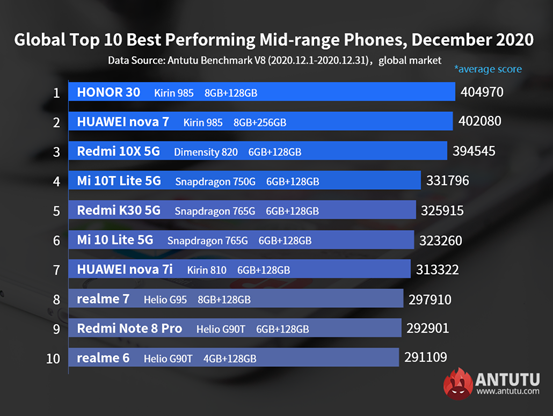 No.1: HONOR 30
Averagescore: 404,970
Since there has beenno new competitive mid-range phones released on the market, Honor 30 stilltopped the List this month, which has held the first place on the mid-rangephone performance list for the third consecutive month. It carries Kirin 985processor independently developed by Huawei, which is second only to theprevious flagship Kirin 990 in terms of performance. Therefore, Kirin 985processor is suitable to be used in mid-range phones, and crucially, it isbetter than Qualcomm's mid-range Snapdragon processors. Therefore, Huaweicontributes a lot in terms of performance of processors of mid-range phones.
No.2: HUAWEI nova 7
Averagescore: 402,080
Huawei Nova 7, alsoequipped with Kirin 985 processor, still took the second place this time. Ithas been the quarterly champion of the second place of Global Top 10 BestPerforming Mid-range Phones. The biggest difference between HONR 30 and HUAWEInova 7 is their camera. HONOR 30 supports 5x optical zoom while HUAWEI nova 7supports 3x optical zoom. Other than that, they are pretty much the same thing,so there's not much difference in their final performance. These two productsare also expected to occupy these two places for a long time in the absence ofrelease of new phones.
No.3: Redmi 10X 5G
Averagescore: 394,545
The phone modelranking the third is Redmi 10X 5G released by Redmi in May last year. Itsbiggest feature is that it is equipped with MediaTek Dimensity 820 processorexclusively cooperated with Media Tek. Inc, which is better than MediaTekDimensity 800 or MediaTek Dimensity 800U processor in performance, so itfinally achieved a very good score.
MediaTek Dimensity 820is targeted at mid-range to high-end smartphones, using TSMC 7nm process. Thereare four 2.6GHz ARM Cortex-A76 high-performance cores and four 2.0GHz ARMCortex-A55 energy-efficient cores. In addition, MediaTek Dimensity 820 alsouses 5-core ARM NATT MC5 GPU, with the gaming performance raised by up to 33%compared with its peers at the same level.
Following them, theseven phone models are respectively Mi 10T Lite 5G (average score: 331,796),Redmi K30 5G (average score: 325,915), Mi 10 Lite 5G (average score: 323,260),HUAWEI nova 7i (average score: 313,322), realme 7 (average score: 297,910),Redmi Note 8 Pro (average score: 292,901), and realme 6 (average score:291,109).
In terms ofmid-range phones, Redmi 10X 5G and Mi 10T Lite 5G made the List this time,which are developed by Xiaomi. It seems that Xiaomi still stands out in termsof performance as always, and it can also maintain a stable update frequency onthe global market and mid-range market.
That's all about theranking list of Global Top 10 Best Performing Android Phones in December 2020.Since there are no new products released, the ranking list of global marketshas not changed much this time. Two Huawei models still occupy the first placeof flagship and mid-range phones. Congratulations to Huawei again.