Best Performing Android Devices in November: Huawei Took Double Champion Places
The Global Android Phone Performance Ranking List in November has changed dramatically and phone SoC technology has officially welcomed its era of 5nm. Although new flagship products, i.e., 5nm SoC of Huawei Hisilicon and Qualcomm Snapdragon have been released, the former was on the market first. So the performance of Huawei Mate 40 Pro powered by the Kirin 9000 chip using 5nm technology surpassed ROG Phone3 which had ranked first on the list for several months in a row. Let's take a look at the ranking.
The data was collected from November 1, 2020 to November 30, 2020 and the results on the Ranking List are average scores instead of highest ones. There are more than 1,000 pieces of data on single phone model. The data was calculated based on Antutu V8. If several memory capacity versions of any single phone model are available on the List, the version with the highest score shall prevail
1. Flagship Phones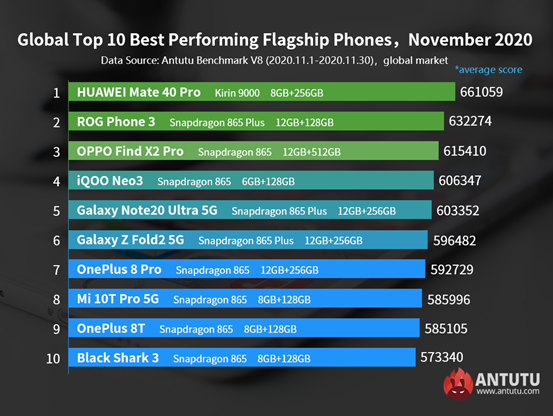 No. 1: HUAWEI Mate 40 Pro
Average score: 661,059
Huawei Mate40 Pro is equipped with Huawei's latest and possibly the last generation of flagship SoC Kirin 9000. Kirin 9000 is manufactured by TSMC using 5nm technology and integrates as many as 15.3 billion transistors, 30% more than Apple A14. On the release day of this SoC, it was the industry's first 5nm SoC integrated with 5G, and it is also the current SoC with the most transistors.
The eight-core CPU consists of one 3.13GHz A77+3, three 2.54GHz A77 and four 2.04GHz A55, with its frequency edging out the 3.1GHz of Snapdragon 865 Plus.
The launch of Snapdragon 888 on December 1 officially made it a rival to Kirin 9000. However, the flagship models equipped with Snapdragon 888 may not be available until early January at the soonest, so Huawei Mate40 Pro is expected to sustain the first place for two months.
No. 2: ROG Phone 3
Average score: 632,274
As the first Snapdragon 865 Plus phone model, ROG's game phones have historically held the first place on Android Phone Performance Ranking List for a couple of months, but this time it meets changes of racing track. The 7nm technology is fundamentally different from the 5nm Kirin 9000, so it's a matter of course to be surpassed.
But anyway, ROG Phone3's optimization and improvement in game performance are still unmatched by other mobile phones.
No. 3: OPPO Find X2 Pro
Average score: 615,410
Now that the first place has changed, the original ranking has to be pushed back one place, so OPPO Find X2 ranking the second place last month come in the third place in November.
It is equipped with Snapdragon 865 SoC and it should be restated that OPPO Find X2 launched in March this year has been hovering in the top three places on Global Android Phone Performance Ranking List for nine months. It is also expected to be seen on the List next month, which is not easy for rapidly-evolving Android phones, but most importantly it still looks excellent enough to be worth buying.
Following them, the seven phone models are respectively iQOO Neo3 (average score: 606,347), Samsung Galaxy Note20 Ultra 5G (average score: 603,352), Samsung Galaxy Z Fold2 5G (average score: 596,482), OnePlus 8 Pro (average score: 592,729), Mi 10T Pro 5G (average score: 585,996), OnePlus 8 (average score: 585,105), and Black Shark 3 (average score: 575,808).
In addition that Huawei Mate40 Pro grabbed the first place, there is a newcomer on the Ranking List, namely, Black Shark 3, which, as a game phone, finally made it onto the Performance Ranking List.
2. Mid-range Phones
Since no new mid-range SoC model was released in November, there is no change in the ranking of mid-range phones from last month. The brand new mid-range SoC will not be updated until the first quarter of next year, so users who want to buy a mid-range phone have to wait a little longer.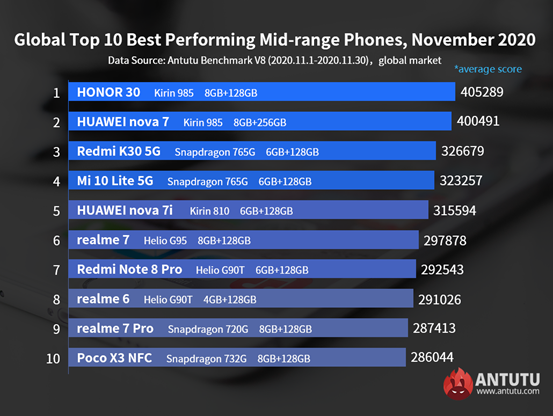 No. 1: HONOR 30
Average score: 405,289
Among mid-range phones, HONOR 30 ranks the first in November as it did last month. It is equipped with the Kirin 985 processor independently developed by Huawei, second only to the previous generation of the flagship Kirin 990 in terms of performance, which is a reduced frequency version, so it is appropriate to be used as a mid-range model. Counting Huawei Mate40 Pro that carries Kirin 9000 SoC and ranks the first among flagship phones, Huawei took the double champion places of Overseas Android Phone Performance Ranking List in November. Congratulations to Huawei.
No. 2: HUAWEI nova 7
Average score: 400,491
HUAWEI nova 7 ranks the second in November as it did in last month. It uses the same chip as HONOR 30 that topped the List, that is, Kirin 985. With very similar appearance design, the biggest difference is their camera. HONOR 30 supports 5x optical zoom and HUAWEI nova 7 supports 3x optical zoom. Other than that, they are pretty much the same thing, so you can see that their final score is pretty much the same.
No. 3: Redmi K30 5G
Average score: 326,679
Redmi K30 5 G ranks the third in November as it did last month. As a phone launched earlier this year, it is pretty good for it to have such performance at the end of the year. Although it's been 10 months since its launch, if Qualcomm fails to update its new mid-range SoC, Redmi K30 5G is still expected to be made onto the Ranking List every month.
Following them, the seven phone models are respectively Mi 10 Lite 5G (average score: 323,257), HUAWEI nova 7i (average score: 315,594), realme 7 (average score: 297,878), Redmi Note 8 Pro (average score: 292,543), realme 6 (average score: 291,026), realme 7Pro (average score: 287,413), and Poco X3 NFC (average score: 286,044).
Compared with instant change of flagship model ranking first, the ranking of mid-range phones is a little mundane, with the same ten mobile phones in the same ranking order as that in last month, only a little change on their scores. It's a normal situation, after all, the performance of flagship phones can more mirror the strength of a company in the R&D and improvement.
That's all for the Ranking List in November 2020. Congratulations again to Huawei for winning the first place in both the flagship and mid-range phone rankings. We also hope Huawei can sustain this position for a long time.