Best Performing iOS Devices in November: All four iPhone 12 models made the list
After November, fourphone models of iPhone 12 series have been officially listed on sale. One ofthe biggest hopes in the mobile world this year came and all of Apple hardwareproducts updated this year have been listed. There should be no major changesto the iOS Performance Ranking List untilApple's new product launch event next spring.
Today, Antutureleased the iOS Device Performance Ranking List in November 2020 according tothe statistic data at our backstage. All phone models of iPhone 12 series makethe list this time and only one model of the older iPhone 11 series is still onthe list, so it's very interesting.
It should be notedthat figures in this ranking list were calculated based on the iOS version ofAntutu V8 and collected for a period from November 1, 2020 to November 30,2020. The results in the ranking list are average scores instead of the highestscores, and thus more representative.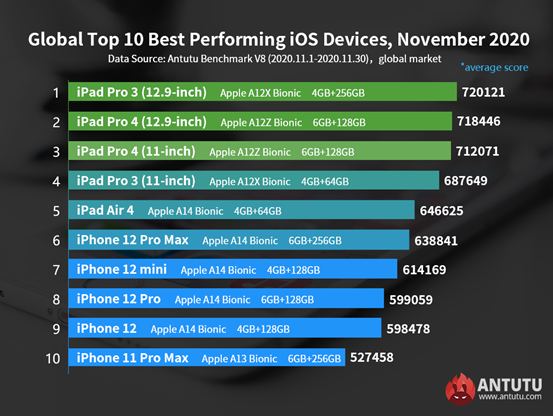 No. 1: iPad Pro 3(12.9-inch)
Average score:720,121
The iPad Pro 3(12.9-inch), which ranked the second on the iOS DevicePerformance Ranking Listbefore, finally took the first place with an average score of 720,191, beatingthe iPad Pro 4 (12.9-inch) with a score of 718,446.
No. 2: iPad Pro 4(12.9-inch)
Average score:718,446
The ever-victoriouswinner iPad Pro 4 (12.9-inch) was relegated to the second place. The biggestdifference between the iPad Pro 4 (12.9-inch) and the iPad Pro 3 (12.9-inch)ranking the first is their processor, with the former using Apple A12Z whilethe latter using Apple A12X. In last month's ranking list, their difference wasmainly reflected in the scores of 3D and UX, and there is no exception thismonth. While the iPad Pro 3 (12.9-inch) has lower cpu, 3D, and UX scores thanthe iPad Pro 4 (12.9-inch), it surges ahead by 17,678 scores in terms of memoryscore which causes their score difference.
No.3: iPad Pro 4(11-inch)
Average score:710,327
The product rankingin the third place this time is that ranked the third last month: iPad Pro 4(11-inch) is carrying A12Z processor, which is the same as iPad Pro 4(12.9-inch) ranking first, with their whole configuration broadly similar. Theonly difference lies in screen size, which is the product of the marketsegment. So those who want to buy iPad Pro 4 can make their choice according totheir needs for screen size.
So far, four iPhone12 models this year are still not among the top three. Although Apple A14processor of iPhone 12 series is strong, iPhone 12 cannot beat iPad Pro interms of size and hardware. Otherwise, there may be no market space for iPadPro.
The following 7products are: iPad Pro 3 (11-inch) with an average score of 687,649, iPad Air 4with an average score of 646,625, iPhone 12 Pro Max with an average score of638,841, iPhone 12 mini with an average score of 614,169, iPhone 12 Prox withan average score of 599,059, iPhone 12 with an average score of 598,478 andiPhone 11 Pro Max with an average score of 527,458.
Four new iPhone 12models this year ranked the sixth to the ninth place, but what's interesting isthat they're not listed in the same order as Apple's official pricing order like of iPhone 12 Pro Max, iPhone 12 Pro, iPhone 12 and iPhone 12 mini.Specifically, iPhone 12 Pro Max ranks the first among the four models, which isundisputed, and its average score of 638,841 is comparable to the score of646,625 for iPad Air4 ranking the fifth, which reflects its powerfulperformance.
Just following theiPhone 12 Pro Max is the entry-level iPhone 12 mini with the lowest price. Thesecond-most expensive iPhone 12 Pro followed by the top-selling iPhone 12Standard, ranks behind iPhone 12 mini.
Such ranking iscaused by different iOS version number of these different models of iPhone 12series in the backstage, which has a certain impact on the score. Of course,this does not mean that the cheapest iPhone 12 mini should rank the last. Afterthe iOS version number gradually unified to the same version, we believe thatthe ranking of the four iPhone 12 models will be stable.
At the bottom of theranking list is the iPhone 11 Pro Max, the last glory of iPhone 11 era. Exceptthis top-level iPhone 11 model, the other two iPhone 11 models have dropped outof the Top 10. It's a generational change, so let's say goodbye to the iPhone11 era.
This is all aboutthe iOS Device Performance Ranking List in November. It can be predicted thatnext month will still see these 10 products on the final list in 2020. Anychange will not come until next March. Let's look forward to Apple's new productsin the next year.