iOS Device Performance Ranking, October 2020: How Powerful Is iPhone 12?
The much-anticipated iPhone 12 series was released last month, a month later than that in previous years due to COVID-19. However, it did come, and as of today, the first two new models, namely, iPhone 12 and iPhone 12 Pro have been delivered to most buyers, so they made a successful appearance on the iOS device performance ranking list in October 2020.
Today, Antutu released our list of the global Top 10 best performing iOS devices in October 2020 according to the statistic data at our backstage. This time the ranking list has changed because of the entry of two new iPhones into the list. As the editor, I have always been calm with the ranking list, this time I finally got excited. So what are the rankings of these two new models? Let's move on.
It should be noted that figures in this ranking list were calculated based on the iOS version of Antutu V8 and collected for a period from October 1, 2020 to October 31, 2020. The results in the ranking list are average scores instead of the highest scores, and thus more representative.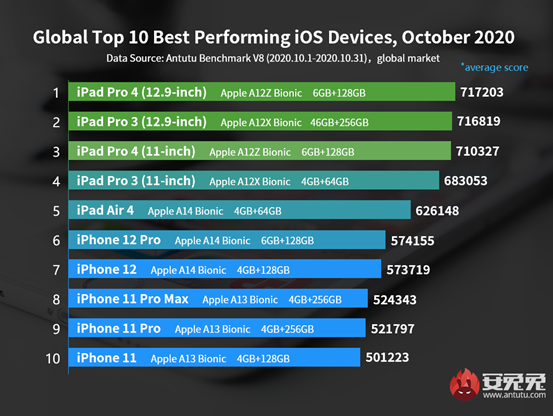 No.1: iPad Pro 4 (12.9-inch)
Average score: 717,203
The iPad Pro 4 (12.9-inch), the most powerful iPad Pro in Apple's mobile product family, has firmly ranked in the first place for a quarter in a row. Its bigger screen, higher refresh rate and higher hardware configuration are all factors that can affect the score. So even though iPhone 12 and iPad Air4 that adopt A14 processor have been released and obtained scores, they were still defeated by iPad Pro 4 (12.9-inch).
No.2: iPad Pro 3 (12.9-inch)
Average score: 716,819
With the iPad Pro 4 (12.9-inch) at the top of the list, it is no wonder that its predecessor came in the second place. The biggest difference between the two devices is that the iPad Pro 4 (12.9-inch) is powered by A12Z processor, while the iPad Pro 3 (12.9-inch) is powered by A12X processor. In terms of the comprehensive score, the difference between the two is very small. More specifically, it's just that the 3D score and the UX score of iPad Pro 4 (12.9-inch) are a little higher, which cannot be felt in actual use.
No.3: iPad Pro 4 (11-inch)
Average score: 710,327
There have always been more iPad products on iOS praise ranking list. This time, came in the third place is also a product of iPad Pro: iPad Pro 4 (11-inch), which, the same as iPad Pro 4 (12.9-inch) ranking first, is carrying A12Z processor, with their whole configuration broadly similar. The only difference lies in screen size, which is the product of the market segment. So those who want to buy iPad Pro 4, can make their choices based on their needs for screen size..
With the top three announced, neither iPhone 12 nor iPhone 12 Pro appears on the list, which means that they can only be placed in the bottom seven.
The following 7 products are: iPad Pro 3 (11-inch) with a comprehensive score of 683,053, iPad Air 4 with a comprehensive score of 626,148, iPhone 12 Pro with an average score of 574,155, iPhone 12 Pro with an average score of 573,719, iPhone 11 Pro Max with an average score of 524,343, iPhone 11 Pro with an average score of 521,797 and iPhone 11 with an average score of 501,223.
Newly released iPad Air4, iPhone 12 Pro and iPhone 12 firmly ranked the 5th, 6th and 7th in this ranking list. All three are powered by Apple's latest A14 processor, and there is no doubt about its performance. iPad Air4, due to its larger screen size and higher configuration, has a higher average score than the iPhone series, which is a normal phenomenon.
However, iPhone 12 Pro and iPhone 12 outdistanced iPhone 11 series, which looks very strong. It can be seen that the average score of iPhone 12 with low-level configuration is higher than that of iPhone 11 Pro Max with top-level configuration ever. Therefore, each generation will surpass the preceding one and this is indeed an eternal truth.
Next up are the iPhone 12 mini and iPhone 12 Pro Max that can be ordered this week. Will iPhone 12 mini rival the previous iPhone 11? Will iPhone 12 Pro Max beat iPad Air4 with larger screens? We'll find out next month.