Global Android Phone Performance Ranking, October 2020: Calm Change
October is a booming month for the mobile phone market. iPhone 12 series were released as scheduled, followed by Huawei Mate40 series. These two top flagships of different platforms have already started their journey in the new year. It's hard to say which one is better, so let's take a look at the Top 10 performance ranking list of Android phones in October 2020.
This time, the data was collected for a period from October 1, 2020 to October 31, 2020; the results in the ranking list are average scores instead of highest scores; and there are more than 1,000 pieces of information on single phone model. The data was calculated based on Antutu V8. If any single phone model on the list has several memory capacity versions, then the version with the highest score shall prevail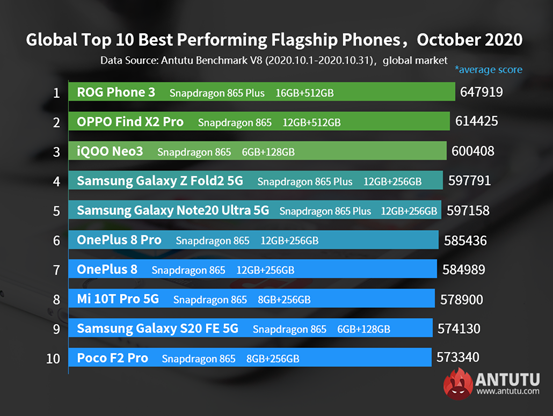 No.1: ROG Phone 3
Average score: 647,919
Frequently ranking the first of the global Android phone ranking list, this time Asus's ROG Phone 3 still firmly topped the list. As a gaming phone, it deserves that kind of performance, and it's expected to remain at the first place on global Android phone ranking list for a long time.
We've talked a lot about this phone in previous ranking lists, so I won't go into details here. Anyway, you know it is the best Android phone for gaming. But if you want to buy it, you should also be prepared for its huge size and heavy hand feeling.
No.2: OPPO Find X2 Pro
Average score: 614,425
Our old friend OPPO Find X2 Pro ranked the second place and it has been consistently on our Android phone performance ranking list, but its place is not stable. Last month, it was knocked out of second place by Xiaomi 10 Ultra, but it regained the second place this time and ranked only behind the gaming phone ROG Phone 3, which shows its strong performance
No.3: iQOO Neo 3
Average score: 600,408
We should congratulate that iQOO Neo 3 debuted among the top three of Android phone ranking list. It has always been on performance ranking lists, but never among the top three, but this time it finally took the third place. It is also equipped with Snapdragon 865 processor, 144Hz high refresh rate LCD screen and UFS 3.1 flash memory, which can provide users with e-sports game experience. However, its price is very favorable, and it is very cost-effective.
Following them, the seven phone models are respectively Galaxy Z Fold2 5G (average score: 597,791), Samsung Galaxy Note20 Ultra 5G (average score: 597,158), OnePlus 8 Pro (average score: 585,436), OnePlus 8 (average score: 584,989), Mi 10T Pro 5G (average score: 578,900), Mi 10 Pro (average score: 574,130), and Poco F2 Pro (average score: 573,340).
The two new phones in the top 10 of this list are Samsung Galaxy S20FE 5G and Poco F2 Pro. The former is a special phone model launched by Samsung for its fans every year, and the latter is a brand of Xiaomi in the overseas market. These two phones are not weak in performance, so it is natural for them to be included in the ranking list.
Top 10 of mid-range phones changed significantly each time and there is no exception this time, so let's have a look.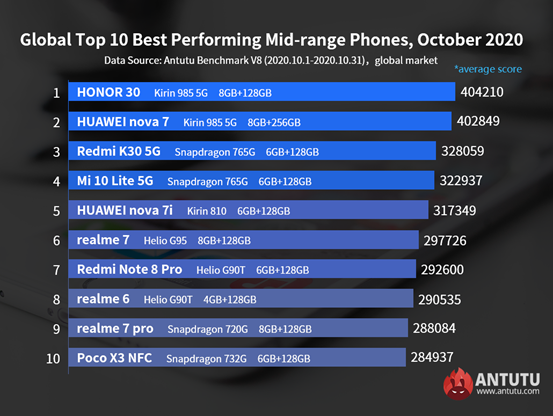 No.1: HONOR 30
Average score: 404,210
Among mid-range phones, HONOR 30, which ranked the second last month, ranked the first this time. It is equipped with the Kirin 985 processor independently developed by Huawei, second only to the previous generation of the flagship Kirin 990 in terms of performance, which is a reduced frequency version, so it is appropriate to be used as mid-range models, and its score of 404,210 also proves its strength.
No.2: HUAWEI nova 7
Average score: 402,849
HUAWEI nova 7 ranking the second uses the same chip as HONOR 30 that topped the list, that is, Kirin 985. With very similar appearance design, the biggest difference is their camera. HONOR 30 supports 5x optical zoom, HUAWEI nova 7 supports 3x optical zoom, and HUAWEI nova 7 attached with headphones. Other than that, they are pretty much the same thing, so you can see that their scores are pretty much the same, and they can be seen as variations of the same phone.
No.3: Redmi K30 5G
Avergae score: 328,059
The third model is Redmi K30 5G released earlier this year, which has been among the top 10 mid-range Android phone ranking list several times. It is the first phone with a Snapdragon 765G processor and also has a screen with a high refresh rate of 120Hz. It's been 10 months since its release, and its performance is not that strong at the moment, but it still works.
Following them, the seven phone models are respectively Mi 10 Lite 5G (average score: 322,937), HUAWEI nova 7i (average score: 317,349), realme 7 (average score: 297,726), Redmi Note 8 Pro (average score: 292,600), realme 6 (average score: 290,535), realme 7Pro (average score:288,084), and Poco X3 NFC (average score: 284,937).
Some newly released phone models in October failed to be included on this list, this is because there is inadequate data available for these new ones to form stable amount of data. We believe that they will appear on the ranking list in next month. After all, as flagship products in the second half of the year, they're supposed to be popular until March, so they're not going to be weak in terms of performance.
So much for the list in October 2020. Nothing much has changed, so let's look forward to next month's ranking list.