Global Top 10 Best Performing iOS Devices, September 2020
The much-anticipated launch event for iPhone 12 has eventually been held on the 14th day of this month. Obviously, this is an important event where Apple has launched its first 5G iPhones. It is of great significance to the accelerated development and distribution of global 5G network.
Today, according to our backstage statistics, Antutu released our list of the global Top 10 best performing iOS devices for September 2020, which is almost the same as that of the previous month, with little fluctuations in the ranking. However, it's expected that this ranking list will change a lot in the near future with the release of iPhone 12 series.
It should be noted that figures in this ranking list were calculated based on iOS version of Antutu V8 and collected for a period from September 1, 2020 to September 30, 2020. The results in the ranking list are average scores instead of the highest scores, and thus more representative.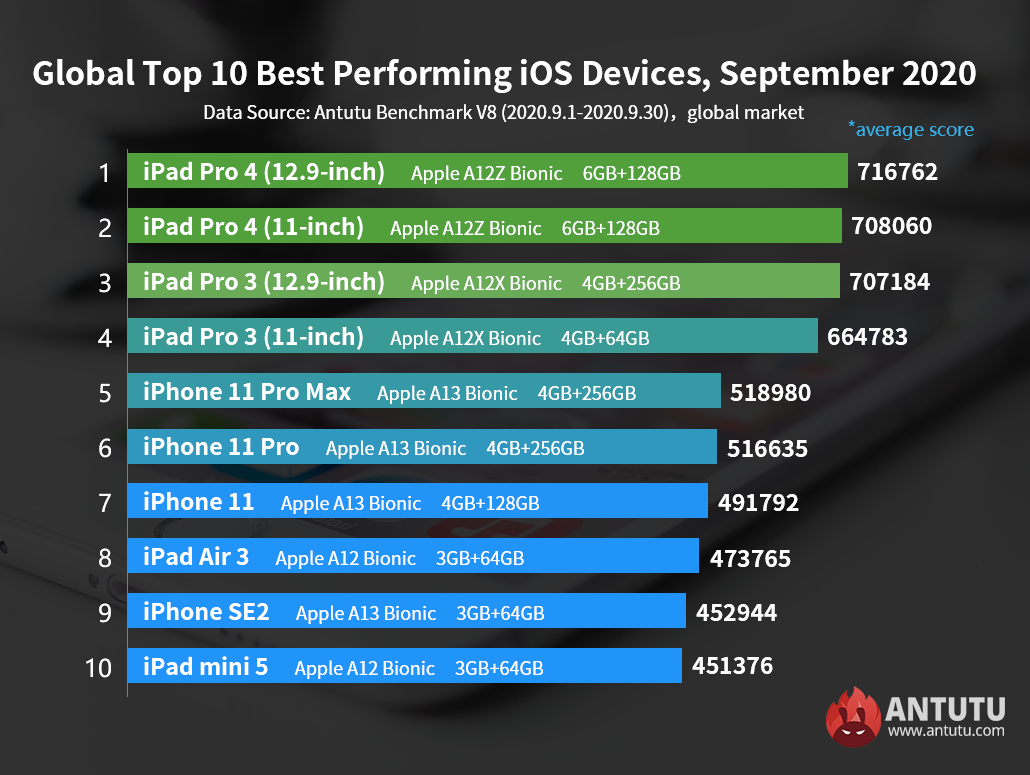 As shown in the ranking list, iPad Pro 4 (12.9-inch) still stands at the first place. It carries the latest A12Z processor. Its comprehensive score in September was 716,762, reflecting its superior performance as the first product that has stayed on No. 1 spot for consecutive months in the iOS device performance ranking.
In the ranking, iPad Pro 4 (11-inch) moved from the third place in August to the second place in September with a comprehensive score of 708,060. It carries an A12Z processor which is the same as that for the product ranking first.
The product ranking third still belongs to the iPad Pro Series and is iPad Pro 3 (12.9-inch), with a comprehensive score of 707,184 in September. It carries A12X which is one of Apple's most powerful processors so far and has slightly weaker CPU and GPU performance than A12Z, but it also achieves the top performance.
It is worth mentioning that a new product of iPad Air4 Series was launched in September as Apple's first product with A14 processor. With great performance, undoubtedly, it has not been sold in the market yet, so has no chance to appear in this ranking list. It's expected to see this product in the market in the next month. If iPhone 12 is to go on sale in October upon its launch, it's expected that iPhone 12 and iPad Air4 will both appear in the iOS device performance ranking in October, which finally depends on Apple stores' stocking speed and consumers' purchasing power.
Following them, the seven products are respectively Pad Pro 3 (11-inch) (comprehensive score: 664,783), iPhone 11 Pro Max (comprehensive score: 518,980), iPhone 11 Pro (comprehensive score: 516,635), iPhone 11 (comprehensive score: 491,792), iPad Air 3 (comprehensive score: 473,765), iPhone SE2 (comprehensive score: 452,994), and iPad mini 5 (comprehensive score: 451,376).
Above is the list of global Top 10 best performing iOS devices for the month of September. For more information about the ranking list, please visit Antutu official website or download AnTuTu Benchmark and check in the menu of "Ranking". Next month, let's see how powerful iPhone 12 developed by Cook is, which determines whether it can get into the list of Top 10 best performing iOS devices.