Global Top 10 Best Performing iOS Devices in August 2020
In September, there is a rumor that the new product launch event of Apple in the autumn of this year will be postponed to October, which however does not influence the anticipations of Apple fans. It is said that this month Apple will launch new hardware although there is no new iPhone to be launched. Before that, let's see the iOS device performance ranking list in August.
Today, according to our backstage statistics, Antutu published the iOS device performance ranking list for August 2020, which is almost the same as that of the previous month, with little fluctuations in the rankings.
It should be noted that figures in this ranking list were calculated based on iOS version of Antutu V8 and collected for a period from August 1, 2020 to August 31, 2020. The results in the ranking list are average scores instead of the highest scores, and thus more representative.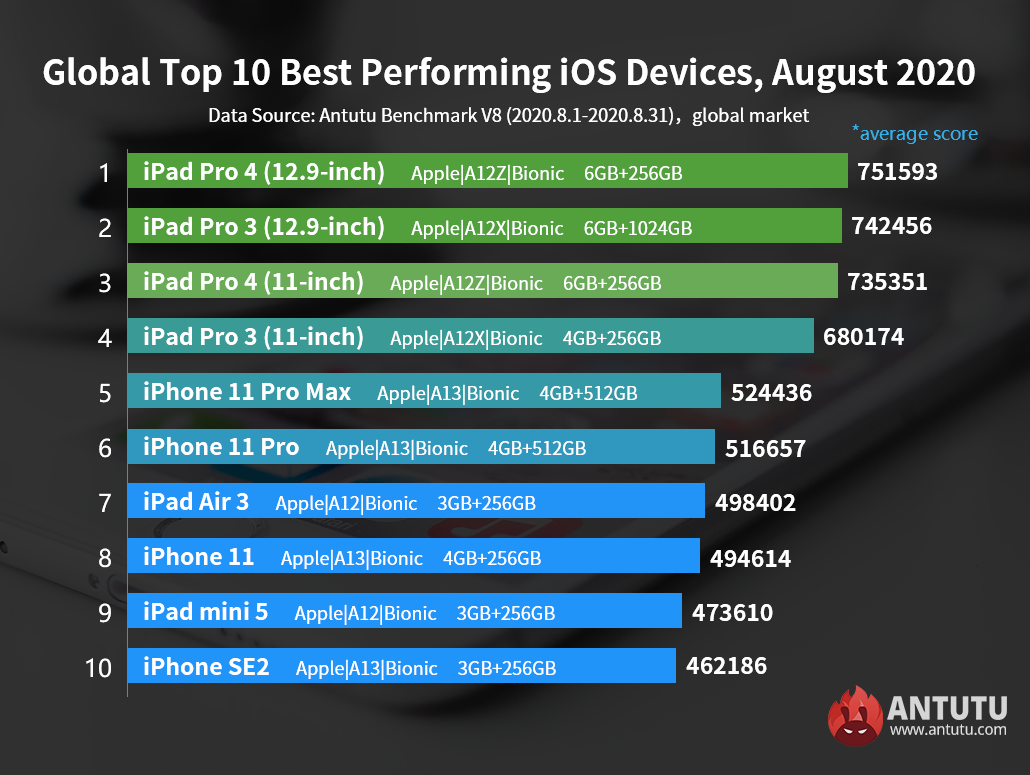 As shown in the ranking list, iPad Pro 4 (12.9-inch) still stands at the first place. It carries the latest A12Z processor. Its comprehensive score in August was 751,593, increasing by around 40,000 points over that of the previous month and reflecting its superior performance.
In the ranking, iPad Pro 3 (12.9-inch) moved from the third place in July to the second place in August with a comprehensive score of 742,456. It carries A12X processor with slightly weaker CPU and GPU performance than those of A12Z, but it also achieves the top performance.
The product ranking third is iPad Pro 4 (11-inch), of the same series as but in different size from that ranking first. Its overall score is 735,351, and it carries A12Z which is Apple's most powerful processor so far.
A12Z is the latest mobile processor of Apple, with one more GPU core than A12X, and consists of octa-core CPU and octa-core GPU. By comparison of result breakdown, A12Z performs slightly better than A12X, with no significant difference between the two. It may be suspected of toothpaste squeezing, but we have to acknowledge that A12Z is the most powerful mobile SoC so far.
With a comprehensive score of 680,174, Pad Pro 3 (11-inch) stands at the fourth place steadily. In short, the above few devices have always been standing at the top of the ranking, with slight position changes.
Following them, the six iOS devices are respectively iPhone 11 Pro Max (overall score: 524,436), iPhone 11 Pro (overall score: 516,657), iPad Air 3 (overall score: 498,402), iPhone 11 (overall score: 494,614), iPad mini 5 (overall score: 473,610), and iPhone SE2 (overall score: 462,186).
Users who are familiar with our iOS ranking list know that if Apple does not launch new product, this ranking list will hardly change, except that products in the list may change positions. We thought that new iPhone would be launched in September, but now we have to wait for another month. It's uncertain whether the new iPhone to be launched will stand at the top of this iOS device performance ranking.
The above is the iOS device performance ranking for August. It's expected that these devices will still stand in the ranking in the next month. If there is any significant change in ranking, it might be caused by the iPhone 12 series to be launched this year.