Global Top 10 Best Performing Flagship Phones and Mid-range Phones, August 2020
In this month, the competition for thesecond half of the year has started in global phone market. Phone manufacturershave launched their flagship phones in succession, including Snapdragon 865Plus. Unlike Snapdragon 855 Plus launched last year, this most powerful chipcan be only acquired by a few manufacturers and seems to be exclusivelyprovided for super big leading factories.
Today, according to our backstagestatistics, Antutu published the global Android phone performance ranking listfor August 2020. Let's see what top 10 phones in the ranking are.
As usual, the flagship phone ranking listand the mid-range phone ranking list were simultaneously published, which moredepend on their own SoC.
This time, the data was collected for aperiod from August 1, 2020 to August 31, 2020; the results in the ranking listare average scores instead of the highest scores; and there are more than 1,000pieces of information on single phone model. The data was calculated based onAntutu V8. If any single phone model has several memory capacity versions, thenits version of highest memory capacity shall prevail.
1. Flagship phones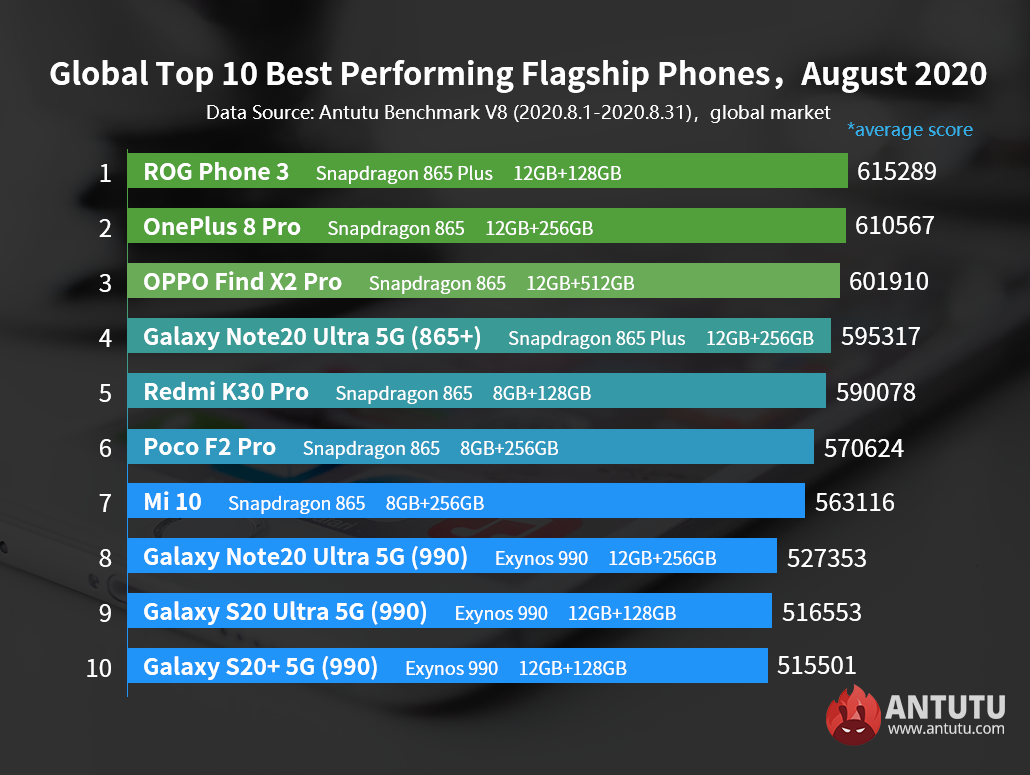 In the list of best performing flagshipphones in August, ROG Phone 3, a new gaming phone of Asus, ranks No. 1 with a overallscore of 615,289. This new Asus ROG Phone 3 looks just slightly different fromthe last generation, though it's still designed in the shape of "Eye ofthe Lost Home". It is the second phone to ship with Snapdragon 865 Plusprocessor in the world. Its predecessor ROG Phone 2 was the first phone to shipwith Snapdragon 855 Plus processor last year. This fully demonstrates that Asushas rich experience in integrating high-performance hardware for years, so itdeserves No. 1 in the ranking.
It's uncertain whether this phone will remainon No. 1 spot in the following months just like its predecessor ROG Phone 2, theAsus' last-generation gaming phone that has ranked No. 1 for a few consecutivemonths since its launch. Let's wait and see.
OnePlus 8 Pro ranks No. 2 in the list, thesame as that in July. Its overall score is 610,567, a few thousands of pointslower than ROG Phone 3 which is the most powerful gaming phone ranking No. 1.But it also performs very well.
Find X2 Pro 12+512GB, a flagship product ofOPPO, ranks No. 3 in that list with a overall score of 601,910 in August.However, it ranked No. 1 in terms of performance in the past two months. Inprevious ranking lists, it was the only one product with a score above 600,000.But this time, Asus ROG Phone 3 and OnePlus 8 Pro both have higher scores thanit. However, this result is quite great for this phone launched six months ago,especially in the changing Android phone market.
The products standing at 4th-10th placesare respectively Samsung Galaxy Note20 Ultra 5G (865+) 12+256G (overall score:595,317), Redmi K30 Pro 8+128GB (overall score: 590,078), Poco F2 Pro 8+256GB (overallscore: 570,624), Mi 10 8+256GB (overall score: 563,116), Samsung Galaxy Note20Ultra 5G (990) 12+256G (overall score: 527,353), Samsung Galaxy S20 Ultra 5G(990) 12+128G (overall score: 516,553), and Samsung Galaxy S20+ 5G (990)12+128GB (overall score: 515,501).
Among the top 10 best performing phones,only Asus ROG Phone 3 and Samsung Galaxy Note20 Ultra 5G (865+) have theSnapdragon 865 Plus processor, which is the most powerful processor for Androidphones at the moment. Nevertheless, Samsung Galaxy Note20 Ultra 5G (865+)stands at the fourth place in the ranking list. It can be seen that processoris crucial, but many other factors also influence the final result.
2. Mid-range phones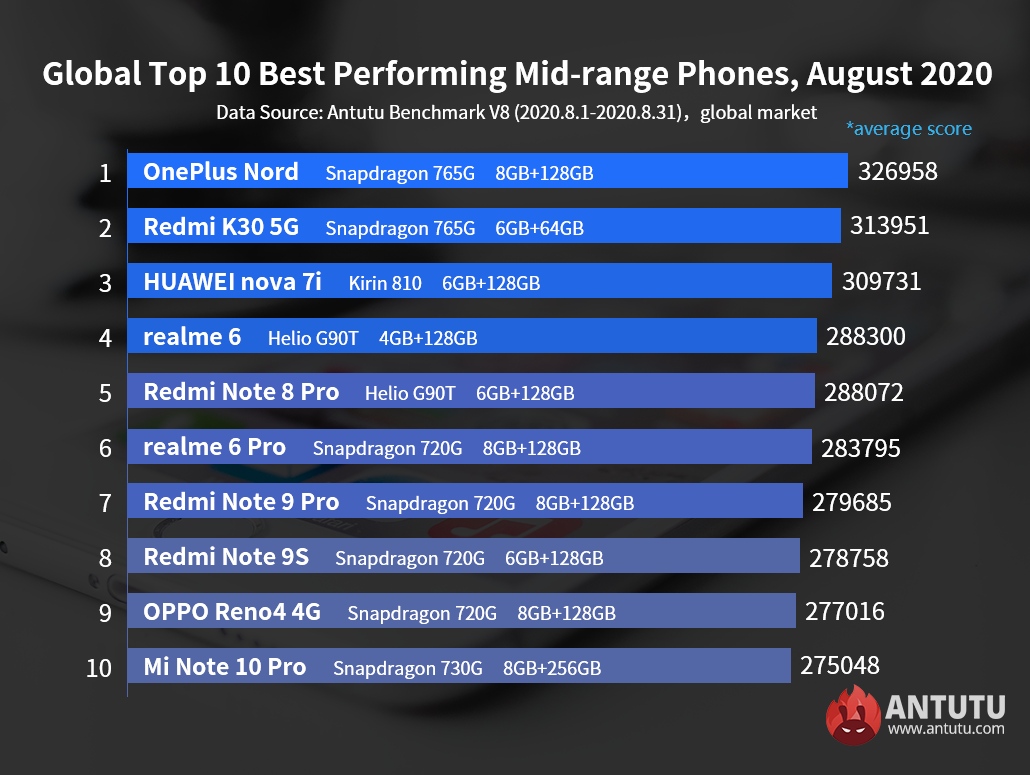 As the No. 1 product changed in theflagship phone ranking list, the No. 1 product in the ranking of the bestperforming mid-range phones has been changed to OnePlus Nord, a brand-newmid-range phone launched by OnePlus after a few years of silence in the mid-rangephone market.
OnePlus Nord is powered by Snapdragon 765Gprocessor and has a overall score of 326,958, over 10,000 points higher thanthat of Redmi K30 5G which has long ranked No. 1, though they both carrySnapdragon 765G processors. In this ranking, Redmi K30 5G stands at the secondplace with a overall score of 313,951.
Likewise, Huawei nova 7i 6+128GB ranks No.3 in that list with a overall score of 309,731 this month.
The following 7 products are veryremarkable, because they belong to either OPPO or MI. They are respectivelyrealme 6 4+128GB (overall score: 288,300), Redmi Note 8 Pro 6+128GB (overallscore: 288,072), realme 6 Pro 8+128GB (overall score: 283,795), Redmi Note 9Pro 8+128GB (overall score: 279,685), Redmi Note 9S 6+128GB (overall score:278,758), OPPO Reno4 4G 8+128GB (overall score: 277,016), and Mi Note 10 Pro8+256G (overall score: 275,048).
Those are global Android phone performancerankings in August. In the flagship phone ranking, obviously, Asus ROG Phone 3stands at the first place, as Snapdragon 865 Plus started to show itsadvantages; and Samsung top-level Note 20 Series phone successfully stands atthe fourth place. Although they're both Snapdragon 865 Plus phones, Asus'sphone is much cheaper than Samsung's phone. In the mid-range phone ranking,half of the products are owned by MI, meaning that MI has a large market sharepresently.