Global Best Performing Android Phones in July 2020: MediaTek Enters the List
The July of 2020 has passed and here comesAugust. It means that the battle for global mobile phonemarket share in the next half year is about to begin. One of the firstflagship models to be released is Samsung's Galaxy Note20 series. This seriesplays an important role in boosting Samsung's reputation from this August tothe next February. Starting this month, manufacturers will successively launchtheir new products for the next half year, leading to a new battle for marketshare.
Today, based on the backstage productstatistics, Antutu has released the list of Global Best Performing AndroidPhones in July 2020. Now let's have a look at the mobile phones that make it tothe Top 10.
As before, we will release rankings of bothflagship models and middle-range models at the same time. The rankings dependmore on the SoC that a mobile phone has.
The statistics are collected from July 1 toJuly 31, 2020. The scores shown are average scores rather than the highestones. For each model, over 1,000 items of product figures or statistics havebeen analyzed. The data are calculated based on Antutu Benchmark V8. Inaddition, for each model, if versions with different storage capacities make itto the Top 10, we list the one with the highest score.
1. FlagshipMobile Phones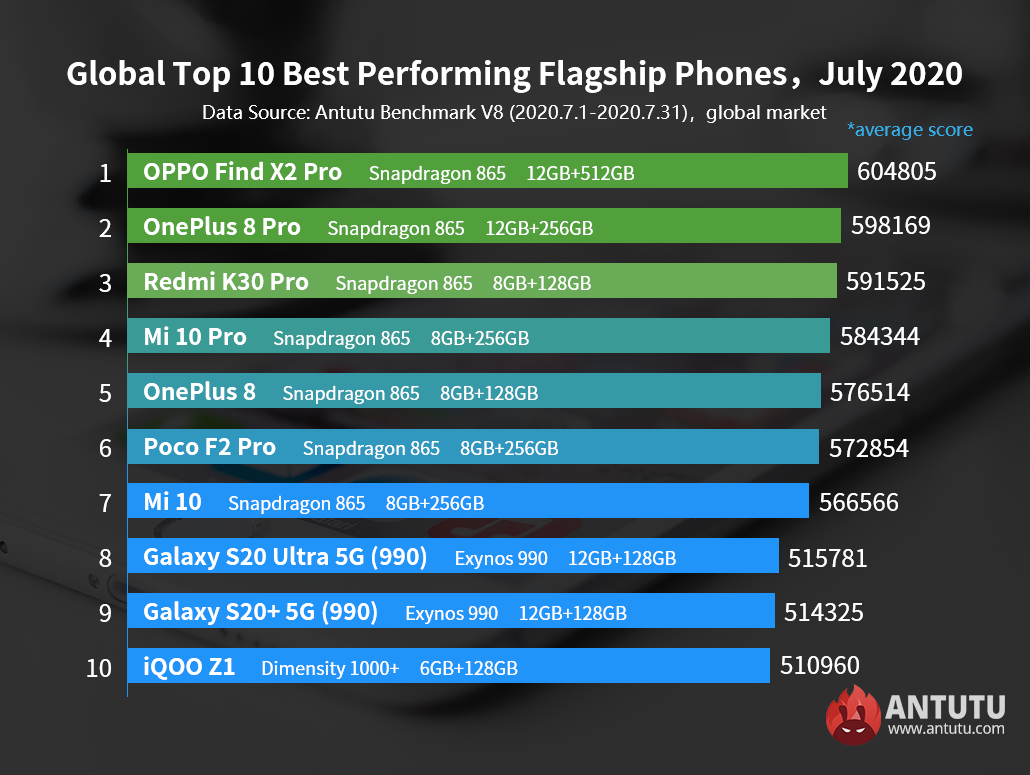 The rankings of flagship mobile phones inJuly are little different from those in June. Some models just switch theirplaces.
At the top of the list is still Find X2 Pro12+512GB, OPPO's flagship product. Its average benchmark score is 604,805,making it the only product with a score over 600,000 on the list.
It has been 5 months since Find X2 Pro waslaunched in early March. New products are unveiled almost everyday in themobile phone market, so this model shows incredibly strong performance as itsecures the first place after being released for 5 months.
The biggest highlight ofFind X2 Pro is a screen of 3K resolution and 120Hz refresh rate, making itthe best ever in overall quality. What's more, empowered by the super powerfulSnapdragon 865+LPDDR5+UFS 3.0 and OPPO's years of experience in software correction, Find X2 Pro has long been among the best on theperformance list.
The second place is still One Plus 8 Pro12+256GB, scoring 598,169.
One Plus 8 Pro wins the second place sinceit shares much in common with OPPO Find X2 Pro. The original Android system andtop-notch hardware configuration also ensure that the phone runs smoothly for along time.
The third one is Redmi K30 Pro 8+128G, withthe average benchmark score of 591,525. It is a Snapdragon 865 phone with apop-up camera, which is not that common this year. As a result, its screen iscomplete, without any hole punched. But its refresh rate only reaches 60Hz andit weighs over 200g. Nonetheless, the price is friendly. You just need to thinkit through before buying it.
Products ranking the fourth to the tenthare respectively: Mi 10 Pro 8+256G (average score of 584,344), One Plus 88+128GB (average score of 576,514), Poco F2 Pro 8+256GB (average score of 572,854),Mi 10 8+256GB (average score of 566,566), Galaxy S20 Ultra 5G (990) 12+128G(average score of 515,781), Galaxy S20+ 5G (990) 12+128GB (average score of 514,325)and iQOO Z1 6+128GB (average score of 510,960).
iQOO Z1 enters the list for the first time. It is equipped with MediaTek'sflagship 5G SoC, Dimensity 1000+, one of its most excellent products. Thoughthe phone ranks the tenth, it's gratifying to find a MediaTek product amongflagship models. This phone is also very affordable, costing as much as a middle-rangeproduct does, so it is very cost-effective.
2. Middle-rangeMobile Phones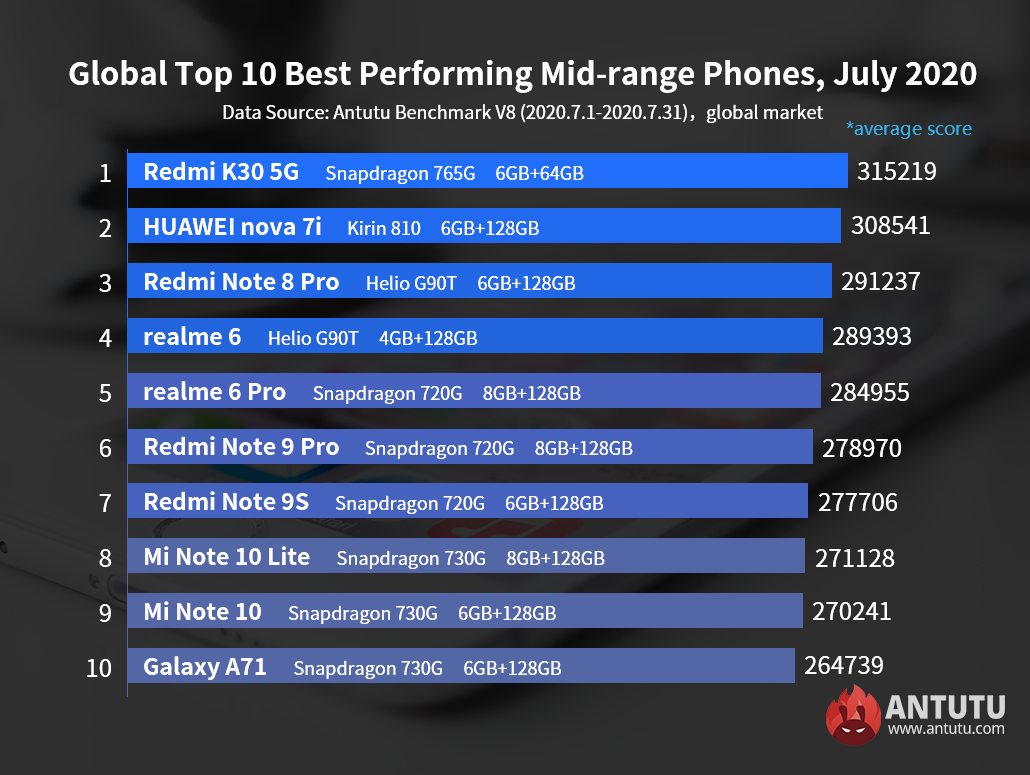 On the list of best performing middle-rangephones, the top three remain the same as the last month. Each of their averagebenchmark scores doesn't change much.
Redmi K30 5G 6+64GB, Mi's 5G middle-rangemodel, wins the first place with the average benchmark score of 315,219. Huawei'snew nova 7i 6+128GB still ranks the second, scoring 308,541 this month.
The third-place still goes to Redmi Note 8Pro this month, with an average score of 291,237. The phone will have beenlaunched for a whole year by August. Such strong performance for nearly a yearowes a lot to MediaTek's G90T chip that the device is equipped with.
Realme 6, the latest realme phone, has thesame ranking as the last month, the fourth place. Realme 6 and thethird-ranking Redmi Note 8 Pro are both equipped withMediaTek G90T processor. Realme 6 was launched this March yet maintainsgood performance, so it shows that even a new phone with MediaTek G90T willdefinitely function pretty well. Realme 6's average benchmark score is 289,393,close to that of Redmi Note 8 Pro.
The next seven products are in the order: realme6 Pro 8+128GB (average score of 284,955), Redmi Note 9 Pro 8+128GB (averagescore of 278,970), Redmi Note 9S 6+128GB (average score of 277,705), Mi Note 10Lite 8+128GB (average score of 271,128), Mi Note 10 6+128GB (average score of270,241) and Galaxy A71 6+128GB (average score of 264,739).
That's all about the list of Global BestPerforming Android Phones in July. Overall, except the newcomer iQOO Z1 whichis equipped with MediaTek's Dimensity 1000+, therankings change little, and even the scores remain almost the same. We can seethat both the market and the scores are stable, so let's look forward to a morevigorous phone market after Samsung releases Galaxy Note20 in the second halfof the year.