Global Mobile Phone Users Preferences, Q2 2020
The smart phones are developing faster ever than we can imagine. 5G network has been put into commercial use in most places around the globe. Currently, its coverage is smaller than that of 4G network, and the cost is higher. But as time goes by, these problems will all be solved, just like the time when 4G replaced 3G.
As for 5G mobile phones, Qualcomm and MediaTek have all developed 5G processors for entry-level products. At the beginning of this year, the 5G mobile phones were sold at about 4-5000 yuan, but now the price has been lowered to 2-3000 yuan. This is the benefit brought by the rapidly-developed technology.
Speed is always the first indicator of technological advancement.
Today, according to the backstage data of Antutu, we've released the report on global mobile phone users' preferences in Q2 2020. What kind of mobile phones do Antutu users prefer? Let's have a look.
One noteworthy thing is that Antutu Preference List comes from the figures collected among Antutu users. Therefore, it does not represent the preference of the whole Android mobile phone market.
The screen size: larger and larger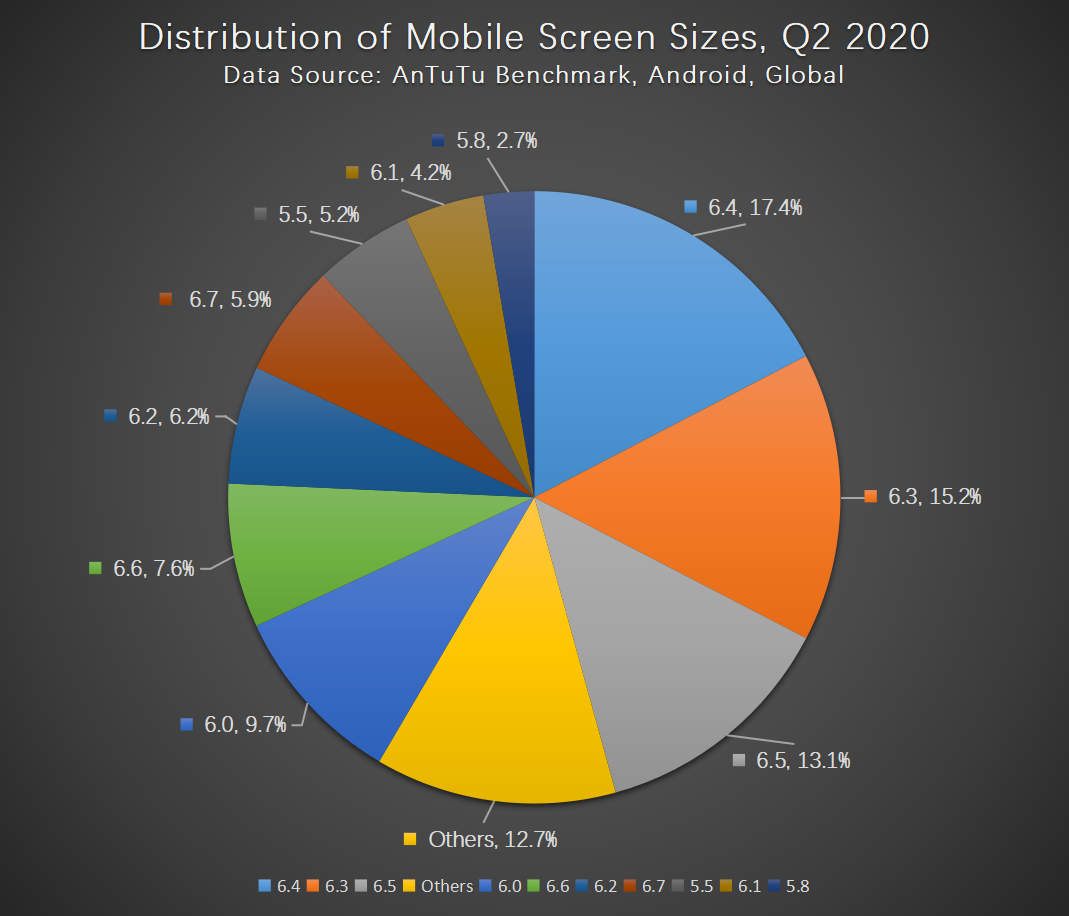 Thanks to the full screen display, we can see higher screen-to-body ratio while the overall mobile phone size remains almost the same. Just because of this, now few mobile phones have screen sizes of less than 6 inches. We can say that all the new phones launched now will have the screen size of larger than 6 inches.
From the distribution graph, it can be seen that the commonest three types of screen sizes are 6.4, 6.3 and 6.5 inches, accounting for a total of 45.7%, reaching almost half. If we look at those screen sizes with a market share of under 10%, it can be noticed that the screen sizes of 5.5 and 5.8 only account for 7.9% in total, even less than 10%. Therefore, no matter how much you like mobile phones with small screens, the time of them has passed. You'd better move on.
Screen resolution: 1080P still work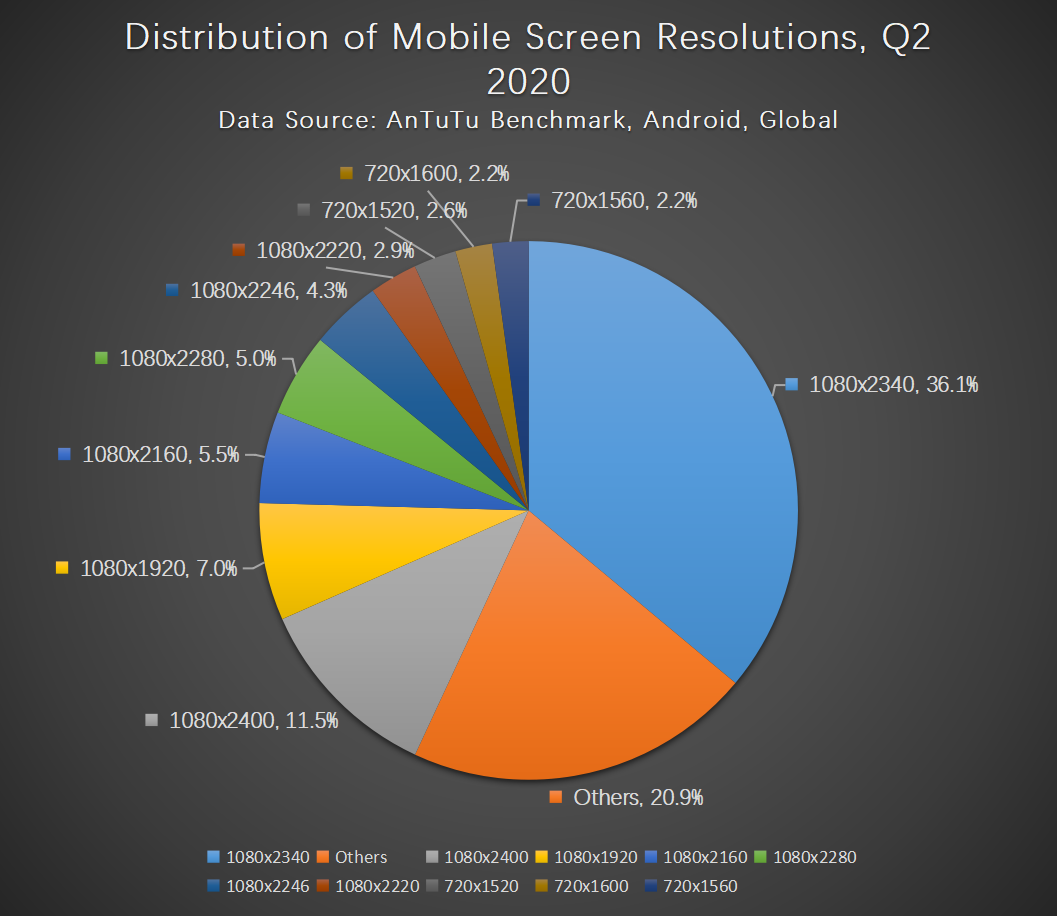 From the marks in the graph, obviously the resolution of 1080P is still the mainstream. No matter how large the screen is, as for mobile phones that can be held with one hand, 1080P will still be the best choice considering the battery and the power.
Since 5G network consumes much power and the high refresh rate has high requirements on the electricity, the battery can barely support if we request better resolution also. 5G and high refresh rate offer directly and impressively enhanced experience, which is difficult to give up. Under this circumstance, only when we keep the resolution the same as before can we stabilize the battery consumption. It is very reasonable and understandable. And the resolution of over 1080P doesn't make any substantial difference.
However, in this graph, we can still see some mobile phones with 720P. A reasonable guess is that some old versions of mobile phones are still in the market, but their proportions are decreasing and they're about to be outdated.
Processor brands: Qualcomm still dominates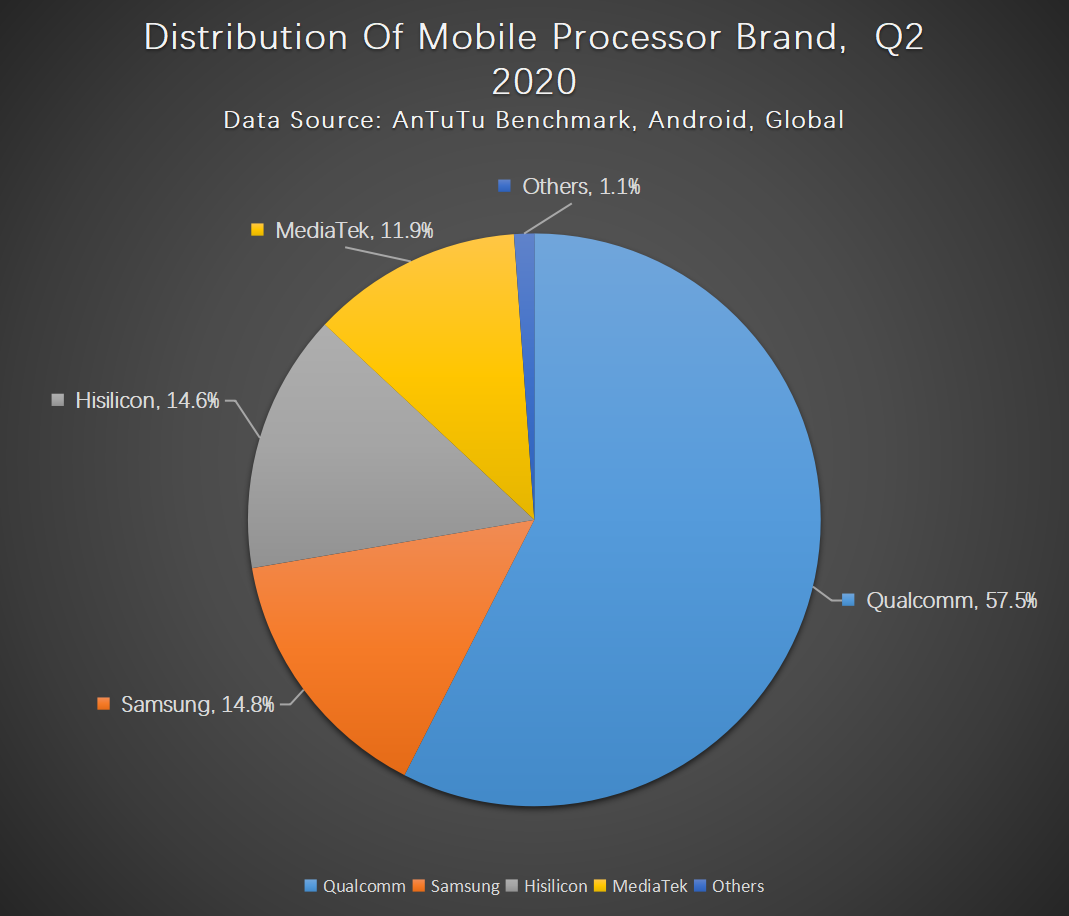 In terms of processor brands, in Q2, among all Antutu overseas users, 57.5% of their mobile phones are equipped with Qualcomm processors, 14.8% with Samsung processors, 14.6% with Huawei HiSilicon Kirin processors, and 11.9% with MediaTek processors. Still, these four familiar brands have taken up the whole market of mobile phone processors.  
It can be seen that mobile phones equipped with Qualcomm processors show their distinct advantages. Qualcomm's proportion is higher than the total of the other three. Besides the stable performance, it should be considered that it is sold to other parties with recognized performance. It is understandable that it has gained satisfactory results. The second-ranking Exynos of Samsung has also started its strategy in middle-ranged 5G processors. Therefore, its proportion is a little bit larger than that of Kirin. This should also be attributed to the fact that its flagship mobile phones use both Qualcomm and Exynos processors.
The 5G era has come and processor manufacturers are facing much pressure. But challenges always come hand in hand with opportunities. Whether to grow slowly or to expand exponentially, it depends on how the company is predicting the 5G market. On the brand-new starting line, everyone has the chance to shine itself and stand out.
Number of CPU cores: octa-core, octa-core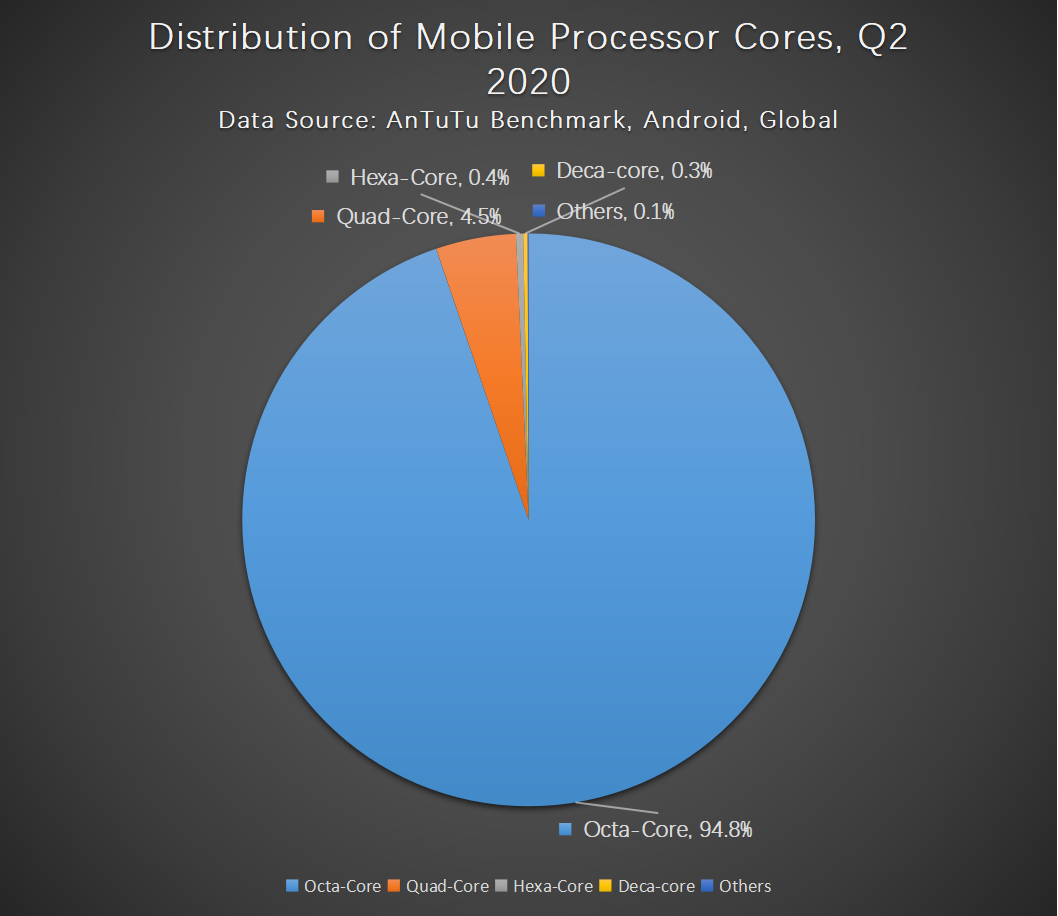 Among all phones of Antutu overseas users, in Q2 2020, the octa-core mobile phones account for 94.8%. If we round it up, you can say that almost all mobile phones are octa-core. The rest quad-core or hexa-core mobile phones are very old phones which have little impact on this graph.
There is no dispute or unsolved question about it in current mobile phone market. No matter how much a mobile phone costs, the octa-core processor is a must. Or it'll be a shame to mention it in the slides for the press conference.  
RAM: 6GB still work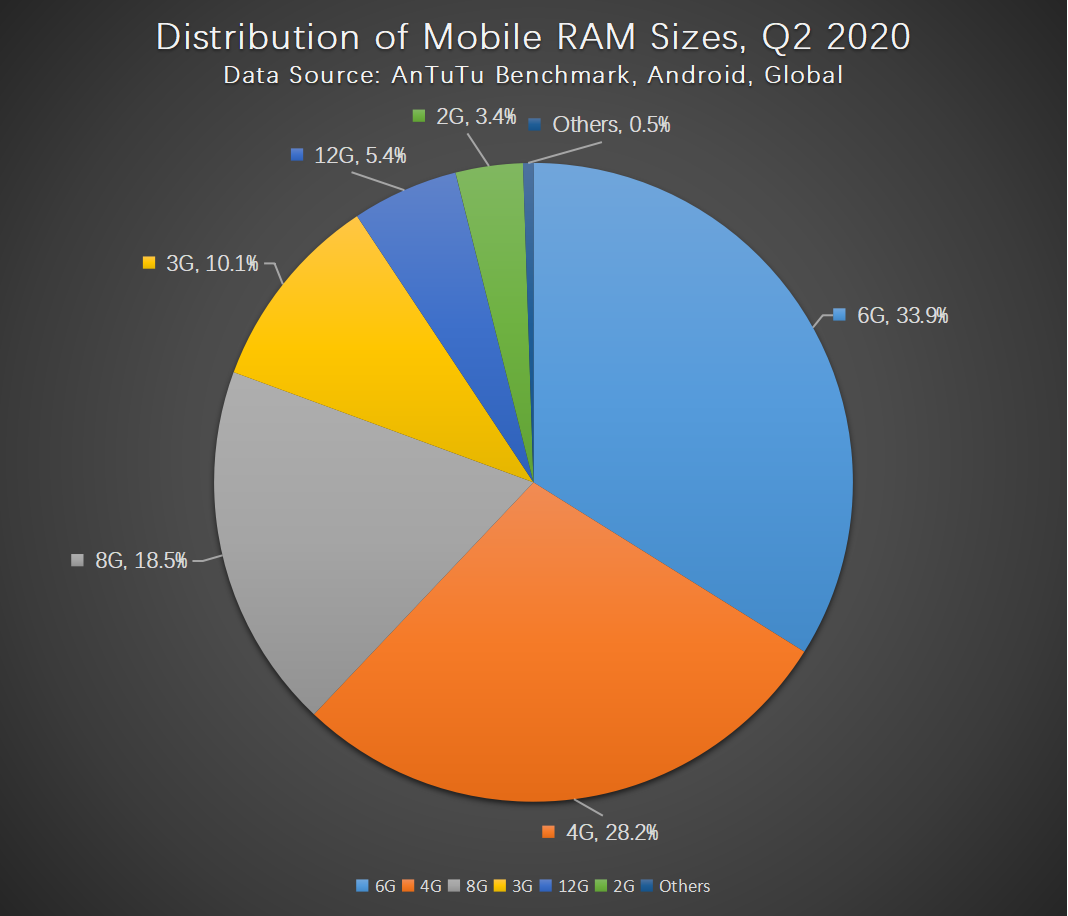 From the distribution graph, in Q2, among all Antutu overseas users, the commonest RAM is 6GB, accounting for 33.9%. It can be deducted that 6GB is enough for the mobile phones with increasingly strong configuration. However, it can only serve as the entry-level RAM, namely, the minimum level, for new mobile phones currently. Those with 8G and 12G RAM account for a total of 23.9%, and this figure will get bigger and bigger in 5G era.
One interesting fact is that 4G RAM ranks the second in Q2 accounting for 28.2%. As for the newly launched mobile phones this year, there is few models with this RAM. So it can be deducted that some old customers are still using them.
ROM: 128GB becomes the mainstream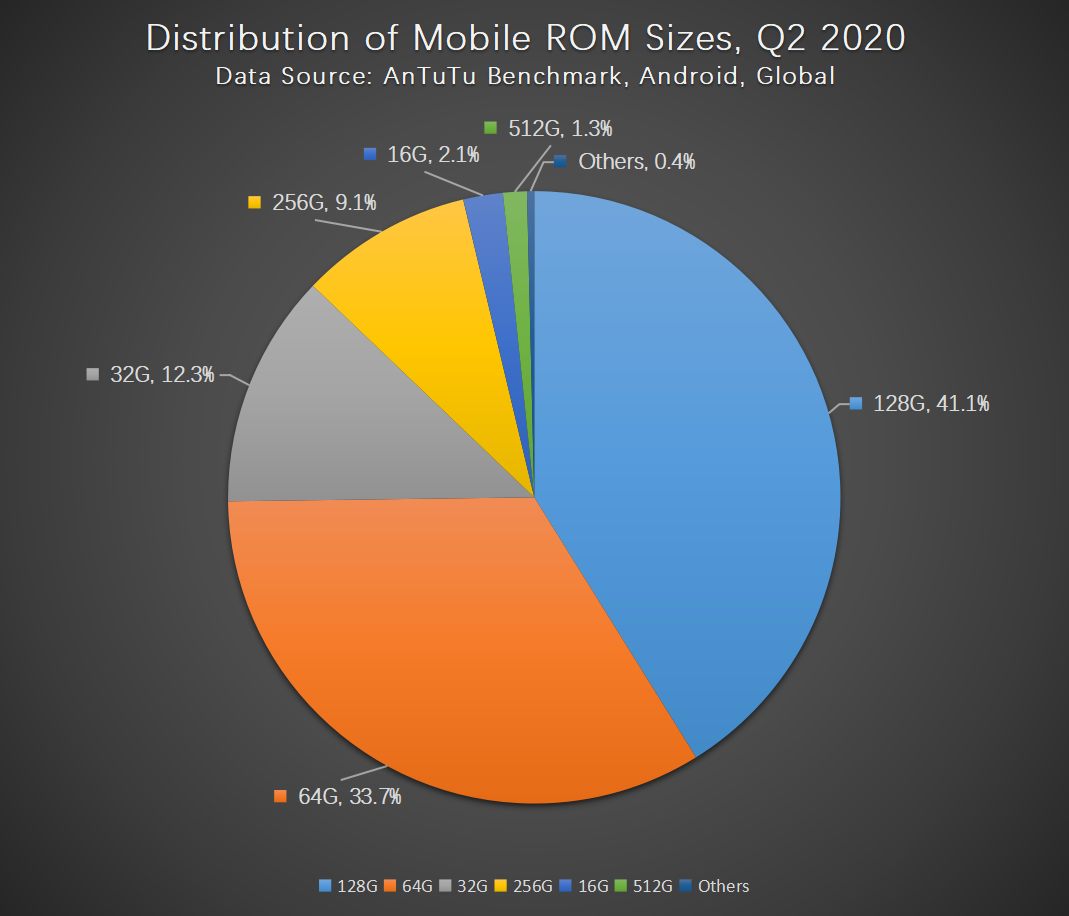 From the distribution graph of mobile phone ROM in Q2, 128GB ROM still ranks the first, accounting for 41.1%. This is not difficult to understand. After all, now Apps on mobile phones are often dozens or hundreds of Mb and cameras are often of 48 megapixel, 64 megapixel and even 100 megapixel. A mobile phone with 64G ROM might be crammed full by dozens of photos. Therefore, the 128GB ROM is fundamental for mobile phones.
The proportion of 256GB ROM is 1.5% higher than that of last quarter, reaching 9.1%. 128GB has become the fundamental configuration for new mobile phones, so there will definitely be increase in 256GB's share. As for 32GB and 64GB ROM, compared with last quarter, the figures have decreased by 2.8% and 2.2% respectively, which are not shocking, but it is obvious that they're continuously decreasing, especially for 64GB ROM. In 5G era where everything is faster, we should say goodbye to 64GB ROM as fast as the speed of 5G network goes as it is too small to satisfy our needs in all respects.
Now if we buy mobile phones, the lowest ROM would be 128GB. It is said that this year, the new iPhone will not have 64GB version.  
Android version: Android 10 updates quickly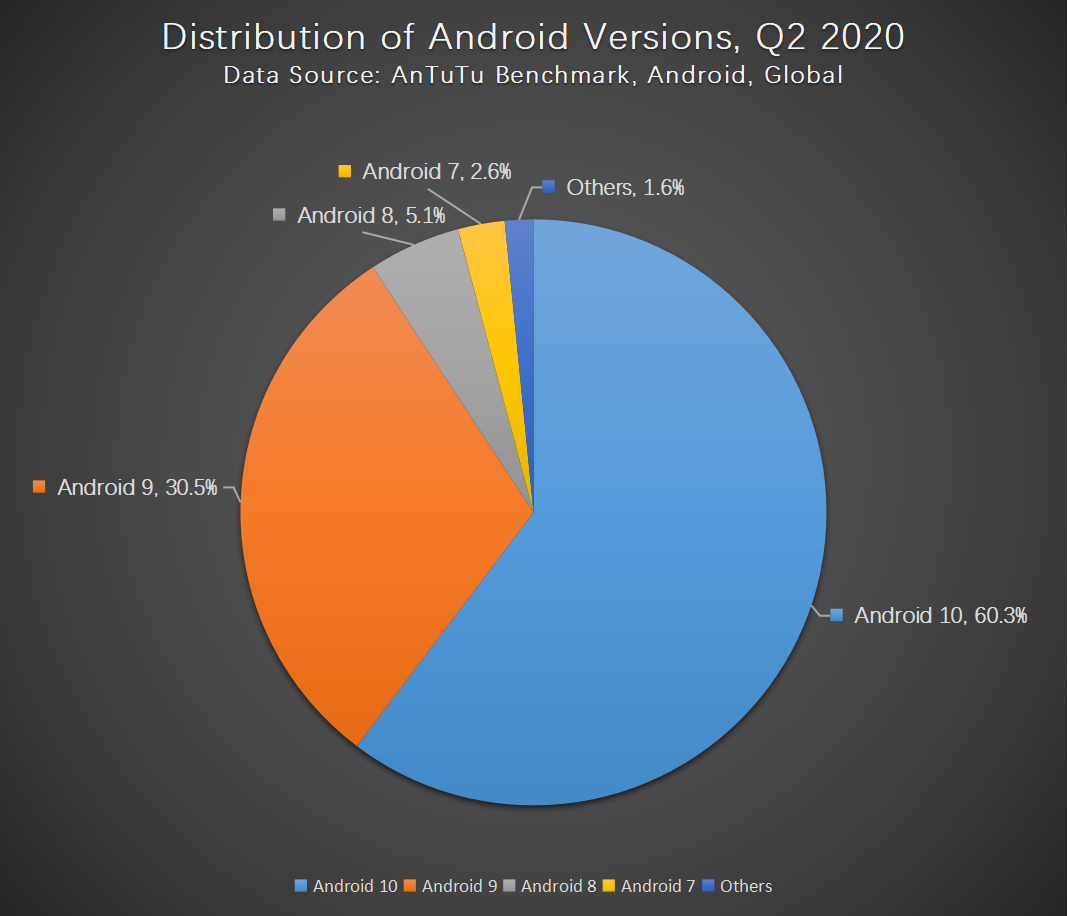 It is well-known that Android version numbers are not unified. But Google has officially handled this issue, so now much improvement has been made with really good outcomes. The gap between it and Apple's iOS is becoming smaller and smaller.   
From the distribution graph, Android 10 accounts for a larger proportion in Q2, reaching 60.3%, with a distinct increase by 31.7% from last quarter. This should be attributed to the fast response and optimization offered by various mobile phone manufacturers. In the meantime, Android 9, compared with last quarter, has dropped drastically by 25.8%, accounting for only 30.5%. It seems that Android is getting easier to use and becomes more and more standardized.
Compared with the past chaos, now Android version numbers are much better. There won't be cases where different generations of Android systems appear at the same time. Basically, all companies have updated the Android system of their phones to the latest version. There will never be chaos like before. Some geek tech companies even launched the version adaptable to their own mobile phone when Google just launched the first Beta version of Android 11. We should really speak highly of such great efficiency.
That is all for our report on global mobile phone users' preferences for Q2 2020. From this report, we can see that still familiar factors including the stronger hardware, larger screen and larger ROM can bring users direct and impressive joy. Also, the high refresh rate will also be a necessary factor.
This year is crucial for the upgrading of mobile phones, not only for 5G, but also for the new breakthroughs in taking photos. Moreover, in terms of appearance and design, the true full screen display, which we're waiting for anxiously, is taking shape. Everything is going smoothly.