Global Top 10 Best Performing Flagship Phones and Mid-range Phones, April 2020
In the past month, a number of Chinesebrands have released their flagship 5G models for the first half of the year inthe overseas market, such as Xiaomi and OnePlus, and their new products unsurprisinglyentered the Android phone performance list of April.
Based on the product data gained from Antutubackstage, today Antutu reveals our list of the Global Top 10 Best PerformingAndroid Phones for April. Let's take a look at which new phones appeared in theApril ranking and how the ranking is.
As before, there will be two lists, one forflagship phones, the other for mid-range phones. The ranking is mostlydetermined by the smartphones' SoC on board.
The data collection period is from April 1to April 30. The scores in the lists are all average scores, not the highestones, which are more representative. And the amount of data for a single modelis larger than 1000. The data are calculated based on Antutu Benchmark V8.
1. Flagship Phones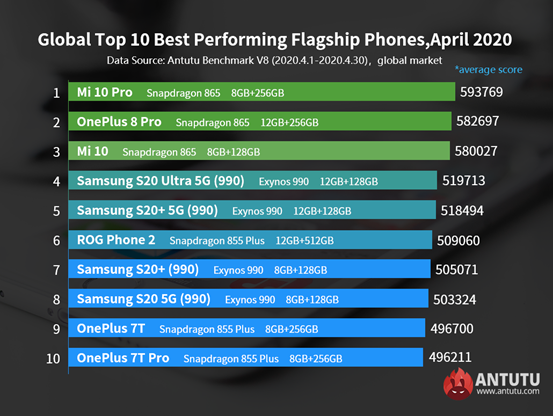 In April, Xiaomi Mi 10 Pro 8+256G version claimedthe top position in the top 10 flagship list. The phone squeezed out thetop-ranked Samsung S20 Ultra 5G (865) 12+256G version of last month upon itsrelease, with an average score of 593,769 points. The near 600,000 score is atestament to its strong performance.
The international version of the Xiaomi Mi 10Pro is not different from the Chinese domestic version, which is powered byQualcomm's latest 5G flagship SoC Snapdragon 865 with a 6.67-inch screen sizeand a hyperbolic screen that can achieve near-bezel-less visuals with a maximumrefresh rate of 90Hz and an off-screen optical fingerprint unlock.
In terms of other configurations, Xiaomi 10Pro also adopts UFS3.0 and LPDDR5 storage technology and features a100-megapixel AI quad camera which supports up to 50x digital zoom. It has a 4500mAhbattery, supporting 50W wired fast charging and 30W wireless fast charging aswell as 10W reverse wireless charging. In addition, it runs MIUI 11 operatingsystem, and is equipped with a fully symmetrical dual stereo speakers, with dual1216 ultra-linear speakers symmetrically arranged on both top and bottom, whichis equivalent to a 1.2cc super large sound cavity, certified by Hi-Res Audio.
Coming second is OnePlus's latest flagship OnePlus8 Pro 12+256G version, which achieves an overall score of 582,697 points.
This phone was released in mid-April. Itcomes with a more aggressive 2K+120Hz screen, which is more outstanding interms of appearance after OnePlus's tuning. OnePlus is the pioneer in using 90Hzrefresh rate screen in mobile phones, and this time it is only natural for it tofurther upgrade the screen.
The third place is still occupied by Xiaomi'sproduct, which is the standard version of the Mi 10, with an overall score of 580,027,which is not much different from the Mi 10 Pro in terms of score, because themain difference between the two is the camera lens, other than which there isnot much difference in the hardware that mainly affects the score, so naturallytheir scores are very close.
The phones ranking the 4th to the 10th are:Samsung S20 Ultra 5G (990) 12+128GB version(avg. score: : 519,713), Samsung S20+ 5G (990) 12+128GB version (avg. score: 518,494), ROG Phone 2 12+512GB version (avg. score: 509,060), Samsung S20+ (990) 8+128GB version (avg. score: 505,071), Samsung S20 5G (990) 8+128GB version (avg. score: 503,324), OnePlus 7T 8+256G version (avg. score: 496,700) and OnePlus 7T Pro 8+256G version (avg. score: 496,211).
As can be seen, all the Samsung phones thatdominated the list last month have been squeezed into the back seven positions.New smartphones from Chinese manufacturers are still as strong as ever in termsof performance, especially for a manufacturer like Xiaomi, which is known forits performance, with all its hardware configurations reaching the highest level.
2. Mid-range Phones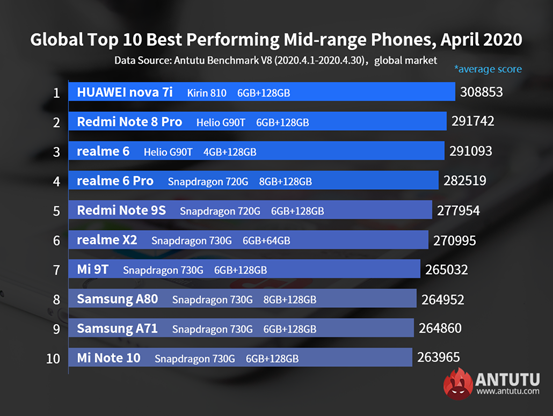 The first place on the mid-range phone listin April is finally replaced by a new Huawei model, the Huawei nova 7i, with anoverall score of 308,853 points. This phone is also a new model which is just releasedin April. It is equipped with Huawei's self-developed Kirin 810 processor,which has been widely used by Huawei in mid-range phones since last year, sothe performance is also good.
The Redmi Note 8 Pro, which has been rankedNo. 1 for several months in a row, has been squeezed to No. 2 this time becauseof Huawei's new model, with an overall score of 291,742 points, which is still a bitlower than the score of the No. 1. Since its configuration parameters arealready familiar to us, we won't go into details.
The third place phone is also a new one, realme'slatest model realme 6, which is powered by the same G90T processor fromMediaTek as the second place Redmi Note 8 Pro, with an overall score of 291093,so there's no need to worry about its performance.
The next seven products are: realme 6 Pro8+128GB version (avg. score: 282,519), Redmi Note 9S 6+128GB version(avg. score: 277,954), realme X2 6+64GB version (avg. score: 270,995), Mi 9T 6+128GB version (avg. score: 265,032), Samsung A80 8+128GB version (avg. score: 264,952), Samsung A71 6+128GB version (avg. score: 264,860), and Mi Note 10 6+128GB version (avg. score: 263,965).
The bottom seven phones are all powered byQualcomm Snapdragon processors. But interestingly enough, the fourth andfifth-ranked phones are powered by Qualcomm Snapdragon 720G, while the sixth totenth ranked phones are powered by Qualcomm Snapdragon 730/730G. According toQualcomm's product positioning, the bigger the number, the better theperformance. But the newly released Snapdragon 720G is a little bit above theSnapdragon 730/730G in terms of score.
The reason for this is that the Snapdragon720G's main frequency is 0.1 higher than the 730G's. The 0.1 advantage makesthe Snapdragon 720G's performance a little better, so it's clear that sometimeswe cannot judge the performance of Qualcomm's products by simply looking at theproduct numbers, but rather by specific strengths.
In summary, there are many new entries inthe ranking list of April, whether it's the flagship phone list or the mid-rangephone list, among which 5G phones are obviously dominating the flagship list, whilethe mid-range list is still dominated by 4G phones, even the new mid-range phonesdo not support 5G network. It seems that this phenomenon will continue for sometime, and those who want to buy 5G phones at a lower price will still have to wait.