Exynos 990 vs Snapdragon 865 performance comparison: which one is better?
Samsung's dual SoC strategy remains in placefor the Galaxy S20 series, with some variants of the series powered byQualcomm's Snapdragon 865 SoC while others by its own Exynos 990 SoC.      
So how do Exynos 990 and Snapdragon 865 comparein terms of performance? Antutu has chosen from our backstage the two versionsof Samsung Galaxy S20+ for comparison, one with the model number of SM-G986U(codename y2q, Snapdragon 865) and the other with the model number of SM-G986B(codename y2s , Exynos 990).
The benchmark scores selected for both models are the average scores of them during the past month, not the highest scores.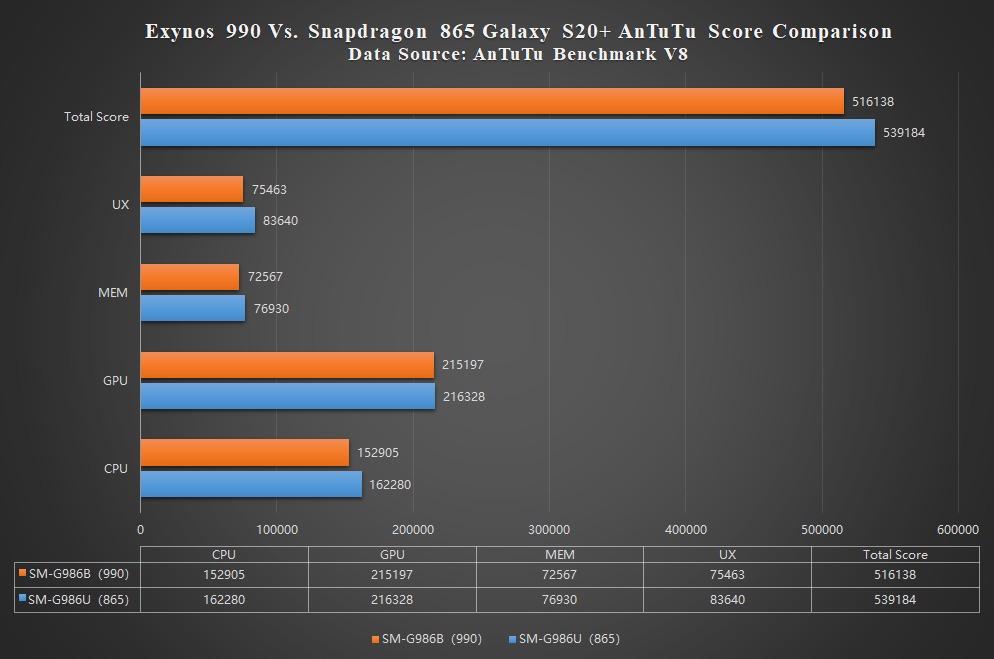 As can be seen, the Snapdragon 865 versionscored 539184, including 162280 in CPU test, 216328 in GPU test, 83640 in UX testand 76930 in MEM test.
Whereas the Exynos 990 variant has a totalscore of 516138, including CPU score of 152905, GPU score of 215197, UX score of75463, and MEM score of 72567.
The Exynos 990 is slightly behind theSnapdragon 865 in terms of CPU performance (6% behind), and Antutu speculatesthat this is the result of the Exynos 990's big core scheduling not beingaggressive. In terms of GPU performance, the Exynos 990 is almost tied with theSnapdragon 865, with no significant difference.
Comparing CPU and GPU performance alone,the gap between the Exynos 990 and Snapdragon 865 platforms is not significant,but there is a gap between the two in UX and MEM tests that are affected by thesystem.
With the same 120Hz refresh rate supportand the same storage combination of 12GB of RAM and 128GB of storage, the UXand MEM performance of the Exynos 990 lags behind that of the Snapdragon 865variant.
In particular, the performance gap in the UX testmay be due to the Exynos 990 version does not turn on the 120Hz refresh ratewhen running the test. But why there is such a performance gap in the MEM test remainsto be further analyzed.
Of course, all of this can be addressed by systemupdates, and in the future the performance of the two versions of the GalaxyS20 series will theoretically be closer once the firmware (especially that of theExynos 990 version) is stabilized.
Finally, it should be noted that Samsunghas not optimized the Snapdragon 865 version of the Galaxy S20 in terms of performanceyet, which results in similar performance between the two CPU versions of theGalaxy S20 series.