Global Top 10 Best Performing Flagship Phones and Mid-range Phones, January 2020
It has been one month since the beginningof 2020. Time passes more quickly than we have imaged. Athough some new 5Gsmartphones have been released during the past month, there are not so manysales of the new phones and the benchmark data of them are insufficient.Therefore, the first list of the global top 10 best performing Android phonesare still dominated by 4G flagship processors, and there are no major changesin the ranking of this month. 
Today Antutu releases the list of theglobal Top 10 best performing Android phones for January based on the datacollected from Antutu database. Who will be the king of performance in January? Let's take a look at the rankings below.
As usual, we have included separate listsfor flagship phones and mid-range phones. The rankings of the smartphones aremore likely to depend on the SoCs powering them.
The data are collected between January 1,2020 to January 31, 2020. The list consists of Android devices that have atleast 1,000 units running Antutu benchmark V8, and the scores are averagedacross all devices, making the results more representative.
1. Flagship Phones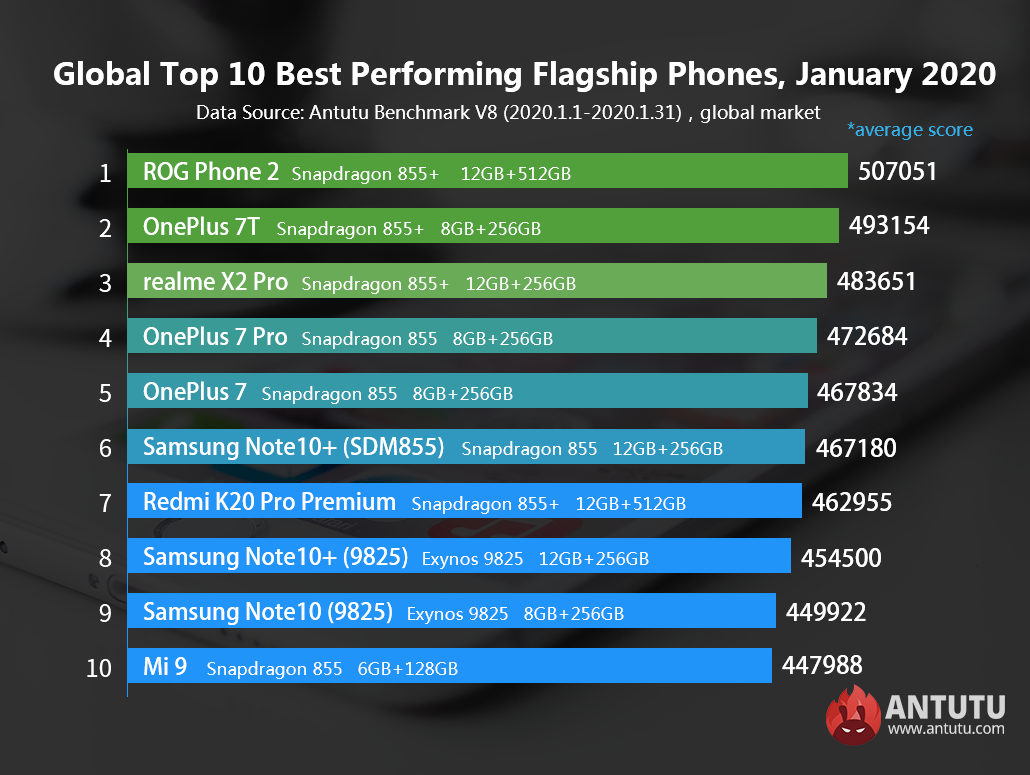 In January, the powerful gaming phone AsusROG Phone 2 with 12GB of RAM and 512GB of storage topped the list once againwith an average Antutu score of 507,051 points. This is the fourthconsecutive month for the phone to occupy the top position on the list. As thephone is released in September 2019, that means it has been ranking the firston the list since its release. That makes the powerful performance of the phonemore impressive.  
Coming second is One Plus 7T 8GB+256GBvariant, which achieves an average Antutu score of 493,154 points. This is alsothe fouth consecutive month for a OnePlus device to occupy the second positionon the list with very small changes in score. realme X2 Pro claimed one positionto reach third place with an average Antutu score of 483,651 points, 10967points higher than the fourth ranked OnePlus 7 Pro, which is a relatively largescore gap.
The fifth position also goes to OnePlus, namelythe OnePlus 7 8GB+256GB variant, with an average Antutu score of 467,834points, which is also pretty good performance with only 4850-point score gap comparedto OnePlus 7 Pro.  
Making up the rest of this month's Top 10flagship phone list are, in order, Samsung Note10+ (SDM855) 12GB+256GBvariant (avg. sore: 467,180), Redmi K20 Pro Premium Edition 12GB+512GB variant(avg. sore: 462,955), Samsung Note10+ (9825) 12GB+256GB variant (avg. sore: 454,500),Samsung Note10 (9825) 8GB+256GB variant (avg. sore: 449,922) and Mi 9 6GB+128GBvariant (avg. sore: 447,988).
Above is the top 10 flagship phone list forJanuary 2020. In general, there are no big changes in the ranking of this monthcompared to last month. With a series of new smartphones powered by Snpadragon865 coming to the market soon, we expect there will be some changes in theranking list of next month. Let's stay tuned.
2. Mid-range Phones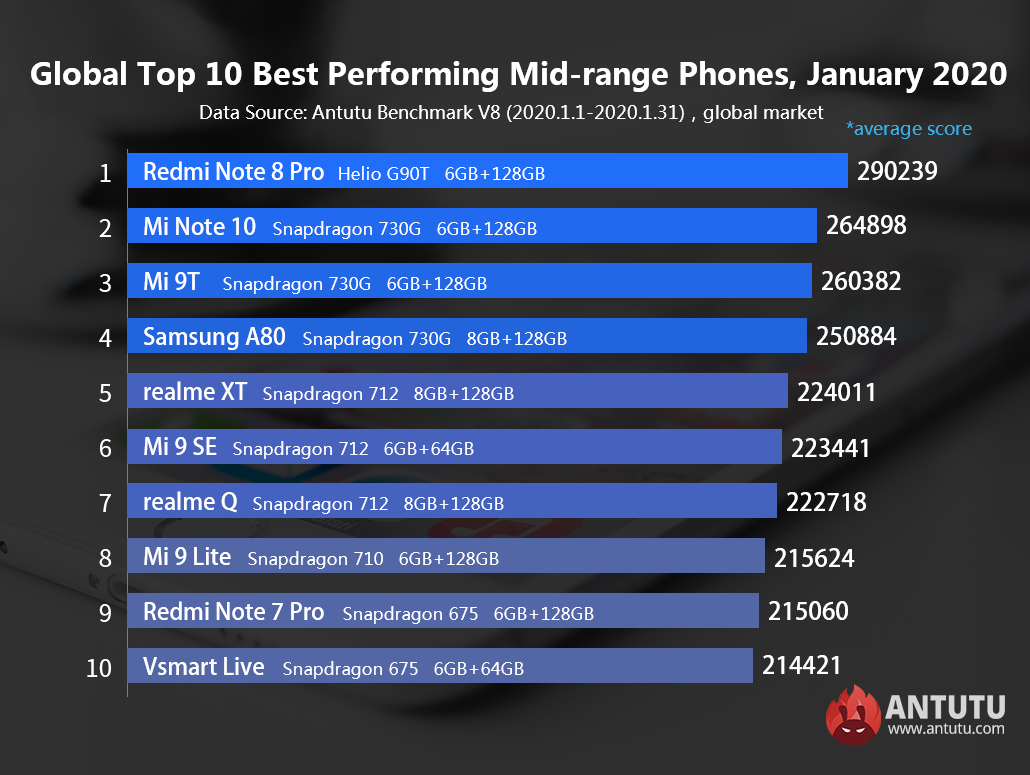 The first place for mid-range phones isoccupied by Redmi Note 8 Pro 6GB+128GB variant once again, which achieves anaverage Antutu score of 290,239 points. It is not the first time for thephone to appear on the top position of the mid-range phone list. AlthoughSamsung and Qualcomm have already released their new mid-range SoCs and thesmartphones powered by these SoCs are already available on the market, thereare yet few scores of the new phones that can be found in Antutu database whichmay be due to insufficient sales, and therefore no new phones can be found onthe mid-range phone list of this month.
Coming second is Mi Note 10 6GB+128GBvariant, which achieves an average Antutu score of 264,898 points. The biggestselling point of the phone is that it is the first smartphone in the world toship with a 100 million-pixel camera. It comes with Snapdragon 730G SoC.Although it is top performer in terms of camera, the performance rankingdepends largely on the processor, therefore it can only rank second on thelist.
The third place is also occupied bysmartphone from Xiaomi -the Mi 9T 6GB+128GB variant which scored 260,382points. The Chinese smartphone maker Xiaomi swept the top three positions ofthe list this time.
Other devices that have made it to the listof the Top 10 best performing mid-range phones are, in order, Samsung A808GB+128GB variant (avg. score: 250884), realme XT 8GB+128GB variant (avg.score: 224,011), Mi 9 SE 6GB+ 64GB variant (avg. score: 223,441), realme Q8GB+128GB variant (avg. score: 222,718), Mi 9 Lite 6GB+128GB variant (avg.score: 215,624), Redmi Note 7 Pro 6GB+128GB variant (avg. score: 215,060) and VsmartLive 6GB+64GB variant (avg. score: 214421).
As the first performance ranking list in 2020,smartphones on the list are still the familiar ones in 2019 and there is nothingnew. However, with smartphones powered by the new 5G SoC going on sale, we canexpect some changes in the ranking list of next month. Hopefully, SoCs like Snapdragon865/765G/765, MediaTek Dimensity 1000/1000L/800 and Samsung Exynos 980 will addvitality to the list and are expected to occupy the top positions of the listfor a long time.