Global Top 10 Best Performing iOS Devices, January 2020
Time flies so fast. It is already 2020 now.Today Antutu reveals our first Top 10 iOS list for 2020.
The list is based on data collected fromAntutu database between January 1, 2020 to January 31, 2020. It consists of iOSdevices that have at least 1,000 units running Antutu V8 and the scores areaveraged across all devices rather than the highest recorded scores of eachmodel, making the results more representative.
It should be noted that the scores on thelist are based on Antutu V8, in which we have included the new test sceneTerracotta Warriors and updated the test algorithms, and therefore notcomparable to V7 scores.
Since Apple doesn't release new devicesrecently, there are no big changes in the rankings of this month compared tolast month. The entries in the Top 10 iOS list are still the latest Appledevices.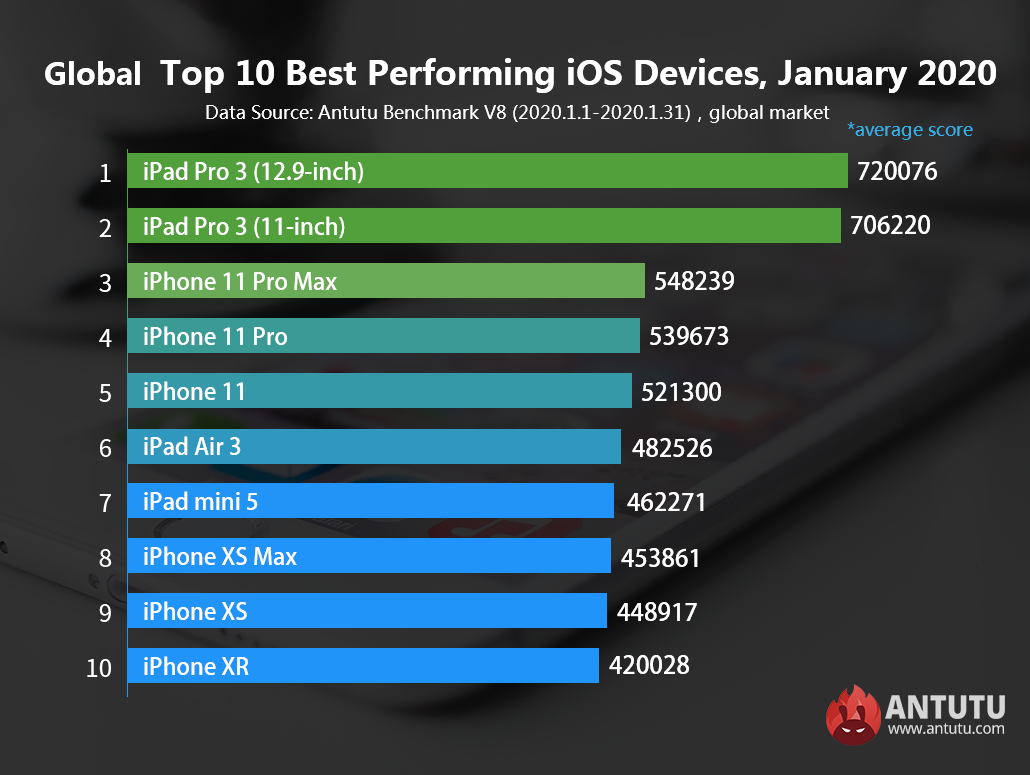 In January, the 12.9-inch iPad Pro 3 and the11-inch iPad Pro 3 continue to occupy the top two positions on the iOS list withrespective Antutu scores of 720,076 and 706,220 points. Both the two 2018 iPadsare powered by Apple's most powerful chip, A12X Bionic, and have similar coreconfigurations. The reason for the score difference is that larger device can providelarger space for heat dissipation and can deliver more stable performance whenrunning in high-performance mode.
In terms of sub-score, the CPU score ofA12X Bionic chipset is similar to that of A13 Bionic chipset, but its GPU scoreis about 150,000 points higher than the latter, which proves the powerful GPUperformance of A12X Bionic.
iPhone 11 Pro Max, iPhone 11 Pro and iPhone11 which are powered by the A13 Bionic chipset take the next three spots on thelist with an average Antutu score of 548,239, 539,673 and 521,300 pointsrespectively.
Making up the rest of this month's Top 10are, in order, iPad Air 3(avg. score: 482,526), iPad mini 5 (avg. score: 462,271), iPhone XS Max (avg. score: 453,861), iPhone XS (avg. score: 448,917) and iPhoneXR (avg. score: 420,028), all of which are powered by the A12 Bionicchipset and still have outstanding performance even now.
Many users are disappointed with lastyear's iPhone 11 series because of the notch screen and the lack of 5Gtechnology. But we can look forward to the new 5G iPhones that are expected tobe released in September this year. In addition, Apple is said to hold newproduct launch event in March and release the new generation iPad Pro andiPhone 9. If true, the new devices would definitely change the ranking list.Let's stay tuned.
Above is the list of global Top 10 bestperforming iOS devices for the month of January. For more informationabout the ranking list, please visit Antutu official website or download AnTuTuBenchmark and check in the menu of "Ranking".