Global Top 10 Best Performing Flagship Phones and Mid-range Phones,December 2019
Today Antutu reveals our list of the Top 10best performing Android phones for December 2019. This will be the last list for2019, after which 5G smartphones are expected to be frequently appear in the monthlylist.
As usual, we included two separate listsfor flagship phones and mid-range phones respectively. What are the bestAndroid phones on the market right now? Check out our most updatedDecember ranking as measured by the average Antutu score.
The data are collected between December 1,2019 to December 31, 2019. The list consists of Android devices that have atleast 1,000 units running Antutu benchmark V8, and the scores are averagedacross all devices, making the results more representative.
1. Flagship phones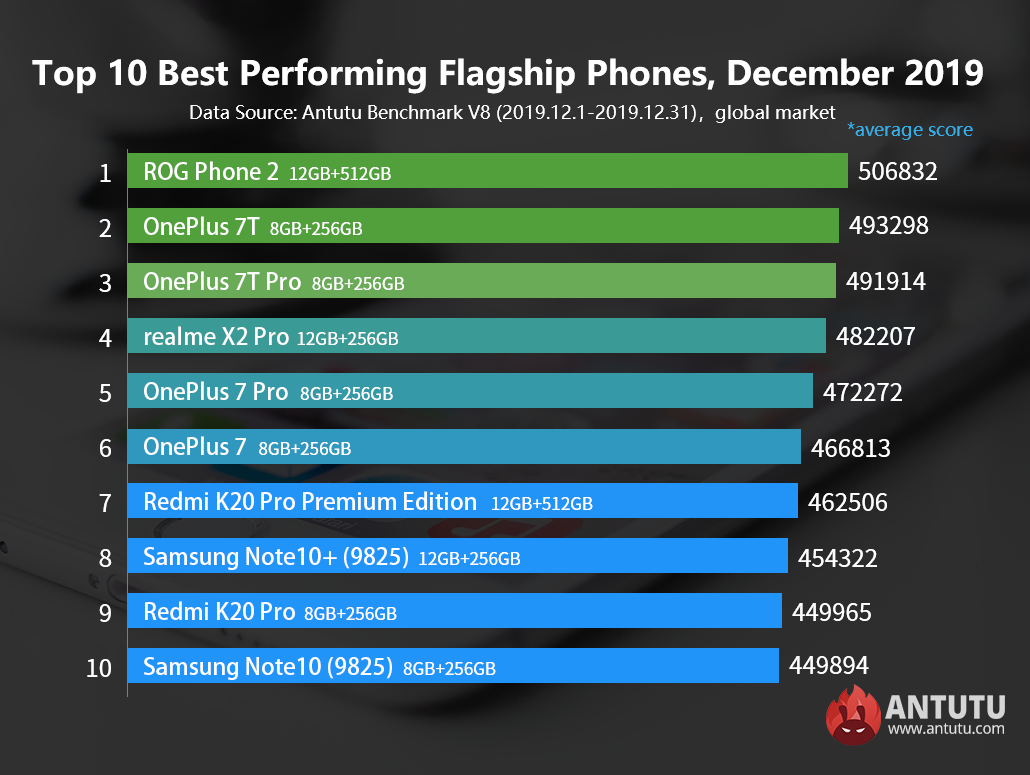 In December, the Asus ROG Phone 2 with 12GBof RAM and 512GB of storage occupied the first place for a third consecutivemonth with an average Antutu score of 506,832 points. This is the first timefor a device to break 500,000 mark in overall score in Antutu's ranking list.Therefore, Asus ROG Phone 2 is likely to firmly stay at the first spot beforesmartphones powered by 5G SoCs including Snapdragon 865 and MediaTek Dimension1000 officially go on sale on the market.
Coming second is One Plus 7T 8GB+256GB variant,achieving an average Antutu score of 493,298 points. The third position isalso taken by device from OnePlus, namely OnePlus 7T Pro, with an averageAntutu score of 491,914 points. These two OnePlus devices have always beencompeting for the second or third position on the list with similar scores and thereforesimilar performance.
realme X2 Pro 12GB+256GB variant ranked fourth on the listwith an average Antutu score of 482,207 points. This device is the mostpowerful smartphone of the realme brand so far in terms of hardwareperformance. The fifth position goes to OnePlus7 Pro 8GB+256GB variant with an average Antutu score of 472,272 points.
Making up the rest of this month's Top 10flagship phone list are, in order, OnePlus 7 8GB +256GB variant (avg.score: 466,813), Redmi K20 Pro Premium Edition 12GB+512GB variant (avg. score: 462,506), SamsungNote10+ (9825) 12GB+256GB variant (avg. score: 454,322), Redmi K20 Pro8GB+256GB variant(avg. score: 449,965), Samsung Note10 (9825) 8GB+256GB variant (avg. score: 449,894).
Those who are familiar with Antutu's monthlyflagship list may have noticed that devices ranking at the sixth to tenth positionsare still the same few devices that have also appeared on the top 10 list of theprevious months. The performance of these devices is stable since they are firstlaunched. Therefore, before new smartphones are released, there won't be greatchanges in the ranking list, with Snapdragon 855 Plus dominating the list inthe coming months.
Above is the top 10 flagship list forDecember 2019. Generally speaking, there are no great changes in this month's list.In particular, the top five performers are as stable as the Mount Taishan.
It is said that the first devices to ship withSnapdragon 865 are expected to be launched in the next month. Meanwhile, devicespowered by MediaTek Dimensity 1000 are also likely to arrive at the same time. Therefore,we can assume that the top 10 flagship list of next month will be totallywritten.
2. Mid-range phones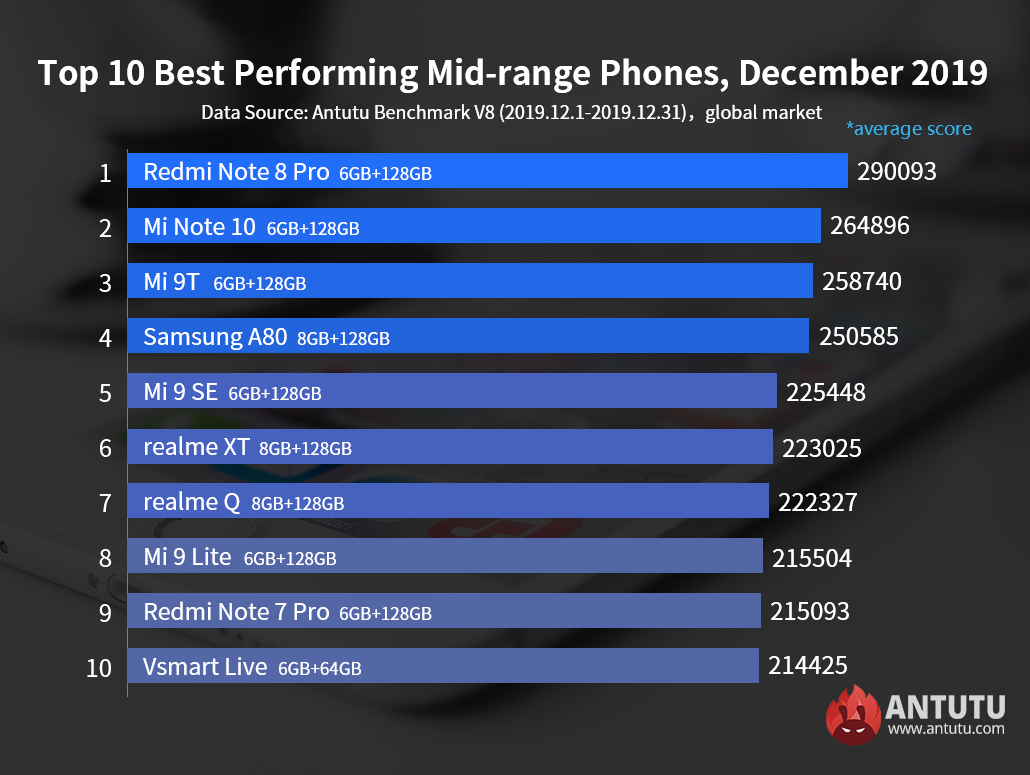 The first place for mid-range phones isoccupied by Redmi Note 8 Pro 6GB+128GB variant once again, which achieves anaverage Antutu score of 290,093 points. This device is powered by MediaTekG90T SoC, which though is not used in many devices of the same kind but stillpowerful enough to enable Redmi Note 8 Pro to win the first place of the mid-rangephone list. What's more, the recent hot Dimensity 1000L of the MediaTekDimensity 1000 series has already been first used in Reno3, which achieves anoverall Antutu score of 300, 000 points. Hopefully, new smartphones powered by Dimensity1000L will frequently appear on the mid-range phone list in the future.
Coming second is Mi Note 10 6GB+128GB variant,which achieves an average Antutu score of 264,896 points. The third place goesto Mi 9T 6GB+128GB variant which scored 258,740 points. Both the two devicesare powered by Snapdragon 730 SoC except for the difference that Mi Note 10uses Snapdragon 730G.
Snapdragon 730G integrates the enhanced Adreno618 GPU, which offers 15% graphics boost over Snapdragon 730. Also, its optimizationsolution for the gaming card and support for the Wi-Fi latency manager bringsfluent, speedy and vivid game experience. In addition, Snapdragon 730G alsosupport some select Snapdragon Elite Gaming features. These are the reasons whyMi Note 10's performance is better than Mi 9T.
Other devices that have made it to the listof the Top 10 best performing mid-range phones are, in order, Samsung A808GB+128GB variant (avg. score: 250,585), Mi 9 SE 6GB+128GB variant (avg. score:225,448), realme XT 8GB+128GB variant (avg. score: 223,025), realme Q 8GB+128GBvariant (avg. score: 222,327), Mi 9 Lite 6GB+128GB variant (avg. score: 215,504),Redmi Note 7 Pro 6GB+128GB (avg. score: 215,093) and Vsmart Live 6GB+64GB variant(avg. score: 214,425).
In general, there are not many changes inthe mid-range phone list of this month, with the first three positions occupiedby Xiaomi smartphones. At present, smartphones powered by Snapdragon 765G,MediaTek Dimensity 1000L and Samsung Exynos 980 have already officially gone onsale. Hopefully, there will be some real changes in the ranking lists of thenext three months. Let's stay tuned.