Aututu Global Mobile Phone User Preferences in Q4 2019
The year 2020 has come. In the past 2019, the appearances of mobile phones change faster than we've ever imagined. Once we have thought that 18:9 is the super large view, but now the screens of mobile phones are longer and longer. Besides, we can say that, mobile phone, as a mobile terminal product, is changing completely and rapidly, in both internal structure and external appearances.
Statistics have shown how people's needs towards mobile phones are changing. At the same time, it tells us where the key improvements happen.
Next, let's look at the preferences of global mobile phone users in Q4 of 2019.
It should be noted that this preferences list is prepared based on the phone configuration of the users of Antutu and thus it does not represent the preferences of the overall Android market.
Screen Size: The World of Big Screen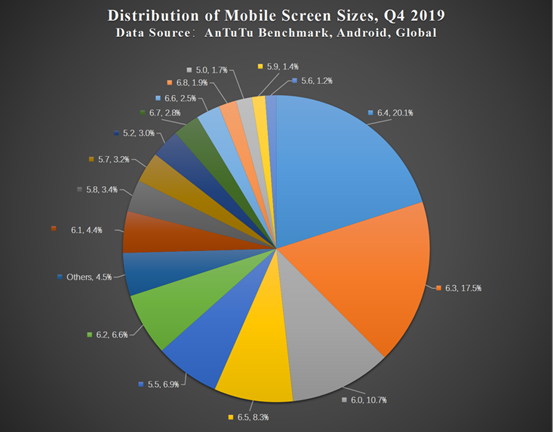 From the distribution graph, screens of 6.0, 6.3- and 6.4-inches account for about 48.2% among all mobile phones. It's almost half, which is a large number. However, if you take a closer look, segments accounting for less proportions are still mobile phones of over 6 inches.
Screen sizes of 6.2, 6.5, 6.7, and even 6.8 inches can be seen. If we add all mobile phones of over 6 inches together, the whole proportion reaches over 83%. There have been few mobile phones with screen sizes of less than 6 inches.
The reason for this phenomenon, on the one hand, is because of market supply chain. The production of 6-inch screen may have been stopped. Second, it is "forced" by mobile phone manufacturers that they don't release mobile phones of small screen. As a natural consequence, the proportion is becoming smaller. This is also the natural development trend of mobile phones.
Screen Resolution: 1080P Is Still the Mainstream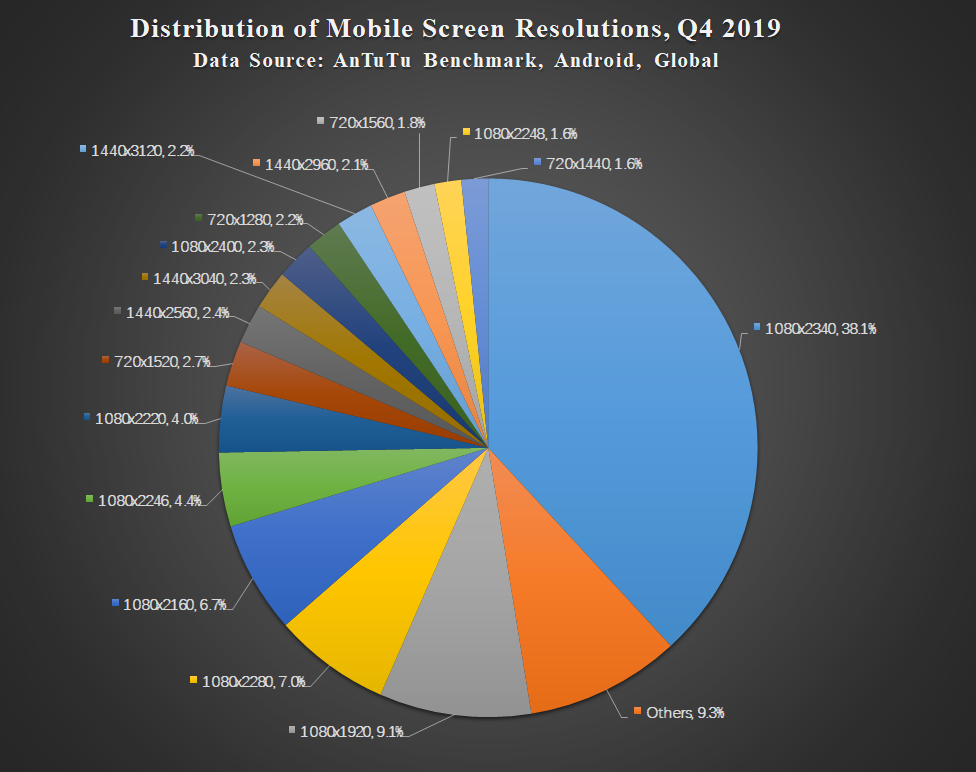 There have been no standards for the screen size of mobile phones, but as for screen resolution, it has been stayed at 1080P mostly. From the corresponding distribution graph, 1080x2340 accounts for 38.1%, which is the largest proportion.
There are also some mobile phones with the resolution of 720P, but they account for less than 10% in total. In the near future, mobile phones of 720P will completely disappear.
Once it is thought that 2k resolution will become the mainstream configuration for mobile phones soon. However, the problems of high battery consumption and costs of 2K resolution mobile phones haven't been well addressed. Also, in terms of visual experience, it does not have too much difference from 1080P. Therefore, 1080P will remain the mainstream for quite a long time in the near future.
CPU Brand: Qualcomm Is the Lead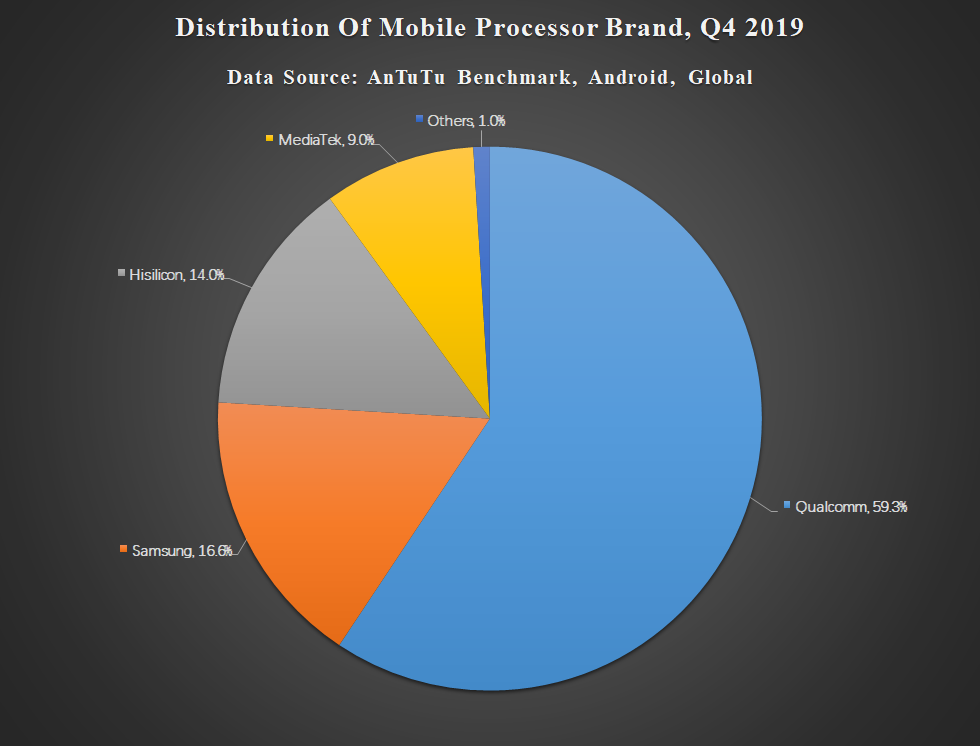 In terms of CPU, the major four brands we are familiar with include Qualcomm Snapdragon, Samsung Exynos, HiSilicon Kirin and MediaTek. Among them, Qualcomm accounts for 59.3%, which is leading with the greatest market share. The proportion of Qualcomm is larger than the total sum of the rest three.
However, the SoC of Qualcomm and MediaTek can be sold to other companies. For example, Xiaomi, OPPO, vivo and other manufacturers have all been using their products, while only Huawei would use HiSilicon Kirin CPU. Therefore, Qualcomm has the advantages by statistics solely, but if we exclude the external sale, things might be different for Qualcomm and Kirin.
Moreover, apart from selling to other companies, Qualcomm has the advantages of multiple positioning, for example, flagship, medium and low level. Currently, mid-range and low-end mobile phones (Huawei/Honor excluded) all use Qualcomm SoC.
Another thing worth mentioning is that MediaTek has shown its effort recently and launched Dimensity 1000, 1000L, 800 and other SoCs, which means that they are entering the competition with Qualcomm in mid-range and low-end market.
CPU Cores: Octa-Core Is Common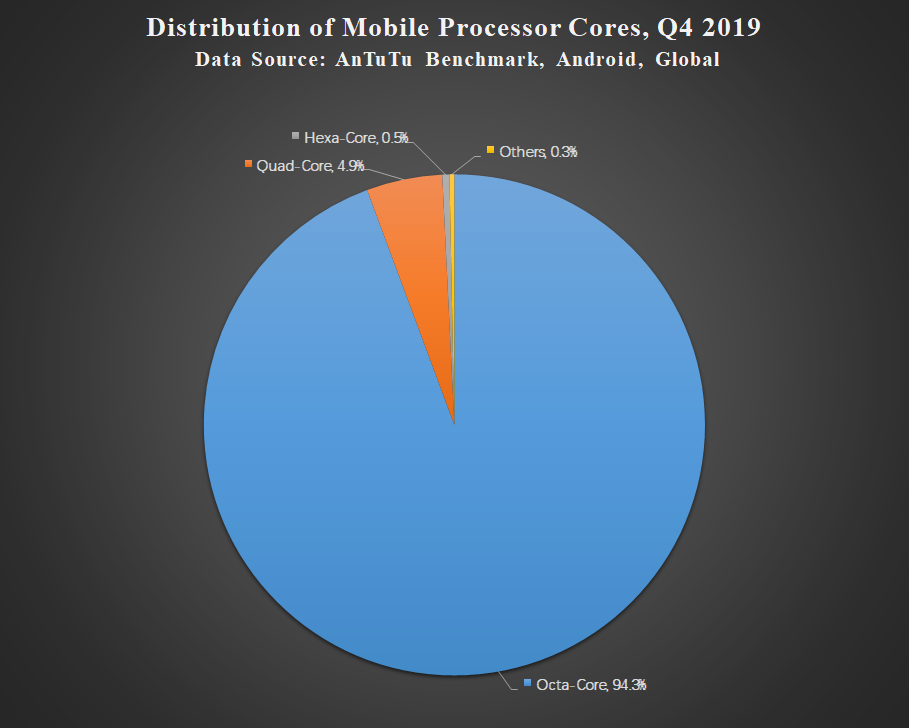 In today's mobile phone market, even the newly released low-end mobile phones are equipped with octa-core SoC, while the quad-cores have become water under the bridge.
From the statistics of Antutu, currently, the octa-core chips account for 94.3% of the market share, obviously a large proportion. With increasing number of cameras and the high refresh rate screen on mobile phones, octa-core chip has become a necessity.
4.9% among all mobile phones are equipped with quad-core chips. This cannot be found in the mobile phones newly released in 2019. A good guess is that they're the low-end ones released one year ago. And most users may use them as spares.
RAM: 4G/6G Both Popular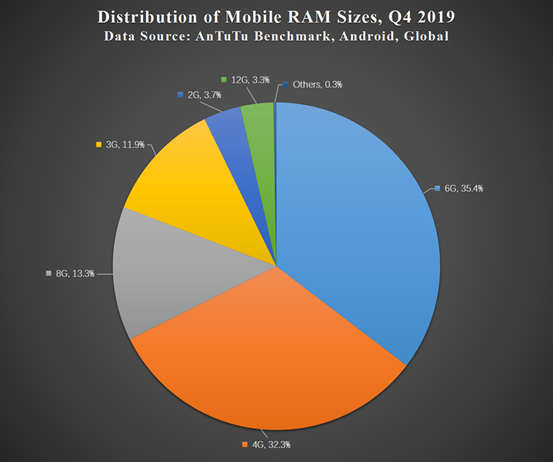 The configurations of mobile phone are becoming more and more complicated. Only 3.7% of mobile phones still have the RAM of 2G. This figure is even poorer than that of 12G RAM, which is the top-level configuration for a few mobile phones now. 12G RAM accounts for 3.3% now.
The total of 4G/6G/8G RAM has taken up for over 80%. Among them, 6G and 4G are both popular. 6G RAM has become the basic for flagship mobile phones. In the near future, the proportion of 4G RAM will become smaller and smaller, while that of 8G RAM will become larger.
For the rest 2G and 3G RAM, they will gradually disappear in newly-released mobile phones.
ROM: 64G Can Still Make It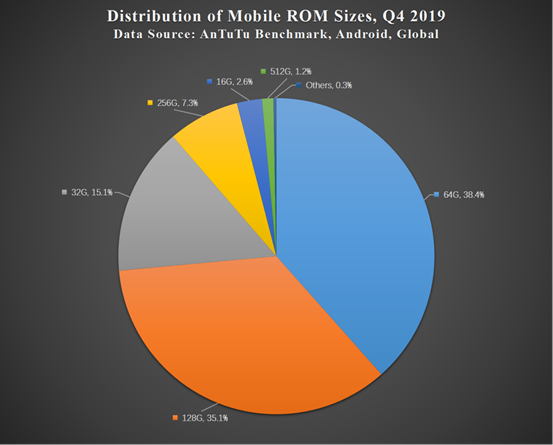 The basic level of storage for newly-released iPhone is still 64G. If iPhone does not upgrade its basic storage to 128G, other brands will naturally take 64G as the basic storage. Therefore, the proportion of 64G ROM is 38.4%, which accounts for the largest proportion.
However, the figure of 128G is catching up, which we cannot neglect. It accounts for 35.1%. Based on the storage combinations and photo sizes of new mobile phones, and considering the coming 8K video filming, it is possible that in 2020, iPhone would cancel 64G version, an option which might be useless after all. It's really not enough in storage.
One notable thing is that 32G still takes up 15.1% and it existed in the new mobile phones released in 2019. It can be estimated that they are old versions which do not have too much concerns about the storage.
Android Version: Same Old Small Segments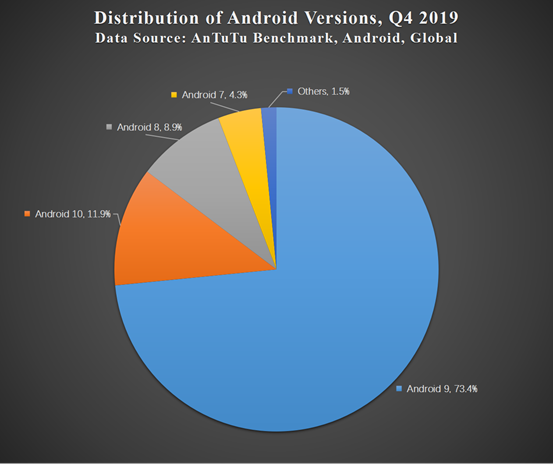 As a matter of fact, in recent years, the updates of Android versions are not that separate and complex anymore. However, different brands and manufacturers are still different.
Data show that the mobile phones with Android 9 system account for 73.4%, which is impressive. Android 10 takes up 11.9%, which is looking good. But considering Android 10 has been launched for nearly half a year, the situation is not optimistic.
Besides, the comprehensive proportion of Android 7 and 8 has reached about 13.1%, from which we can see that it will be a long time before the issue of fragmentation of Android market is addressed.
The above is the interpretation on the preferences of Antutu's users in Q4 of 2019. From the figures, we can see that Android phones still exist in a form of small segments. It can be attributed to its open source. The figures may look a little bit in chaos, but this seems to have nothing to do with user experience. After all, Android is nothing like what it has been first launched. For whatever the version, storage, and screen, proper optimization has been made and it is really easy to use.
It needs to be noted again that this only represents the preferences of users of Antutu and it doesn't imply the distribution of the whole Android market.