Global Top 10 Best Performing iOS Devices for November
Today Antutu reveals our list of the TOP 10 best performing iOS devices for November. Since there are no new iPhone products released last month except for the new AirPods Pro and the 16-inch MacBook Pro, there are no big changes in the ranking of the iOS devices compared to last month.
However, there are some changes in the scores of the iOS devices compared to last month as the November list is based on Antutu V8, in which we have included the new test scene Terracotta Warriors and updated the test algorithms. And it should be noted that the V8 scores are not comparable to V7 scores for the reason mentioned above. Let's check out the detailed results below.
The data is collected between November 1, 2019 to November 30, 2019. The list consists of iOS devices that have at least 1,000 units running Antutu V8 and the scores are averaged across all devices rather than the highest recorded scores of each model, making the results more representative. Additionally, the list includes both iPhone and iPad products.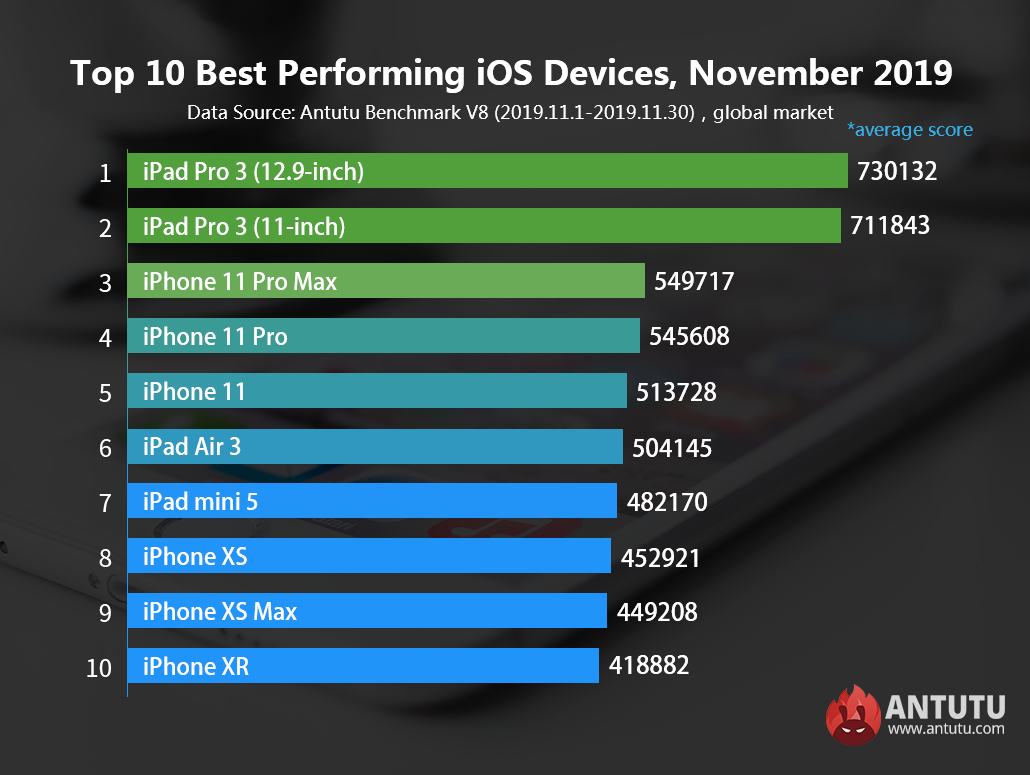 In November, the 12.9-inch iPad Pro 3 and the 11-inch iPad Pro 3 continue to occupy the top two spots on the iOS list with an average Antutu score of 730,132 points and 711,843 points respectively, which are much higher compared to last month as the scores are based on Antutu V8, but still proved the powerful performance of the A12X Bionic chipset. The two 2018 iPads will be likely to remain on the top two spots until Apple releases new iPad products.
iPhone 11 Pro Max, iPhone 11 Pro and iPhone 11 take the next three spots on the list with an average Antutu score of 549,717, 545,608 and 513,728 points.
This result is not surprising as every generation of new iPhones would be the most powerful iPhones of the year once released. What's surprising is that the starting price of iPhone 11 is 1000 yuan lower than its predecessor iPhone XR. Before 5G network is fully developed, the low price of iPhone 11 makes it a great value.
Other devices that have made it to the list of the Top 10 best performing iOS devices are iPad Air 3 (avg. score: 504,145), iPad mini5(avg. score: 482,170), iPhone XS(avg. score: 452,921), iPhone XS Max(avg. score: 449,208)and iPhone XR(avg. score: 418,882).
Above is the list of global Top 10 best performing iOS devices for the month of November. The list is expected to remain stable in the coming months before Apple releases any new hardware products. It is said that iPhone SE2 will be announced next year in Spring, which may add some vitality to the list.