Global Top 10 Best Performing iOS Devices, October 2019
November has come. The rumored Apple October event didn't arrive as expected. Hence the new iPad and MacBook series have not been announced yet. Nevertheless, there are still are some changes in Antutu's October rankings for iOS devices. How the list has changed? Check out our most updated Top 10 iOS list as measured by the average Antutu score.
Statistical rules:
1. Score: all the scores are averaged, not highest score per model (actual running results may fluctuate, which is a normal phenomenon).
2. Period of data collection: October 1, 2019 to October 31, 2019.
3. Data amount: at least 1000 units per model.
4. Data source: Antutu Benchmark V7
Please note that while the Android list is based on Antutu V8, this month's iOS list still uses the Antutu V7 scores, as the iOS version of Antutu V8 has just been released in November, to ensure a fair comparison we need to wait for one month to collect V8 data before releasing new iOS rankings based on Antutu V8.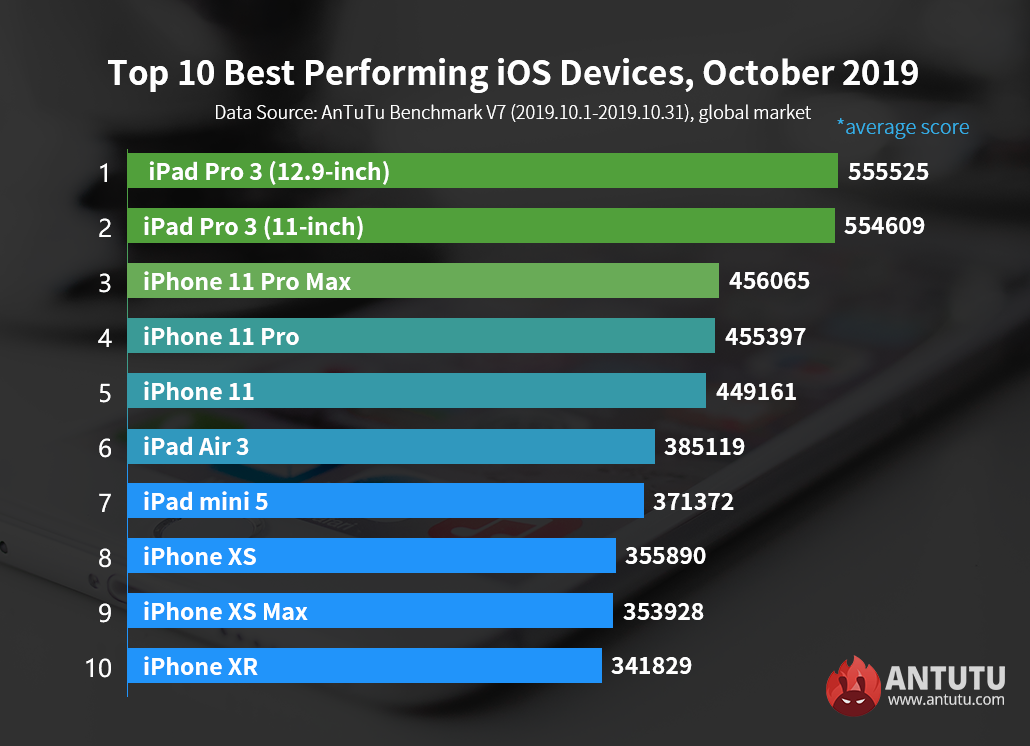 In October, the 12.9-inch iPad Pro 3 and the 11-inch iPad Pro 3 continue to occupy the top two positions with an average Antutu score of 555,525 points and 554,609 points respectively. Both iPads are powered by the A12X Bionic chipset, which has been released for one year but still powerful.
As for the reason why the A12X Bionic is not used in the iPhones, we have mentioned earlier it is because iPad Pro 3 can provide sufficient interior space and big battery for the A12X Bionic chipset, which iPhone, as a compact and easy-to-carry smartphone, cannot provide.
The next three positions are occupied by the new iPhone 11 series. Specifically, iPhone 11 Pro Max takes the third position with an average Antutu score of 456,065 points, followed closely by iPhone 11 Pro with an average Antutu score of 455,397 points. iPhone 11 ranked fifth with a slightly lower Antutu score of 449,161 points.
Other iOS devices that have made it into the Top 10 include iPad Air 3(avg. score 385,119), iPad mini5(avg. score 371,372), iPhone XS (avg. score 355,890), iPhone XS Max (avg. score 353,928) and iPhone XR (avg. score 341,829), all of which are powered by the A12 Bionic chipset. Older iOS devices powered by A10X and A10 have been squeezed out of the Top 10 list over time.
Above is the global Top 10 best performing iOS devices list for the month of October. For more information about the ranking list, please visit Antutu official website or download AnTuTu Benchmark and check in the menu of "Ranking".