Global Top 10 Best Performing Android Phones, October 2019
Today, Antutu reveals our list of theglobal Top 10 best performing Android phones for October 2019 based on datacollected from Antutu database. This time we have included two separate listsfor flagship phones and mid-range phones respectively.
What are the best Android phones on themarket right now? Check out our most updated October ranking as measured by theaverage Antutu score.
Please note that the data are collectedbetween October 1, 2019 to October 31, 2019. The list consists of Androiddevices that have at least 1,000 units running Antutu benchmark V8, and thescores are averaged across all devices, making the results more representative.
1. Flagship phones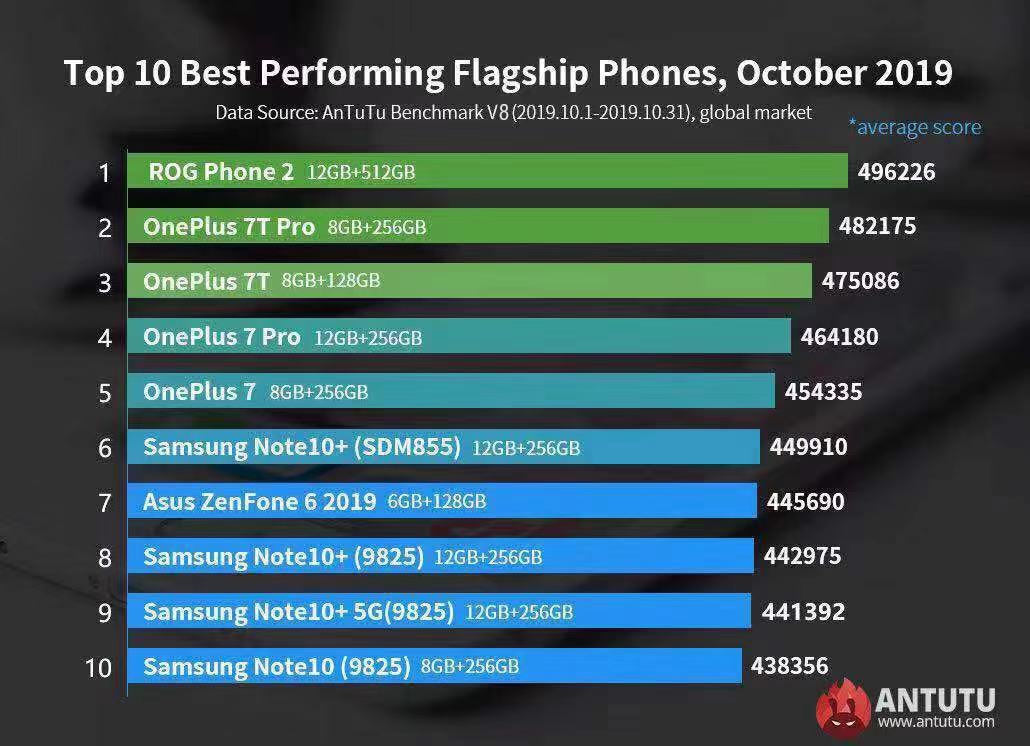 In October, the Asus ROG Phone 2 with 12GB ofRAM and 512GB of storage topped the list once again with an average Antutuscore of 496,226 points. The excellent performance of the phone is due in largepart to the Snapdragon 855 Plus SoC and UFS 3.0 storage. Another part of thereason is that the phone has a three-layer cooling system, including a 3D vaporchamber, a heat sink and vents for heat dissipation on the back cover, whichallows the phone to run with high performance for a for a long time withoutoverheating.
Coming in second is One Plus 7T Pro 8GB+256GBvariant, which achieves an average Antutu score of 482,175 points. Comparedwith the individual scores of Asus ROG Phone 2, One Plus 7T Pro performedbetter only in GPU performance than Asus ROG Phone 2 while other scores arelower. However, this performance is not bad for OnePlus 7T Pro, given that it'snot a gaming phone.
The third place goes to OnePlus 7T 8GB+128GBvariant which scored 475,086 points, not a big gap compared with the score of itspremier version OnePlus 7T Pro. The individual scores of the two devices arevery close.
The 12GB+256GB version of OnePlus 7 Proranked fourth, followed closely by OnePlus 7 8GB+256GB variant with anaverage Antutu score of 454,335 points. This time OnePlus notably occupied thetop five spots on the list except the first place, and even outperformed somenew smartphones released later than the OnePlus series.
Making up the rest of this month's top 10are, in order, Samsung Note10+ (SDM855) 12GB+256GB (avg. score: 449,910), Asus ZenFone 6 2019 6GB+128GB variant (avg.score: 445,690), Samsung Note10+ (9825) 12GB+256GB variant (avg. score: 442975),Samsung Note10+ 5G (9825) 12GB+256GB variant (avg. score: 441,392)and Samsung Note10(9825)8GB+256GB variant (avg. score : 438,356), among which Samsung Note 10+ /Note 10 series notably occupied fourof the Top 10 positions on the list, with slight differences in the scores betweendifferent variants.
In general, this month's Top 10 positionsare almost evenly shared by OnePlus and Samsung, each of which occupying fourof the ten positions, making the list become the battlefield for the two companies.
It should be noted that the models enteringthe Top 10 list may not be the premier versions of each series. Theoretically, premierversions can achieve higher scores due to higher storage configuration, butsome of them are not included in this list due to inadequate statisticalsamples.
2. Mid-range phones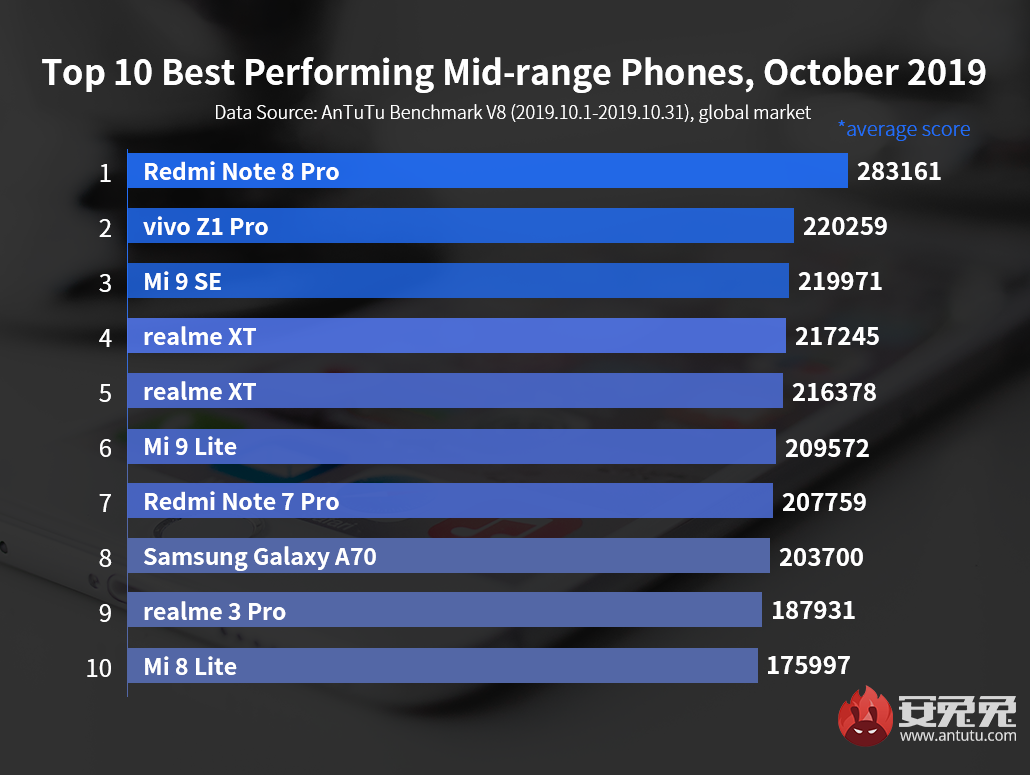 The first place for mid-range phones is occupiedby Redmi Note 8 Pro 6GB+128GB variant, which achieves an average Antutu scoreof 283,161 points. Redmi Note 8 Pro is the first smartphone to ship with MediaTek'sG90T SoC which is specifically designed for gaming phones. The phone's CPUscore is about 20,000 points higher than the second placer and GPU score about 18,000points higher.
Then, who ranked second? It's from vivo,the Z1 Pro 4GB+64GB variant, which gets an average Antutu score of 220,259 points.The phone is powered by the Snapdragon 712 SoC which though, not new, is acommon choice for mid-range phones.
The third place goes to Mi 9 SE 6GB+128GBvariant, which is also powered by Snapdragon 712 SoC. The phone scored 219,971 points, only 288points lower than the second-ranked vivo Z1 Pro.
Other devices that have made it to the listof the Top 10 best performing mid-range phones are realme XT 8GB+128GB variant (avg.score 217,245), realme Q 8GB+128GB variant (avg. score 216,378), Mi 9 Lite6GB+128GB variant (avg. score 209,572), Redmi Note 7 Pro 6GB+128GB variant (avg.score 207,759), Samsung Galaxy A70 6GB+128GB variant (avg. score 203,700), realme3 Pro 4GB+64GB variant (avg. score 187,931), Mi 8 Lite 6GB+128GB variant (avg. score175,997).
Overall, in the mid-range phoneranking of this month, apart from the first-ranked Redmi Note 8 Pro powered byMediaTek's G90T SoC, other phones are all powered by Snapdragon 710/712/675 SoCs,which are power efficient with good performance, enough for daily usage and mostimportantly good value for money, and therefore good choices for mid-rangephones.
From this month's performance rankinglists, we can see that the overall scores are more friendly to high-configurationphones. In particular, smartphones with top SoC, UFS 3.0 storage, F2FS filesystem and high refresh rate get higher scores on Antutu V8.
In December, some new 5G SoC powered productsare expected to be released, by then there will be some great changes in Antutu'sranking lists. Let's stay tuned.
The above data reflects the changes ofAndroid phone performance for October 2019. For more information about theranking list, please visit Antutu official website or download AnTuTu Benchmarkand check in the menu of "Ranking".