Global Top 10 Best Performing Android Phones, September 2019
Today Antutu reveals our list of the global top 10 best performing Android phones for September 2019.
What are the best performers on the market right now? Check out our most updated September ranking as measured by the average Antutu score.
Please note that the data are collected between September 1, 2019 to September 30, 2019. The list consists of Android devices that have at least 1,000 units running Antutu benchmark V7, and the scores are averaged across all devices, making the results more representative. Some devices are not included in the list due to the number of their scores reported to the Antutu server doesn't meet the statistical requirement.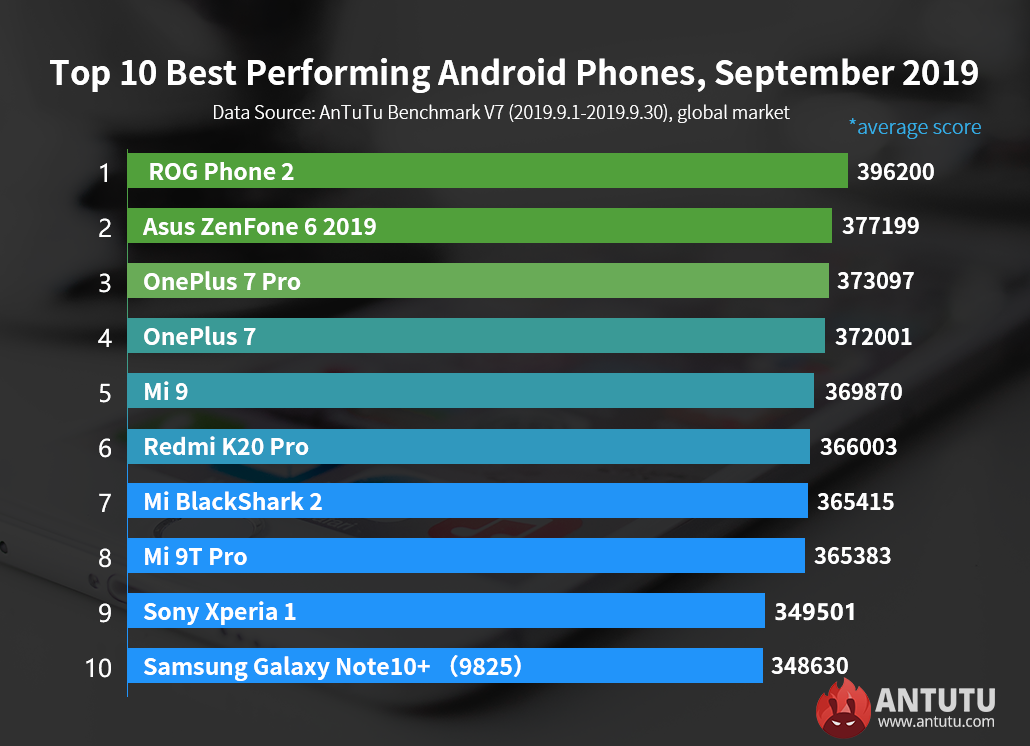 In September, ROG Phone 2 continues to occupy the top spot with an average Antutu score of 396,200. The gaming phone's slightly exaggerated appearance and the LOGO light with RGB lighting effects distinguish it from regular smartphones.
In terms of hardware configuration, ROG Phone 2 is powered by Snapdragon 855 Plus processor paired with UFS 3.0 storage. It comes with a massive 6000mAh battery and supports 30W fast battery charging. In addition, it features a 6.59-inch AMOLED FHD+ display with a 120Hz refresh rate. Thanks to the strong configurations, it can run mainstream mobile games fluently.
Coming in second is Asus ZenFone 6 2019, which achieves an average Antutu score of 377,199. The phone is powered by Snapdragon 855 processor. It features a 5000mAh battery with up to 8GB RAM. Since it is the most recent Snapdragon 855 flagship, it has sufficient time to do performance optimization compared with other Snapdragon 855 smartphones released earlier before it, which allows it to deliver better performance than other smartphones with similar configuration.
Apart from powerful performance, the Asus ZenFone 6 2019 also features a 48MP flip camera, a rear camera that flips up to become the selfie camera-an ideal choice for users who like taking selfies.
OnePlus 7 Pro remains at the third position with an average Antutu score of 373,097. This model is also powered by Snapdragon 855 processor, paired with UFS 3.0 storage. It comes with a 2K+90Hz display. All these configurations provide a guarantee for the smooth running of the smartphone. Nevertheless, OnePlus 7 Pro will no longer be the flagship of OnePlus soon, as the company has already released the latest 7T series, which will be driven by the Snapdragon 855 Plus and have great improvements in performance,
Following OnePlus 7 Pro is OnePlus 7 which ranked fourth on the list. This model is also powered by Snapdragon 855 processor with UFS 3.0 storage. Its performance is close to OnePlus 7 Pro.
Ranking at No.5, No,6, No.7 and No.8 are the Snapdragon 855 powered Mi 9, Redmi K20 Pro, Mi BlackShark 2 and Mi 9T Pro, all of which achieve an average Antutu score of over 360k. In particular, the eighth-ranked Sony Xperia 1 features the world's first flagship phone to ship with 4k HDR OLED display with a resolution of up to 3840×1644, which is one of the biggest highlights of phone. However, the battery capacity of the phone is only 3300mAh, which means that it has shorter battery life than other flagship phones.
Samsung Galaxy Note10+ (9825), powered by the Exynos 9825 processor, secured the last spot with an average Antutu score of 348,630.
Recent rumors have claimed that Qualcomm will be releasing the new mobile platform named Snapdragon 865 with 5G baseband in the coming two months. Its performance is worth anticipating.
Above is the global Top 10 best performing Android phones list for the month of September. For more information about the ranking list, please visit Antutu official website or download AnTuTu Benchmark and check in the menu of "Ranking".