Global Top 10 Best Performing Andriod Devices, August 2019
Unlike the previous years, Qualcomm not only released Snapdragon855 flagship mobile platform this year, but also launched Snapdragon 855 Plusin July, which is 15% faster than the former in terms of GPU performance and haspowered most of the flagship phones released in the next half of 2019.
According to statistical data from Antutu background database,today Antutu reveals our list of the Top 10 best performing Android phones for August2019. As there are some new models entering this month's top 10 ranking, includingsome Snapdragon 855 Plus devices, there are some changes in the rankings ofthis month compared with that of the previous month. It's worth noting that somedevices are not included in the list because the number of their scores inAntutu database didn't reach the statistical requirement of 1000.
Statistical rules:
1. Score: the average score of each model, not the highestscore (actual running results may fluctuate, which is a normalphenomenon).
2. Period of data statistics: August 1, 2019 to August 31,2019.
3. Data amount: at least 1000 data samples for each model.
4. Data source: Antutu Benchmark V7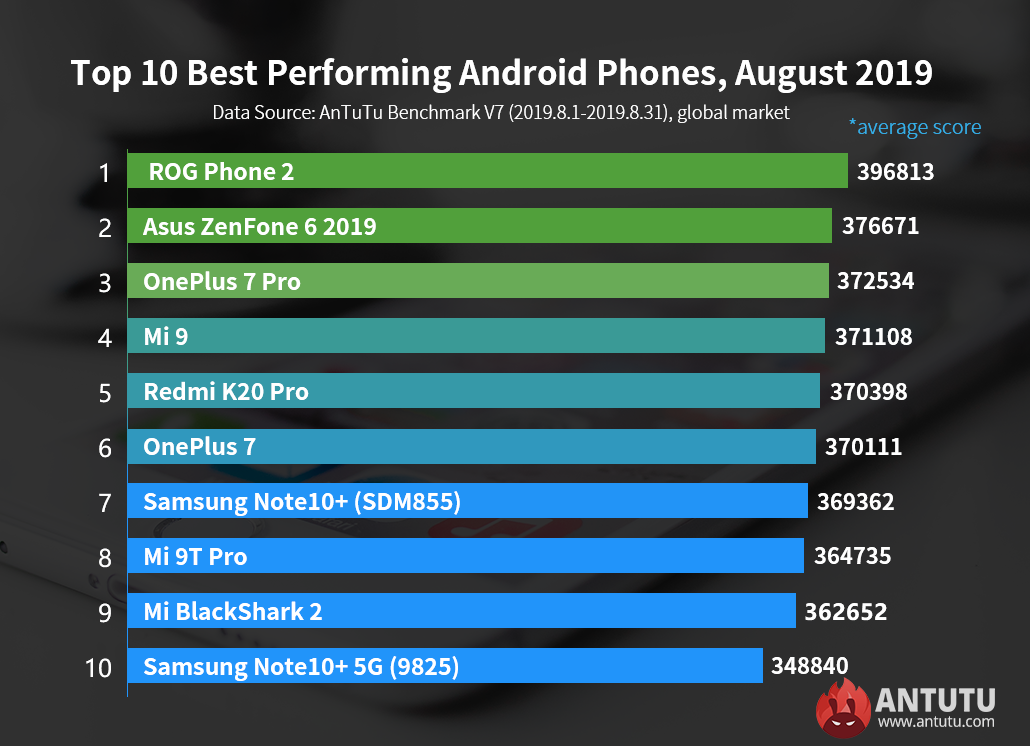 In August, Asus's new gaming phone ROG Phone 2 claimed thetop position with an average Antutu score of 396,813. Its slightly exaggerated appearanceand the LOGO light with RGB lighting effects give the phone a rather eSportsstyle look. Speaking of hardware configuration, the phone is powered bySnapdragon 855 Plus processor paired with UFS 3.0 storage. It comes with a massive6000mAh battery, supports 30W fast battery charging and can run large gamesfluently. Above all, the phone features a 6.59-inch AMOLED FHD+ display with a120Hz refresh rate, making it very attractive for gamers.
Coming in second is Asus ZenFone 6 2019 device, whichachieves an average Antutu score of 376,671. As Asus ZenFone 6 is themost recent Snapdragon 855 flagship, it has more time to do performance optimizationand improvement compared with other Snapdragon 855 smartphones released earlierbefore it. Apart from powerful performance, the Asus ZenFone 6 2019 alsofeatures a 48MP flip camera, a rear camera that flips up to become the selfiecamera, which makes its screen visually appealing.
Taking the third slot on this list is the OnePlus 7 Pro,achieving an average Antutu score of 372,534. The phone is the newest flagship ofOnePlus. Although it is driven by Snapdragon 855 rather than Snapdragon 855Plus, it is the first smartphone on the market to ship with UFS 3.0 storage. Plus,the 2K and 90 Hz display greatly improved the fluency of the phone. In addition, OnePlus 7 Pro features the biggest changes everin the design of OnePlus flagship phones. It adopts a retractable pop-up cameradesign on top of the device, creating an excellent screen-to-body ratio for itsdisplay, which received an A+ rating from screen testing company DisplayMate.
Ranking at No.4, No.5 and No.6 are in order Mi 9, Redmi K20Pro and OnePlus 7 with respective Antutu scores of 371,108, 370,398 and 370,111.All the three models are powered by Snapdragon 855 processor and have anaverage Antutu score of 370k+.
The next three smartphones ranked in the top 10, inorder, are Samsung Note10+ (SDM855), Mi 9T Pro and Mi BlackShark 2, whichscored 369,362, 364,735 and 362,652 respectively, all of which are alsopowered by Snapdragon 855 processor and have an average Antutu score of 360k+.
Samsung Note10+ 5G (9825) secured the last position with an average Antutu score of 348,840.The phone is powered by Exynos 9825 processor.
Above is the global Top 10 best performing Android phoneslist for the month of August. For more information about the ranking list,please visit Antutu official website or download AnTuTu Benchmark and check inthe menu of "Ranking".