Global Top 10 Best Performing iOS Devices, June 2019
It's already half of the year. Today it's time for Antutu to reveal our list of the global Top 10 best performing iOS devices for June 2019. Unlike the Android list, there are no big changes in the iOS list this month compared to the previous months.
But it's worth mentioning that Apple has recently announced iOS 13 and iPad OS, and the public beta of the two systems are available now. Users can receive the update by going to Apple's test page to register for free and download the description file. Well, let us cut the crap and see today's stuff right now.
The data are collected between June 1, 2019 to June 30, 2019. The list consists of iOS devices that have at least 1,000 units running the latest Antutu benchmark V7, and the scores are averaged across all devices, making the results more representative. Additionally, the list includes both iPhone and iPad products.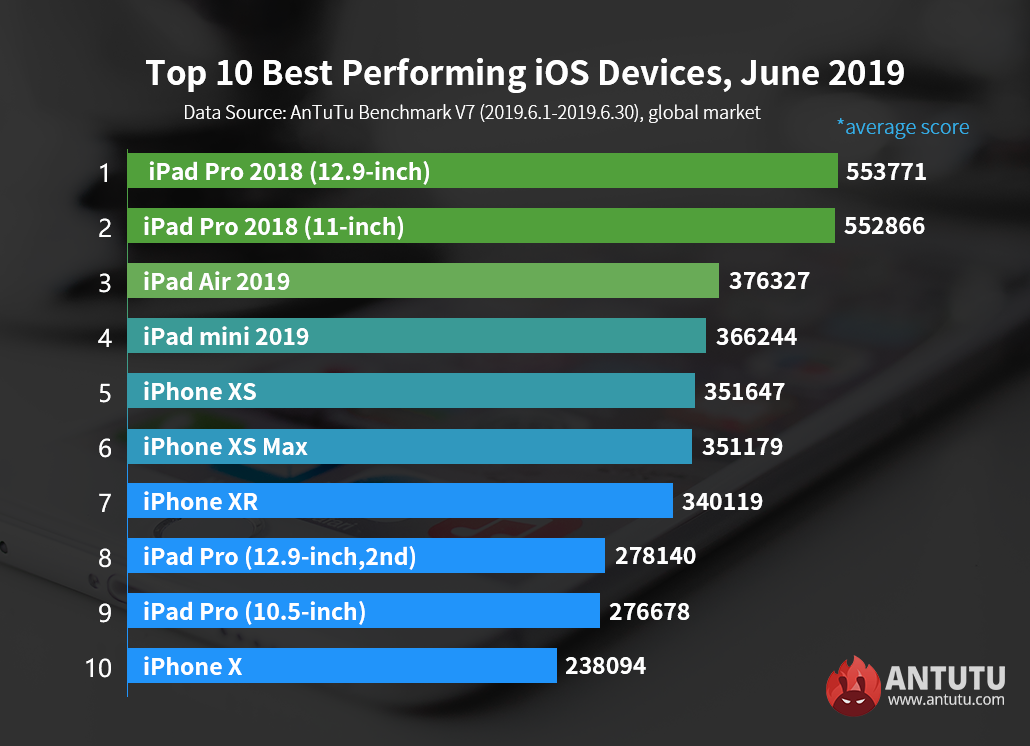 No.1:iPad Pro 2018 (12.9-inch)
Score:553,771
The 12.9-inch iPad Pro 2018 has topped the iOS list for many times. The device is powered by A12X Bionic chipset, which is Apple's most powerful chipset ever and has relatively large interior space that allows good cooling capacity.
No.2:iPad Pro 2018 (11-inch)
Score:552,866
Since the 11-inch iPad Pro has the same hardware configurations with the 12.9-inch iPad Pro 2018 with only the difference in size, it's no surprise for it to rank second in the list.
No.3:iPad Air 2019
Score:376,327
There is a big score gap between No.2 and No.3. This is mainly because the iPad Air 2019 uses the A12 Bionic chipset which is less powerful than the A12X. iPad Mini 2019 ranked fourth with an average Antutu score 366,244.   
The next three positions are occupied by the three A12 Bionic powered iPhone series. Specifically, iPhone XS takes the fifth position with an average Antutu score of 351,647, followed closely by iPhone XS Max with an average Antutu score of 351,179. iPhone XR ranked seventh with a slightly lower Antutu score of 340,119.
The last three positions are taken by iPad Pro (10.5-inch), iPad Pro (12.9-inch,2nd) and iPhone X with respective Antutu scores of 278,140, 276,678 and 238,094. The two 2017 models of iPad Pro are driven by the A10X Bionic chipset while iPhone X is powered by the A11 Bionic chipset.  
Above is the global Top 10 best performing iOS devices list for the month of June. For more information about the ranking list, please visit Antutu official website or download AnTuTu Benchmark and check in the menu of "Ranking".