Global Top 10 Best Performing Android Phones, May 2019
Five months into 2019, new smartphone releases in the first half of 2019 have almost come to an end. Today it's time for Antutu to reveal our list for the global Top 10 best performing Android phones for May 2019. With the release of OnePlus 7 series last month, there are some changes in the Top 10 list of May. And in addition to OnePlus 7 series, there are many other Snapdragon 855-powered smartphones released on the mobile market during the first half of 2019, including Xiaomi and LG's new flagships. Therefore, there aren't many Snapdragon 845-powered smartphones in the ranking list now. Due to differences in configuration and system optimization, these smartphones show great performance difference. Let's take a look at the detailed ranking list.
Statistical rules:
1. Score: all the scores are averaged, not highest score per model (actual running results may fluctuate, which is a normal phenomenon).
2. Period of data collection: May 1, 2019 to May 31, 2019.
3. Data amount: at least 1000 units per model.
4. Data source: Antutu Benchmark V7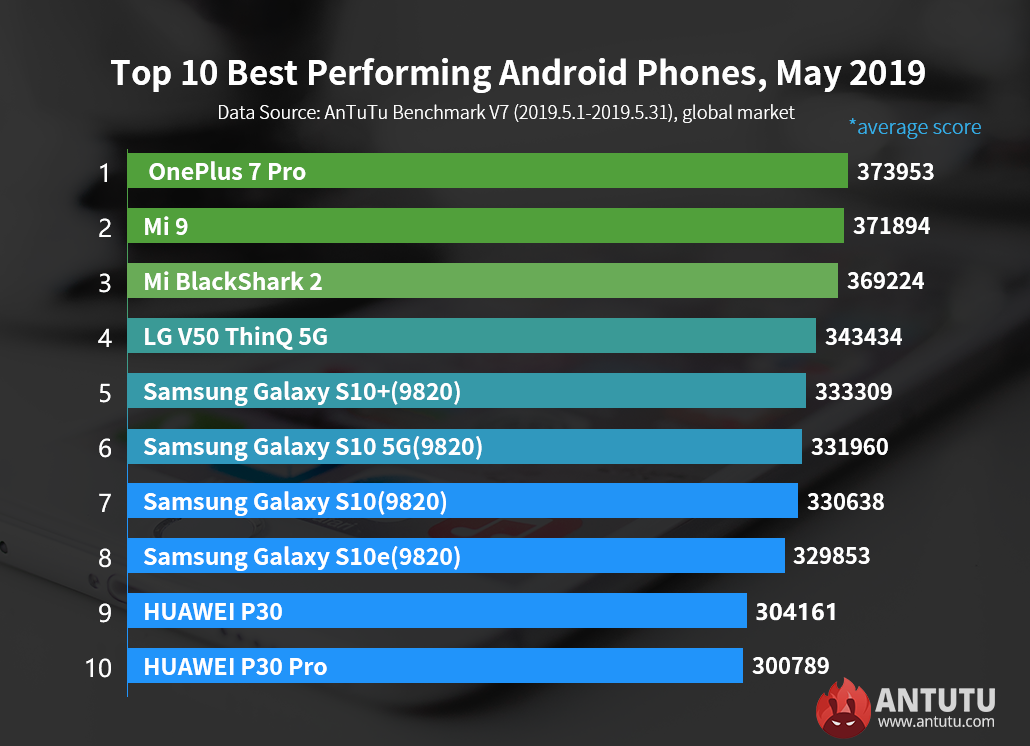 In May, OnePlus 7 Pro takes the No.1 spot with an average Antutu score of 373,953 points. The phone is powered by Snapdragon 855 SoC and is the first smartphone in the market to feature UFS 3.0, with which the write and read speeds of the phone have improved significantly, especially when processing big data, thus allowing it to claim the top position on the list after its release.
Ranking at No.2 is Mi 9, which scored 373,953 points. After occupying the top position for two consecutive months, Mi 9 is dethroned by OnePlus 7 Pro. Nevertheless, it's still without doubt an excellent high-performance model thanks to the Snapdragon 855 SoC that powers it and its good system optimization of the chipset.
Mi BlackShark 2 came in as No.3 with an average Antutu score of 369,224 points. Being a gaming phone, Mi BlackShark 2 has top-level configurations. Apart from Snapdragon 855 SoC, its unique cooling system which ensures excellent heat dissipation capability allows it to run with high frequency for a long time without overheating, especially when playing games.
The next five smartphones ranked in the top 10, in order, are LG V50 ThinQ 5G, Samsung Galaxy S10+(9820), Samsung Galaxy S10 5G(9820), Samsung Galaxy S10(9820), Samsung Galaxy S10e(9820), HUAWEI P30 and HUAWEI P30 Pro, with respective Antutu scores of 343434, 333309, 331960, 330,638 and 329,853, among which the four Samsung models share the same Exynos 9820 SoC, therefore the score difference among them is marginal.
The last two positions are occupied by the Kirin 980-powered HUAWEI P30 and HUAWEI P30 Pro, which scored 304,161 and 300,789 respectively.
Above is the global Top 10 best performing Android phones list for the month of May. In June, we may expect the release of the Snapdragon 855-powered Redmi K20 Pro, which is likely to appear on the Top 10 list of next month. For more information about the ranking list, please visit Antutu official website or download AnTuTu Benchmark and check in the menu of "Ranking".