Global Top 10 Best Performing Android Phones, March 2019
Today Antutu reveals our list of the global top 10 bestperforming Android phones for March 2019. With many new models powered by Snapdragon855 going on sale in the past month, the performance ranking for March has been totally rewritten compared to that of February. Is your phone on the list? Come and check with us.
Statistical rules:
1. Score: all the scores are averaged, not highest score permodel (actual running results may fluctuate, which is a normalphenomenon).
2. Period of data collection: March 1, 2019 to March 31,2019.
3. Data amount: at least 1000 units per model.
4. Data source: Antutu Benchmark V7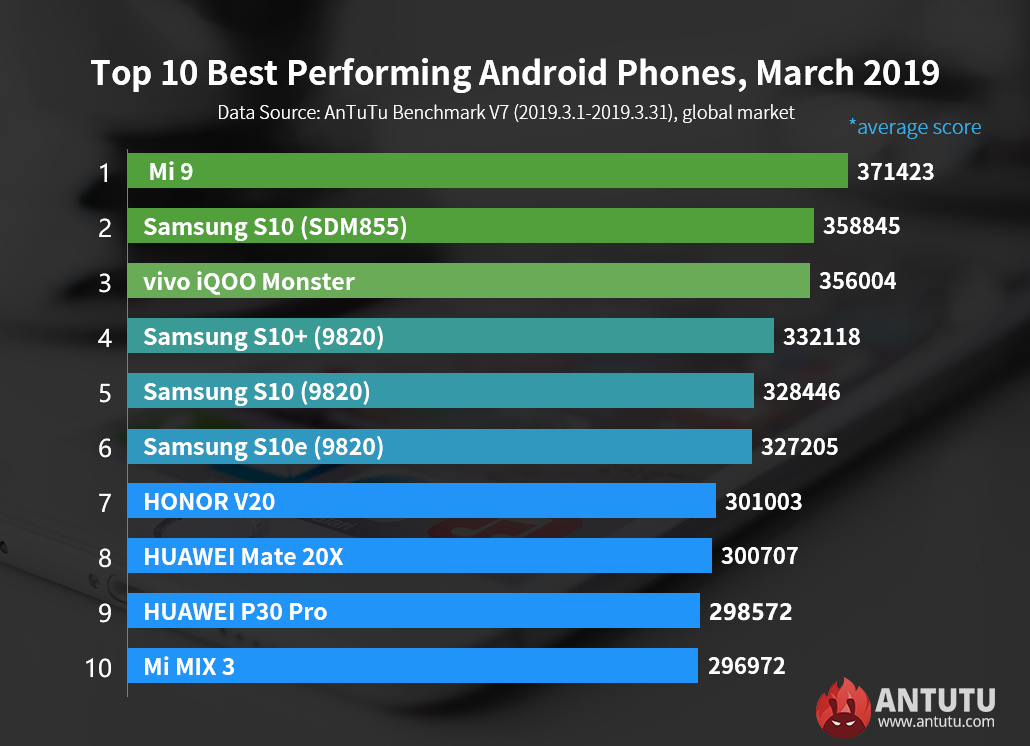 In March, the first spot is taken by Xiaomi's recently launchedflagship, Xiaomi Mi 9, with an average Antutu score of 371,423 points. Thephone is powered by Snapdragon 855 chipset and offers up to 8GB of RAM.
Coming in second is Samsung S10 (SDM855), which scored 358,845points. Samsung S10 (SDM855) shares the same Snapdragon 855 chipset with XiaomiMi 9, but its CPU scheduling is less aggressive than that of Xiaomi Mi 9, whichcan enable the running of eight CPU cores at full load for longer amount of time,although at the cost of more power consumption.
The third spot goes to vivo iQOO Monster, which gets anaverage Antutu score of 356, 004 points. It is also powered by Snapdragon 855 chipsetwith 12GB of RAM. Its CPU scheduling is relatively conservative with a bias towards batterylife compared to that of Mi 9.
The next three positions are occupied by the Samsung S10 series,which in order are Samsung S10+, S10 and S10e (9820) with an average Antutu score of 332118, 328,446 and 327,205points respectively. All the three phones are powered by Samsung's latest flagshipchipset, the Exynos 9820, which offers a 20% boost in performance and 40%increase in power efficiency compared to the Exynos 9810.
Ranking at No.7, No,8 and No.9 are the Kirin 980 powered HONORV2, HUAWEI Mate 20X and HUAWEI P30 Pro, with an average Antutu score of 301,003,300,707 and 298,572 points respectively. Kirin 980 is built on a 7nm process, witha CPU clock speed of up to 2.8GHz. Although Huawei P30 Pro is a newly launchedmodel, its major selling point lies in its camera performance.
Mi MIX 3, powered by Snapdragon 845 chipset, secured thelast spot with an average Antutu score of 296,972 points.
From the above ranking chart, we can see that Mi MIX3 is theonly Snapdragon 845-powered smartphone listed among the top 10. With more Snapdragon 855 devices entering the list in the coming months, Snapdragon845 devices will be gradually squeezed out of the top 10 list.
For more information about the ranking list, please visit Antutu official website or download AnTuTu Benchmark and check in the menu of "Ranking".