Global Top 10 Best Performing iOS Devices, February 2019
Following our release of the Top 10 best performing Androidphones list for February 2019, today Atutu reveals our list of the Top 10 bestperforming iOS devices of February.
Statistical rules:
1. Score: all the scores are averaged, not highest score permodel (actual running results may fluctuate, which is a normalphenomenon).
2. Period of data collection: February 1, 2019 to February28, 2019
3. Data amount: at least 1000 units per model.
4. Data source: Antutu Benchmark V7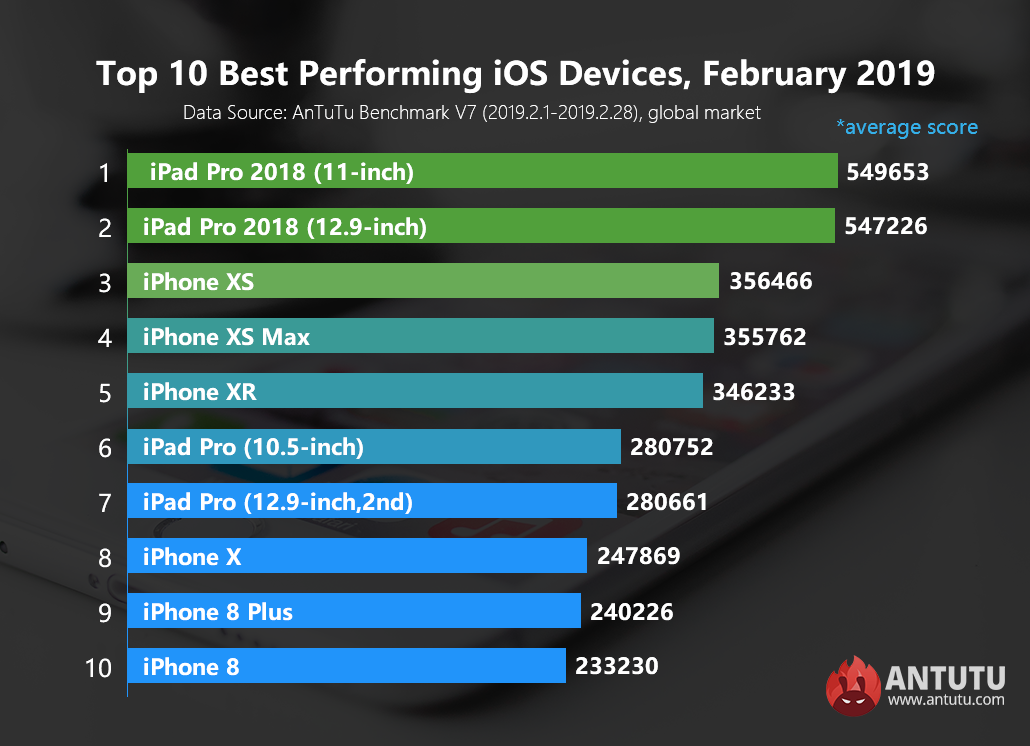 According to our most updated February ranking, the 11-inchiPad Pro 2018 and 12.9-inch iPad Pro 2018, occupy the top two spots once againwith an average Antutu score reaching 549,653 and 547,226 respectively.
Both iPads are powered by the A12X Bionic chipset which isbuilt on a 7nm process and has an eight-core CPU, a seven-core GPU, and a state-of-the-art Neural Engine that can perform up to 5 trillion operations persecond. Moreover, the A12X Bionic has 10 billion transistors that allowsit to outperform its predecessor with significant advantage.
The first iPhone on the list is iPhone XS with an averageAntutu score of 356,466 points, followed by iPhone XS Max and iPhone XR thatgained an average Antutu score of 355,762 and 346,233 points respectively. Allthree iPhones are powered by the A12 Bionic chipset.
The sixth and seventh spots on the list are occupied by the2017 models of the iPad Pro which are powered by the A10X Bionic chipset. The 10.5-inch model scored 280,752 points while the 12.9-inch model scored 280,661 points.
Making up the rest of this month's top 10 are iPhone X, iPhone8 Plus, and iPhone 8, all of which achieve an average Antutu score of over230,000 points.
In general, there is no great changes to the ranking of iOSdevices in February compared to that of last month, and the ranking order is expectedto remain stable in the coming months until the arrival of the next generationof iOS devices. For more information about the ranking list, please visitAntutu official website or download AnTuTu Benchmark and check in the menu of"Ranking".