Global Top 10 Best Performing iOS Devices, January 2019
Today it's time for Antutu to reveal ourlist of the global Top 10 best performing iOS devices for January 2019. Whatare the most powerful iOS devices on the market right now? Check out our most updatedtop 10 iOS list as measured by the average Antutu score.
Statistical rules:
1. Score: all the scores are averaged, nothighest score per model (actual running results may fluctuate, which is anormal phenomenon).
2. Period of data collection: January 1,2019 to January 31, 2019
3. Data amount: at least 1000 units permodel.
4. Data source: Antutu Benchmark V7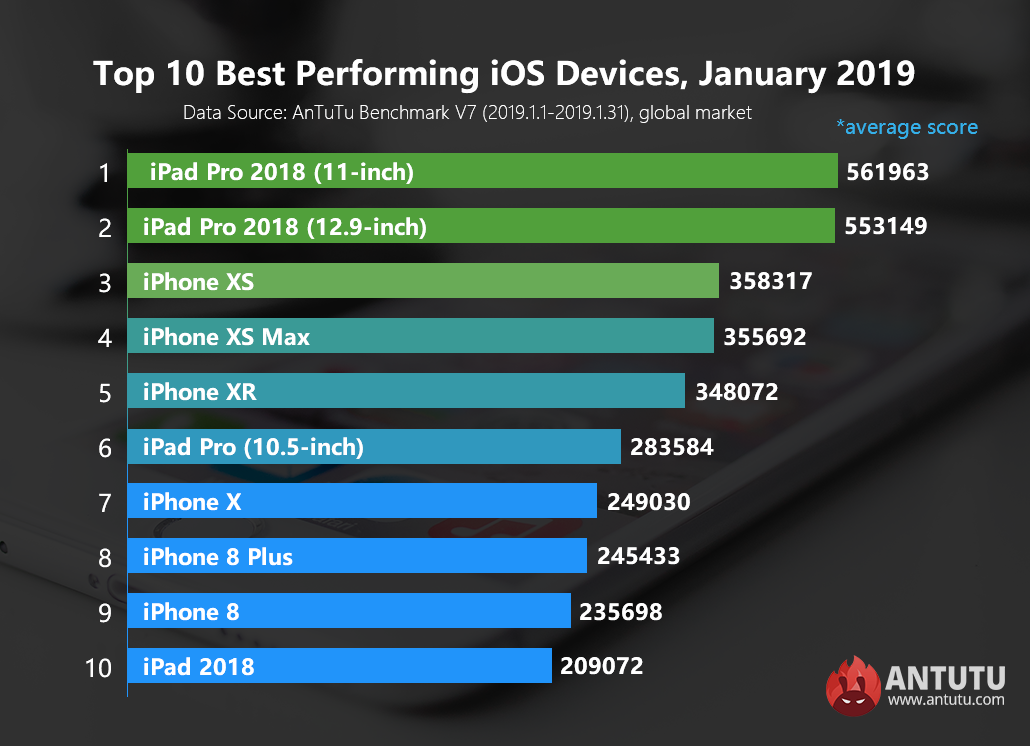 According to our January ranking, the11-inch iPad Pro 2018 and 12.9-inch iPad Pro 2018, powered by the Apple A12X,occupy the top two positions once again with an average Antutu score of 561,963and 553,149 respectively, which is a testament to the power of Apple A12X.
The next three positions are filled by theApple A12 powered iPhone XS, iPhone XS Max and iPhone XR, with an averageAntutu score of 358,317, 355,692 and 348,072 respectively. In particular, both iPhone XS and iPhone XSMax have 4GB of RAM, allowing them to deliver better performance than iPhone XRwhich has only 3GB of RAM.
The above is the performance ranking ofiOS devices for January 2019, which is likely to remain stable in the comingmonths. However, it is rumored that Apple will launch new iPad in the Spring,which will bring changes to the iOS list then. For more information about theranking list, please visit Antutu official website or download AnTuTu Benchmarkand check in the menu of "Ranking".