Global Top 10 Best Performing Android Phones, January 2019
Today Antutu reveals our list of the globaltop 10 best performing Android phones for January 2019. What are the best Android phones on the mobile market right now? Check out our most updatedJanuary ranking as measured by the average Antutu score.
Statistical rules:
1. Score: all the scores are averaged, nothighest score per model (actual running results may fluctuate, which is anormal phenomenon).
2. Period of data collection: January 1,2019 to January 31, 2019.
3. Data amount: at least 1000 units permodel.
4. Data source: Antutu Benchmark V7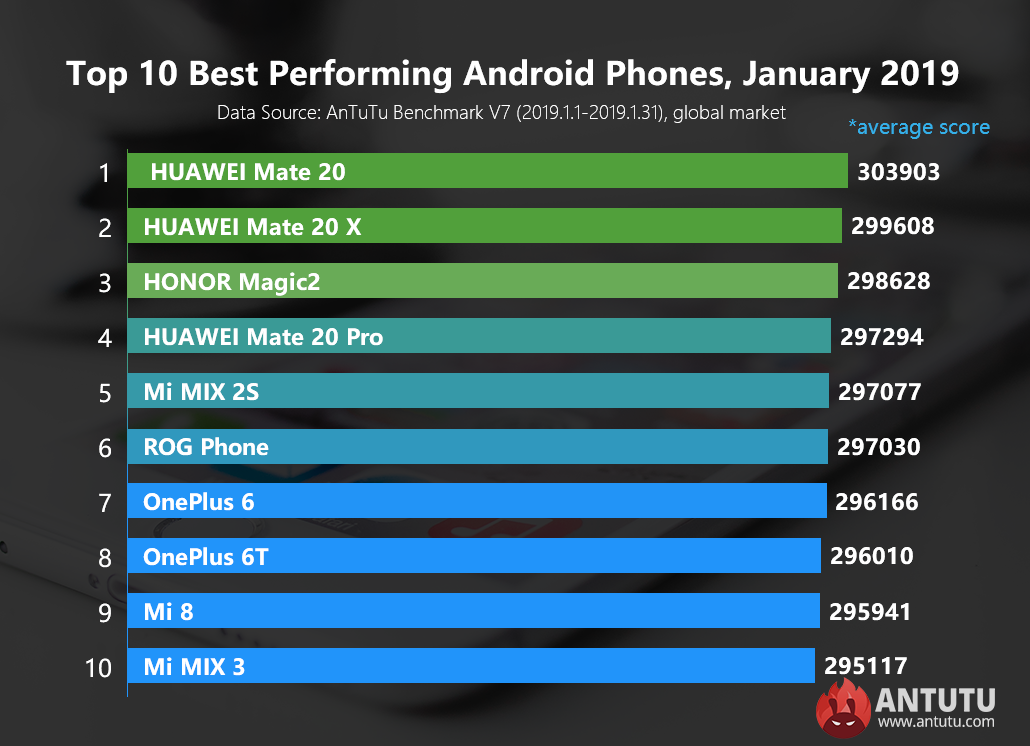 In January, the top three positions aredominated by Huawei smartphones powered by Kirin 980 SoC once again (though inslightly different order). Leading the pack is HUAWEI Mate 20 with an averageAntutu score of 303,903, followed by HUAWEI Mate 20X with an average Antutu scoreof 299,608. HONOR Magic 2 made it to the list for the first time ranking thirdwith an average Antutu score of 298,628. HUAWEI Mate 20 Pro fell to fourthplace with an average Antutu score of 297,294. 
We analyzed the scores in Antutu database andfound that for the above four Huawei models there were many scores derived fromsmartphones that didn't turn on performance mode, which to some extent led tolower average score.   
Rounding out the Top 10 are, inorder, Mi MIX 2S (No.5, 297,077), ROG Phone (No.6, 297,030), OnePlus 6 (No.7,296,166) OnePlus 6T (No.8, 296,010), Mi 8 (No.9, 295,941) and Mi Mix 3 (No 10,295,117). All these smartphones are powered by Snapdragon 845 SoC, and run on Android9 system, with Qualcomm's latest GPU driver which allows them to perform betterthan regular Snapdragon 845 powered smartphones in terms of GPU performance andin turn have higher overall scores.
The above data reflects the changes ofAndroid phone performance for January 2019. For more information about theranking list, please visit Antutu official website or download AnTuTu Benchmarkand check in the menu of "Ranking".