Global Top 10 Best Performing Android Phones, December 2018
Today Antutu reveals our list of the globaltop 10 best performing Android phones for December 2018. What are the best Androidphones on the market right now? Check out our most updated December ranking asmeasured by the average Antutu score.
Statistical rules:
1. Score: all the scores are averaged, nothighest score per model (actual running results may fluctuate, which is anormal phenomenon).
2. Period of data collection: December 1,2018 to December 31, 2018.
3. Data amount: at least 1000 units permodel.
4. Data source: Antutu Benchmark V7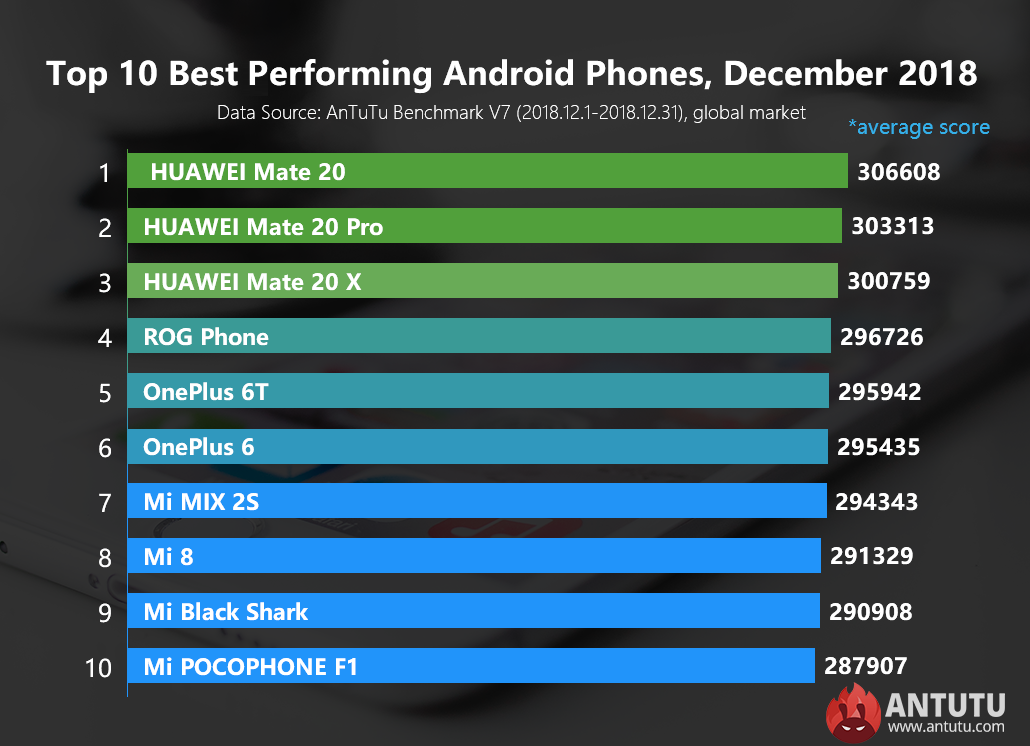 According to our most updated Top 10ranking, the HUAWEI Mate 20 siblings powered by Kirin 980 processor occupy the topthree positions for the second consecutive month (though in slightly differentorders). In particular, HUAWEI Mate 20 takes the first position with an averageAntutu score of 306,608 points, followed closely by HUAWEI Mate 20 Pro and HUAWEI Mate20 X with an average Antutu score of 303,313 and 300,759 points respectively.
Rounding out the rest of the Top 10 are, inorder, ROG Phone (No.4, 297,019), OnePLus 6T (No.5, 295,181), OnePlus6 (No.6, 293,745), Xiaomi Mi Black Shark (No.7, 291,099), Xiaomi Mi 8(No.8, 287,142), Xiaomi Mi MIX 2S (No.9,297,111) and Meizu 16th (No.10, 286,943).
Since all these models share the same Snapdragon845 processor and all have flagship-level storage configuration, the scoredifference between them is marginal. In particular, the fourth-ranked ROG PHONEdelivers the best performance among all the Snapdragon 845-powered smartphonesas it is powered by a speed-binned Snapdragon 845.
In the coming months, a number of smartphonespowered by Snapdragon 855 are expected to be released. From the benchmarkresults we revealed earlier, Snapdragon 855 smartphones are expected to scoreover 350,000 points on Antutu benchmark. At that time, there is going to be a reshufflein Antutu performance ranking. Let's stay tuned.
The above data reflects the changes ofAndroid phone performance for December, 2018. For more information aboutthe ranking list, please visit Antutu official website or download AnTuTuBenchmark and check in the menu of "Ranking".