Global Top 10 Best Performing Android Phones, November 2018
Today Antutu reveals our list of the globaltop 10 best performing Android phones for November 2018. What are the bestAndroid phones on the market right now? Check out our most updated Novemberranking as measured by the average Antutu score.
Statistical rules:
1.Score: all the scores are averaged, nothighest score per model (actual running results may fluctuate, which is anormal phenomenon).
2. Period of data collection: November 1,2018 to November 30, 2018.
3. Data amount: at least 1000 units permodel.
4. Data source: Antutu Benchmark V7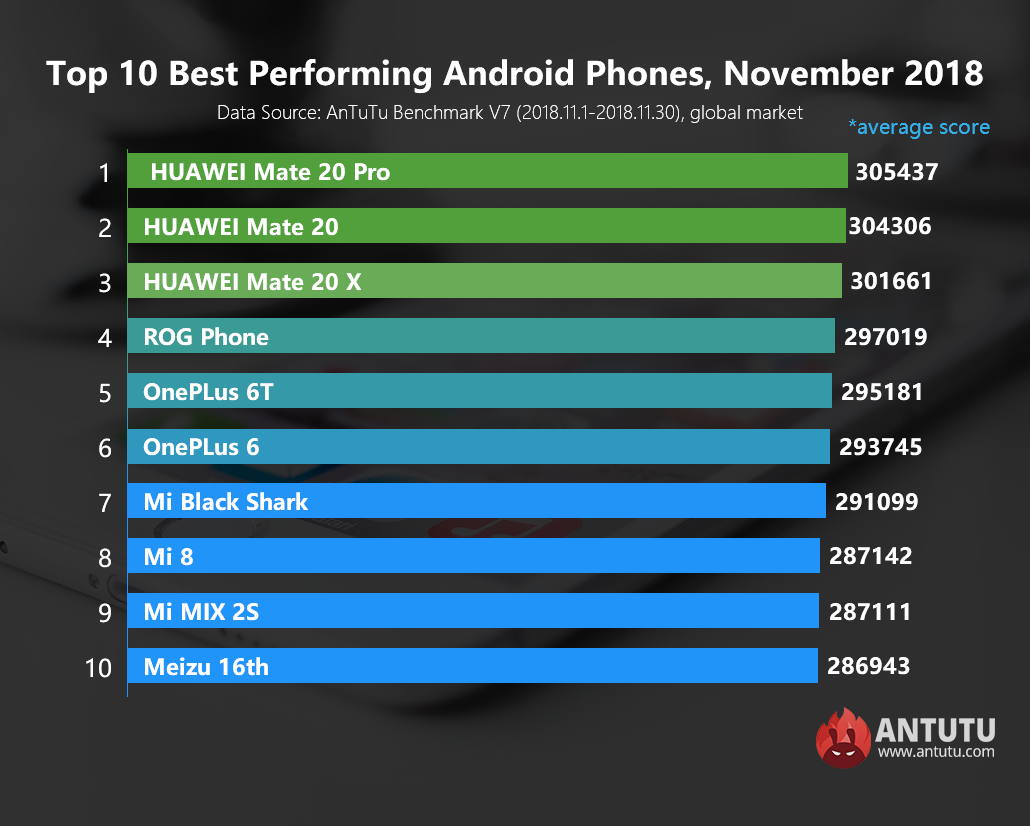 In November, HUAWEI Mate 20 Pro powered byKirin 980 processor topped the list once again with an average Antutu score of305,437 points, followed closely by HUAWEI Mate 20 (No.2) and HUAWEI Mate 20 X (No.3)with an average Antutu score of 304,306 points and 301,661 points respectively.
Before the release of devices powered by Snapdragon855 and Exynos 9820, the HUAWEI Mate 20 siblings are expected to remain on thetop three positions over the next few months.
Rounding out the top 10 are ROG Phone (No.4, 297,019), OnePLus 6T (No.5, 295,181), OnePlus 6 (No.6, 293,745), Xiaomi Mi Black Shark (No.7, 291,099), Xiaomi Mi 8(No.8, 287,142), Xiaomi Mi MIX 2S (No.9, 297,111) and Meizu 16th (No.10, 286,943). All these smartphones arepowered by Snapdragon 845 and have flagship-level hardware configurations. Inparticular, the fourth-ranked ROG Phone is powered by a speed-binned Snapdragon845, allowing it to deliver better performance than smartphones powered by the standardSnapdragon 845. The performance of the rest of the Snapdragon 845 devicesdiffers slightly due to different driver versions and cooling systems.
Now that Exynos 9820 and Snapdragon 855have already been officially launched, let's see when devices powered these twoprocessors will enter Antutu's top 10 list.
The above data reflects the changes ofAndroid phone performance for November, 2018. For more information aboutthe ranking list, please visit Antutu official website or download AnTuTuBenchmark and check in the menu of "Ranking".