Global Top 10 Best Performance Android Phones, July 2018
Today, it's time for Antutu to reveal our benchmark resultsfor Top 10 best performing Android phones for July 2018.
There has been a subtle change in the ranking of Julycompared to last month. The Exynos 9810-powered Galaxy S9+ broke into the Top10 again, overtaking the Snapdragon 845-powered Galaxy S9 to occupy the last spot.
Statistical rules:
1. Score: the average score of each model, not the highestscore (actual running results may fluctuate, which is a normalphenomenon).
2. Period of data statistics: July 1, 2018 to July 31, 2018.
3. Data amount: at least 1000 data samples per model.
4. Data source: Antutu Benchmark V7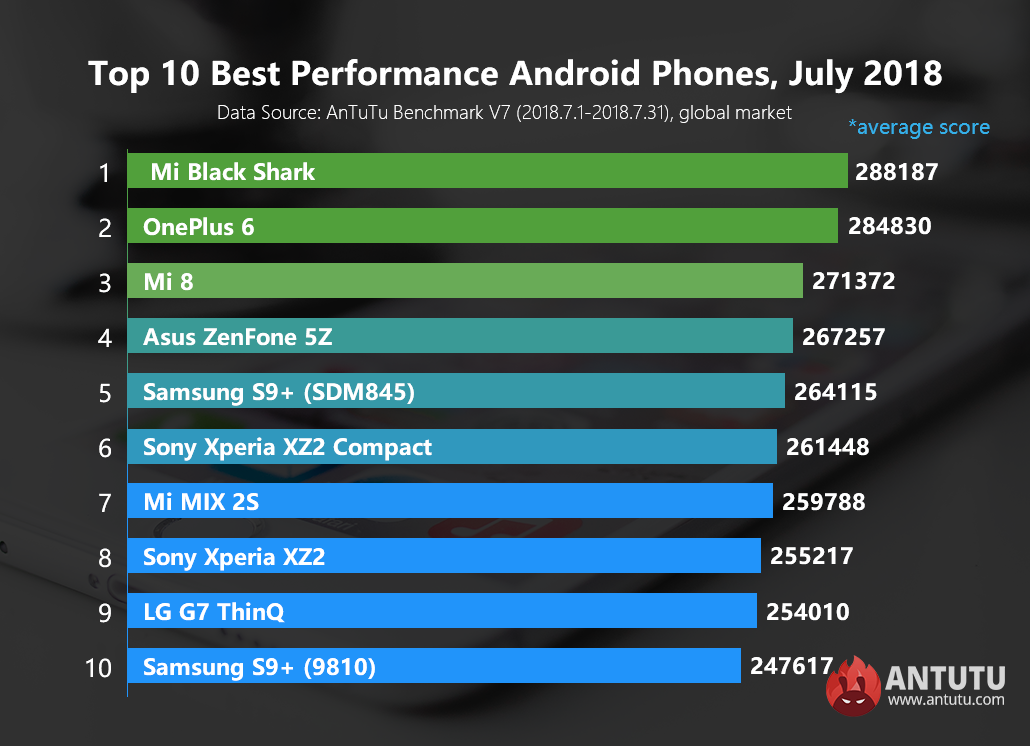 The top six best performing smartphones of this monthremained the same compared to the ranking of last month. They are as follows: XiaomiBlack shark (average score 288,187), OnePlus 6 (average score 284,830), Xiaomi8 (average score 271,372), Asus ZenFone 5Z (average score 267,257), Snapdragon845 version of Galaxy S9+ (average score 264,115) and Sony Xperia XZ2 Compact(average score 261,448).
In particular, the single highest score of Xiaomi 8 reportedto Antutu database has broken the 300,000 mark, of which the number isincreasing. It should be noted that all these scores came from the developingmodels of Xiaomi 8. In the future when the stable version receives the new firmwareupdate, the ranking of Xiaomi 8 is expected to increase.        
Xiaomi MIX 2S ranked 7th with an average score of 259788,followed by Xperia XZ2 and LG G7 ThinQ with an average score of 255,217 and 254,010respectively. 
The Exynos 9810-powered Galaxy S9+ re-entered the Top 10, occupyingthe last spot with an average score of 247,617 one month after it fell out ofthe Top 10.     
With regard to other Snapdragon 845-powered devices, includingOPPO Find X and vivo NEX flagship, since they are not yet available in theglobal market and their scores reported to Antutu database didn't reach ourstatistical requirement, they are not included in this month's Top 10 rankinglist despite their high Antutu scores. 
For more information about the ranking list, please visitAntutu official website or download AnTuTu Benchmark and check in the menu of"Ranking".